Built in 1687, Prestonfield House is situated close to the heart of Edinburgh at Priestfield Road, Edinburgh, EH16 5UT, yet its peaceful atmosphere makes it hard to believe you aren't in a more rural location. Prestonfield House is approached along a grand tree-lined avenue. As peacocks and Highland Cattle roam the grounds, you will feel a million miles from the capital city of Scotland.
Prestonfield House is a wonderfully historic venue offering couples a range of wedding location options, from small and intimate to grand and elegant. Snug in its mature parkland, Prestonfield House provides a blend of historic architecture mixed with an incredible collection of art and antiques that are a feast for the eyes and my photographer's lens.
Edinburgh is described as the Romance Capital of Europe, and it's easy to see why. The historical setting of Prestonfield House is both unique and breath-taking with interiors steeped in glamour.
For larger grand weddings looking for opulence then you can choose to either the Circular Georgian Stables or an impressive marquee at Prestonfield House.
For smaller weddings, guests at Prestonfield House are spoilt for choice. Utilising a range of romantic private dining rooms, guests can choose a room that suits both their personal tastes and the size of their wedding. Each room exudes charm and romance.
Stables Ballroom
The circular Stables Ballroom is like no other wedding venue you will find. The Stables Ballroom accommodates 120 guests in distinctive and exquisite style with room for your wedding reception, dancing and entertainment. The Stables are distinctive with lavish gilt and red velvet splendour. Lending itself to music and dancing, the Stables Ballroom comes with a large dance floor and sound system perfect for an impressive first dance as well as celebrating with guests. The dramatic lighting can be paired together with welcoming gas flambeaux.
The Gardens
The Gardens offer a perfect opportunity for newlywed photos with large vistas and secluded spots. From pergolas to stone walls, manicured shrubs to colonnades, meadowland to woodland, and statues to benches, there are many photo opportunities for creating beautiful photos of newly-weds.
Additionally, the Gardens can be used as a venue themselves with over 20 acres of lawn ideal for a marquee. The Garden Tented Pavilion is spectacular for spring and summer weddings and is ideally situated to make the most of the landscaped gardens. Carpeted inside, with a central pillar, and offset with fairy lights, this is a romantic location within the Prestonfield House Estate.
Rhubarb
Rhubarb is a pair of decadently decorated Regency rooms usually used as a restaurant that can be used individually, or as a pair, seating up to 100. These rooms are, in essence, dramatically rich and stylish. Rhubarb offers ideal configurations for medium to large weddings.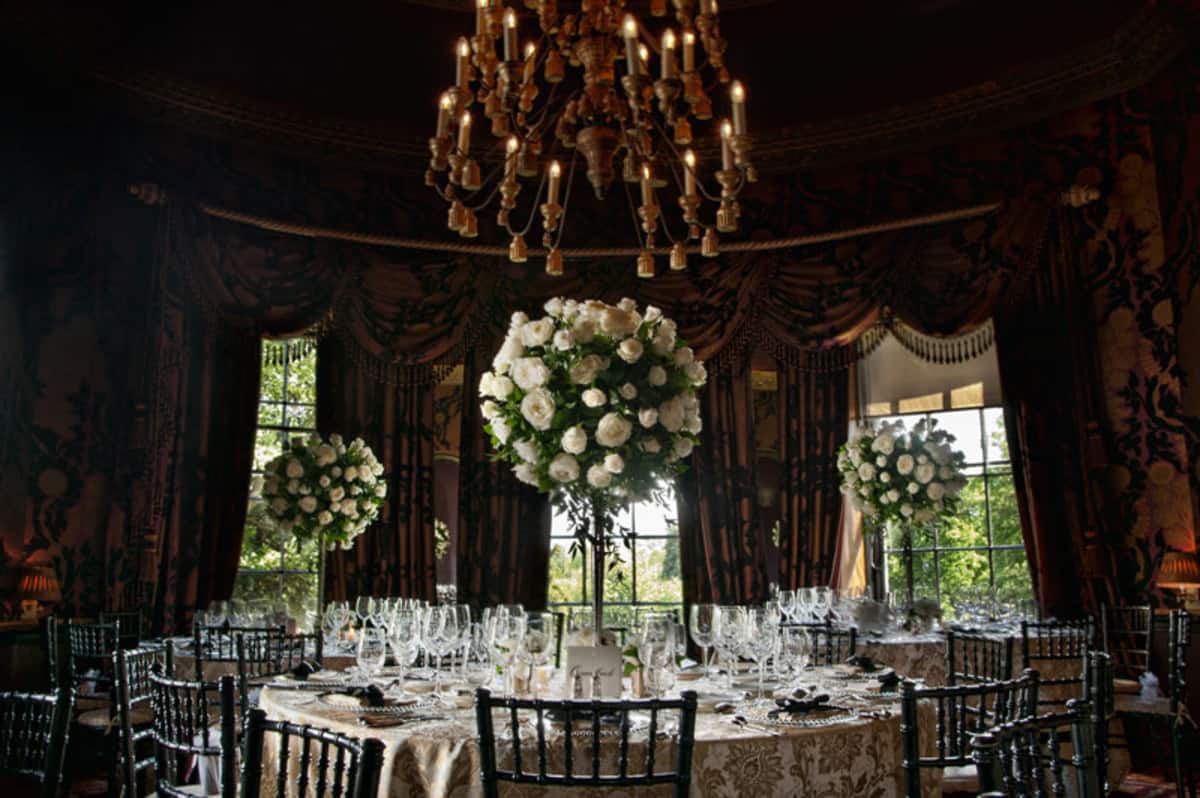 The Italian Room
The Italian Room has found itself gaining fame all of its own at Prestonfield House. The Italian Room is a dramatically wood-panelled room brought to life with painted scenes. The décor in green and gilt is perfect for this historic place. Having played host to Presidents, Royalty and Celebrities, you'll feel part of history have your wedding here. The roaring fire gives this intimate room an atmospheric feel. The Italian Room can seat up to 24 for dining, or 36 for a ceremony.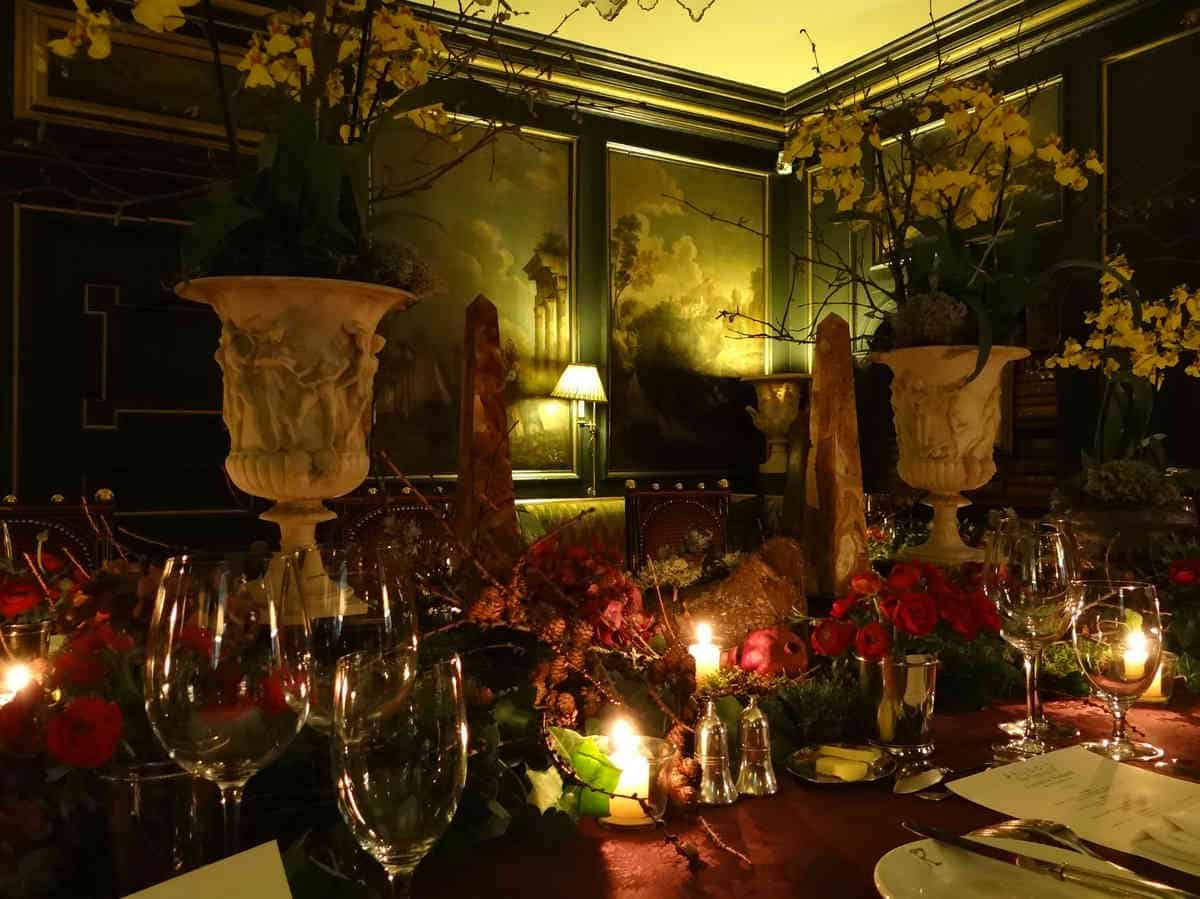 The Stuart Room
The Stuart Room boasts dramatic red, black and gilt furnishings that give the room an aura of luxury and statement. The Stuart Room has an intimate yet memorable feel, dominated by a painting of Mary Queen of Scots. The views over the garden extend to the romantic ruins of Craigmillar Castle in the distance. Once again capable of seating 36 for a ceremony, the Stuart Room can hold an intimate wedding breakfast seating 16 around one table.
The Garden Room
The Garden Room enables guests looking to balance the historic interior with the lush Prestonfield House gardens. This room is equally bright, airy and glamorous. The Garden Room is the largest private dining room at Prestonfield House able to host up to 50 guests. The French Doors open out onto the private covered terrace, allowing a flow of movement in the warmer months and adding a versatile twist to the room space.
Overnight guests at Prestonfield House can enjoy the same level of style and luxury within the 23 individually decorated, sumptuous and romantic rooms and suites. With rich velvets and damask fabrics alongside wood panelling, the accommodation at Prestonfield is warm and inviting.
Prestonfield House is an idyllic romantic getaway close to the heart of vibrant Edinburgh and an easily accessible historical wedding venue.
Prestonfield House Wedding Blog Posts
A few of our Prestonfield House weddings: