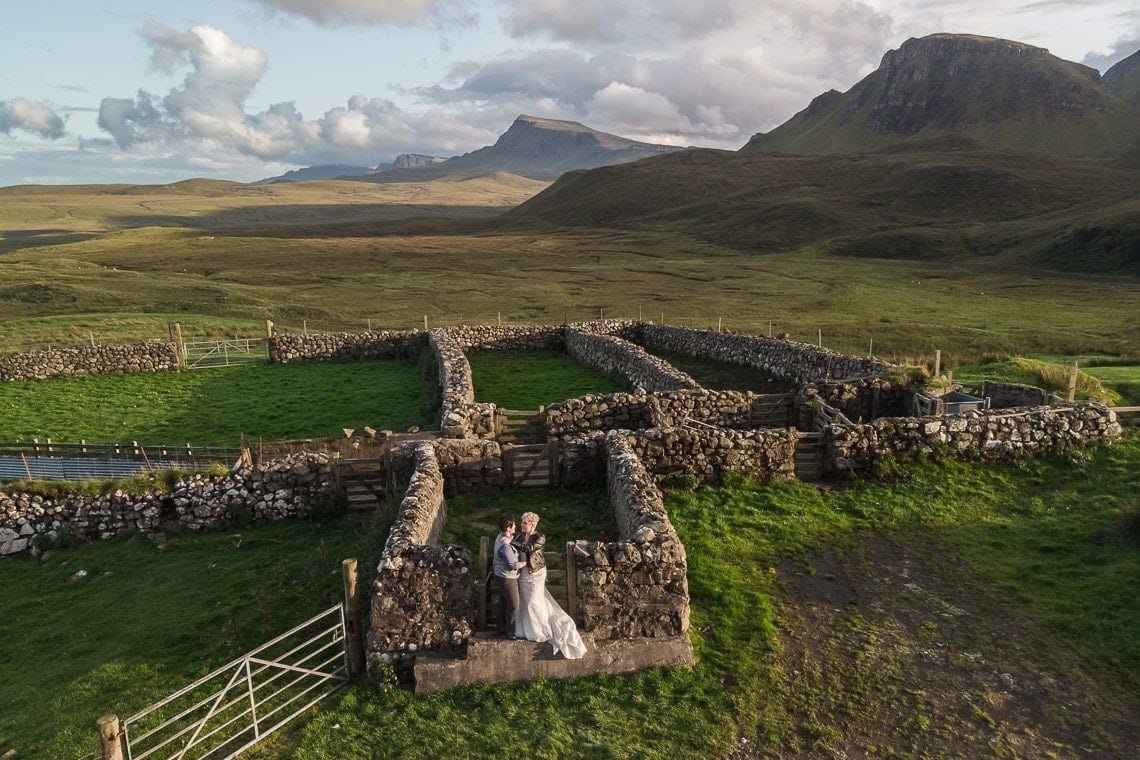 As leading destination wedding photographers in Scotland, we are honoured to share with you our favourite photos and highlights video of Alanna and Brianna's lesbian wedding on the Isle of Skye.
Alanna and Brianna travelled from Wisconsin in the USA for their small and intimate elopement wedding on the Isle of Skye.
What a great day we spent with these wonderful girls. What a fabulous journey they made (not only in air miles but in something much more powerful) in making their dream Scottish destination wedding one of the most beautiful and memorable of the year.
We met the girls and their lovely family at their holiday cottage, Willowbank Cottage, Broadford, on Skye early in the afternoon of the wedding. The atmosphere was calm and relaxed. Family and friends drank Mimosa cocktails as Jonathon and I captured video and photos of the wedding preparations.
Later, Brianna went into the garden with her family and waited for 'the first look' of the beautiful bride Alanna. What an emotional moment as Brianna saw Alanna in her stunning wedding dress for the very first time. Some hugging and kissing followed then it was time to make our way with Alanna and her wee Granny, to the wedding ceremony as Brianna and the wedding guests followed in separate cars.

The day before the wedding, Alanna and Brianna took a drive to the north of the island. They had a 'recce' around the area to find their perfect location for the wedding ceremony. They had considered the beautiful Fairy Glen, with its Hobbit-like features but found their ideal spot away from lots of tourists and the congestion of cars. A place that still offered the most sublime viewpoint and had plenty of parking (a rare find on Skye) making it easily accessible for the entire wedding party.
We were delighted with their choice of location at a place called 'The Quiraing'. It can be easy as photographers to follow the 'crowd' of other creatives by taking couples to the same places. Sadly, often there's nothing fresh or necessarily creative about shooting the same photos at the same locations.
Thankfully, Alanna and Brianna wanted something different and unique.
Stepping away from the popular wedding spots on the Isle of Skye, just a little, the girls were willing to go off the beaten path.
A short hike from the car led them to an extraordinary place offering wonderful views across Skye. The backdrop of The Quiraing was both imposing and inspiring.
Alanna and Brianna chose to celebrate their love and union in a humanist wedding ceremony led by celebrant Neil Lynch.
The Quiraing is a spectacular, jaw-dropping landslip situated on the eastern face of Trotternish, a peninsula in the northernmost point of the Isle of Skye.
This place and its romance take your breath away.
It's a place where you go to…just be. It's that old thing about nature. It makes you feel great. It's good for the soul and even better for the mind. A place where you can think, dream and fall in love with its remoteness. A place where you can reminisce, perhaps, on the past and look forward to the future. This is a special place full of wonder and amazement. A mystical place that you could never tire of. A beauty that is so rich and rewarding the memories you make and take away will stay with you, in your heart, forever.
So somewhere on a rugged hilltop is our couple's magical little spot where they tied the knot, in the ancient Celtic handfasting tradition.
As we stood filming and photographing, this pair of lovers, best friends, and soul mates became one. We knew we were witnessing something wonderful. Their beautiful humanist wedding ceremony brought laughter and tears and was personable, with just the right level of humour as Neil spoke of Alanna and Brianna's love story.
A modern-day love story, Alanna and Brianna met online. They started off as friends, but over time, together three years, their relationship and love for each other grew stronger and blossomed into this celebration on the Isle of Skye.
Our newly-weds shared their first drink together as a married couple, each taking a sip of sweet whisky liquor from the Quaich, an ancient Scottish tradition symbolising love and trust and the bond they share.
So much emotion in one day as our newlyweds were congratulated with hugs and kisses. A few group photos were taken of the happy couple with their friends and family. Guests then made their way to the Uig Hotel for some refreshments.
Making full use of the glorious scenery Jonathon and I took Alanna and Brianna for their newlywed photo shoot. The weather was kind to us and allowed us to get the drone in the air. There was lots of kissing going on, which is precisely what's needed on a wedding day!
Congratulations to Alanna and Brianna. It's been a pleasure being your destination wedding photographers.
Destination Wedding Photographers Scotland – Our Favourite Photos
Here is a selection of our favourite wedding photos from Alanna and Brianna's Isle of Skye elopement wedding.
Isle of Skye Elopment Highlights Video
We've taken the 'best bits' of Alanna and Brianna's feature-length wedding video and created this shorter 'highlights edit'. The music was specially chosen by our newly-weds.
Isle Of Skye Wedding Video Elopement – Alanna and Brianna