The George Hotel Edinburgh oozes both modern luxury and historical style. Situated right in the heart of Scotland's capital city, at 19-21 George Street, Edinburgh, EH2 2PB, this is a Scottish wedding venue with class.
Every feature has been meticulously detailed, and it's easy to feel at home surrounded by friendly staff in such opulent surroundings.
From the moment you step through the door of this grand 19th Century Hotel, you'll know your wedding has found its home. Located in the bustling New Town, the energy carries through to the hotel, bringing you an exciting and fun-filled day.
Sumptuousness abounds at this award-winning four-star hotel. The George Hotel Edinburgh is a stunning venue for your wedding ceremony and celebrations. We love the various exquisite backdrops, with a perfect blend of wood, brass, leather, velvet and glass, all combining to make truly beautiful surroundings. With a capacity of up to 200 guests, weddings at The George Hotel Edinburgh take advantage of the heritage and unique atmosphere.
The King's Hall
The King's Hall is the impressive heart of this stunning hotel. The beauty of the chandelier dominates the room, creating a feature that will seamlessly enhance and balance your photographs. The pillars combine with the beautiful domed skylight to create a historically immersive setting that speaks of elegance. The arches with large windows bring a softer feel to the room, making it spacious yet inviting. The King's Hall also includes the use of the Library, allowing guests to enjoy a relaxed area to enjoy drinks and canapés.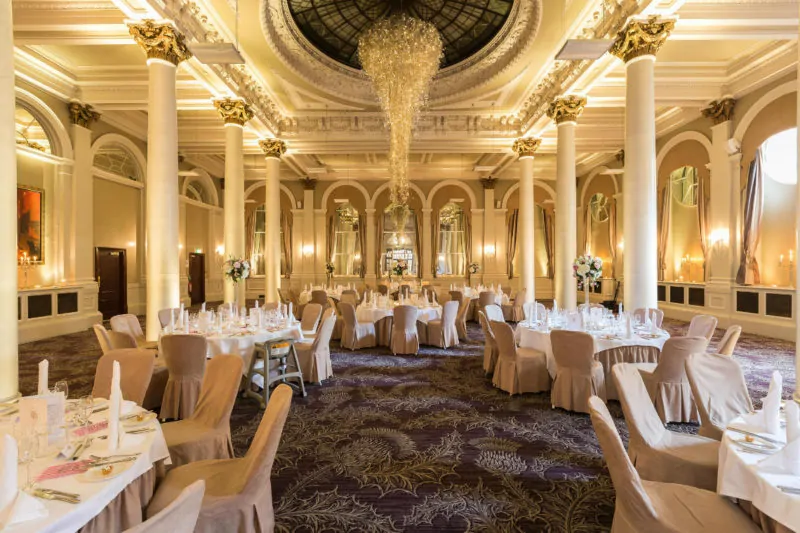 The Forth View Suite
The Forth View Suite allows guests to enjoy a truly panoramic view out over the City of Edinburgh, with impressive views of the Firth Of Forth and Edinburgh Castle from the Suite's great contemporary terrace. The Terrace is a wonderful outdoor space perfect for bride and groom photos. You'll well and truly know you're in the heart of this vibrant Scottish city. The Forth View Suite is an intimate setting for a wedding with style, able to seat 18 for a sit-down meal or up to 40 guests if you'd like a more informal barbecue-style affair on the terrace.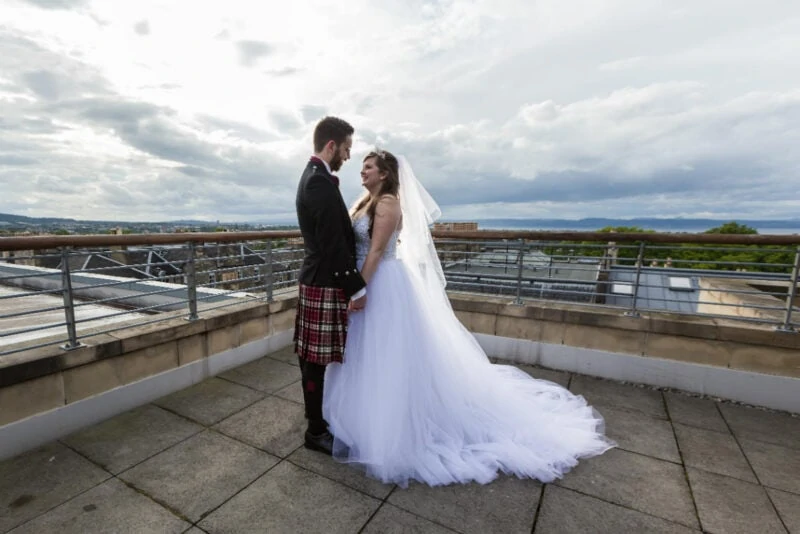 The Printing Press Bar & Restaurant
The Printing Press Bar & Restaurant is famed not only as part of the hotel but also for an enjoyable spot of seasonal Scottish produce. The Printing Press Bar and Restaurant are warm yet airy, balancing blues and neutrals with a full-length marble bar. Relax with a drink or enjoy some contemporary, delicious canapés as you relax with your guests.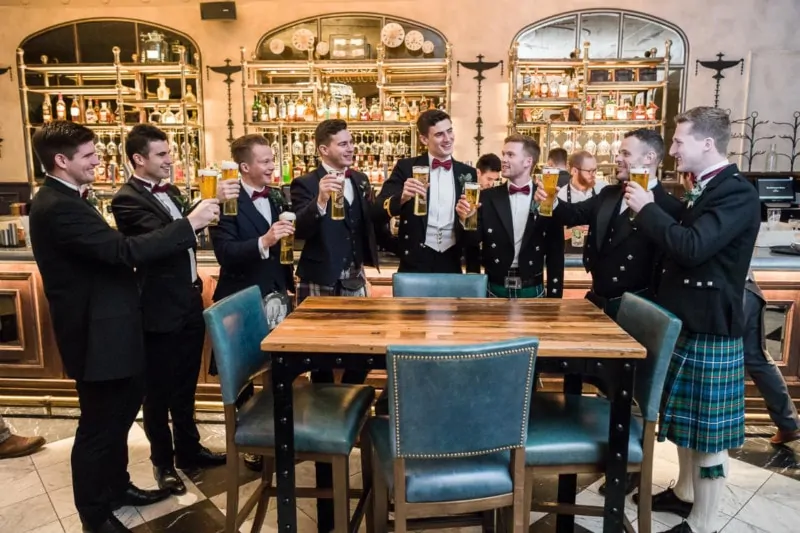 George Street
George Street is a fun and vibrant backdrop for newly-wed photographs with a twist. Lending itself to iconic photos, you will feel like royalty taking a stroll on this landmark city street.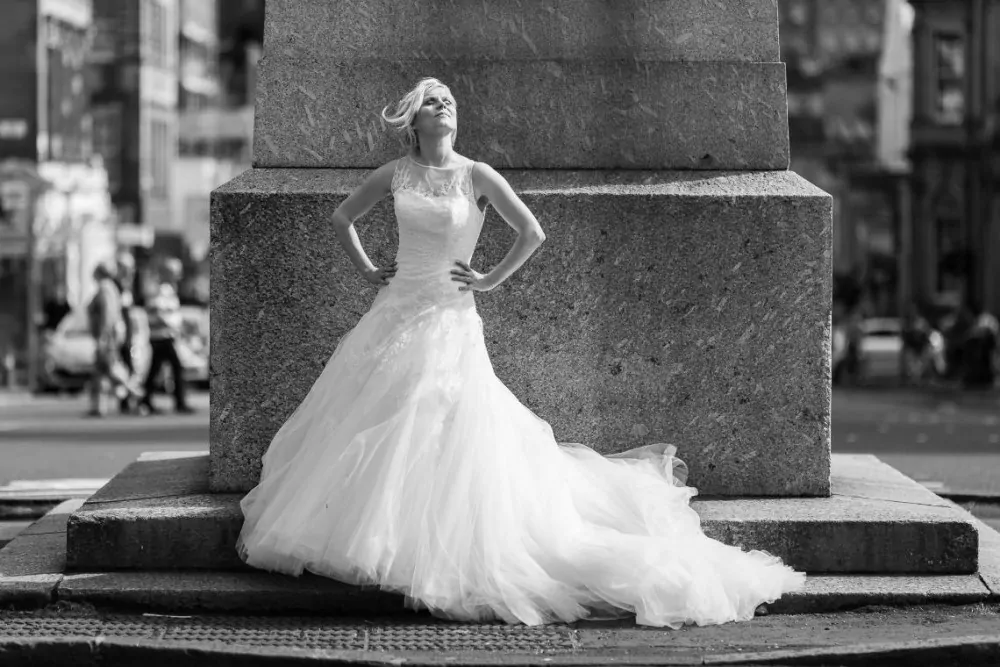 Queen Street Gardens
Queen Street Gardens are a short walk away and idyllic for newly-wed photos. The meandering pathways between mature shrubs and shady trees lead to ponds and water features, giving a perfect backdrop for your photographs. Flowering Rhododendrons and other flowering shrubs can bring an extra dash of colour to the images.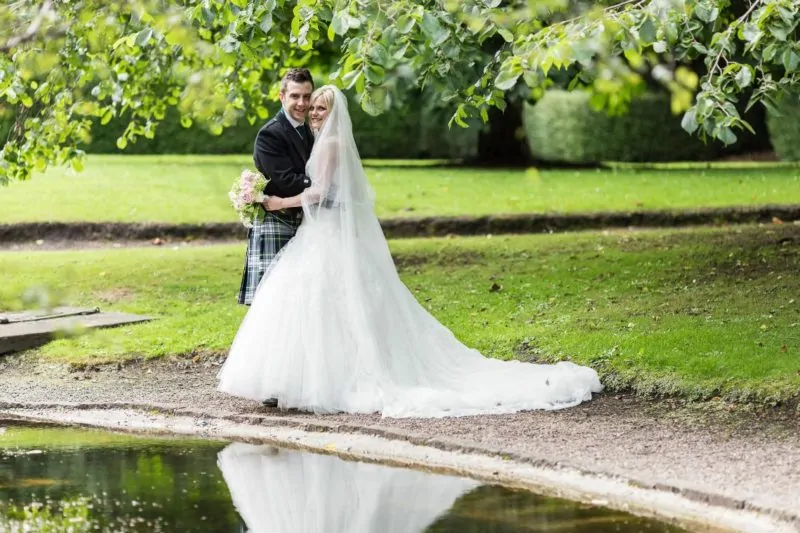 Weddings at The George Hotel Edinburgh are simply a pleasure to behold. As you enjoy your glass of champagne, take the time to absorb the simple detailing where nothing has been considered too much for your wedding day.
Restored with such care to its elegant grandeur, this venue will truly showcase your day and give you a celebration rife with detailing, care and attention.
The George Hotel Edinburgh Wedding Photos
A few blog posts and beautiful wedding photos from our weddings at this fabulous hotel. Click on the photos below to read the blog post and view more wedding photos.