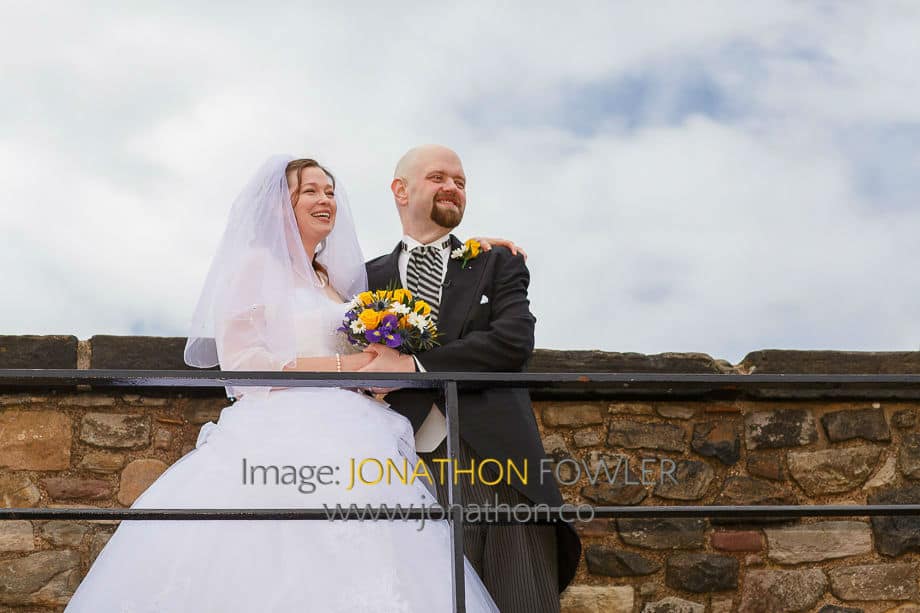 It was great to be Emily and Stephen's Edinburgh Castle wedding photographer. This lovely couple had flown in from sunny Texas for their Scottish elopement. Edinburgh Castle is a very popular wedding venue in Edinburgh. St. Margaret's Chapel within Edinburgh Castle only holds a maximum of 22 people, so the chapel is only really suitable for smaller weddings. St. Margaret's Chapel is also the oldest building in Edinburgh though it's been beautifully restored in the past and kept in lovely condition. Emily and Stephen were having a small and intimate elopement wedding, with their parents as witnesses. Stephen's dad, who is a Pastor, officiated at his son's wedding.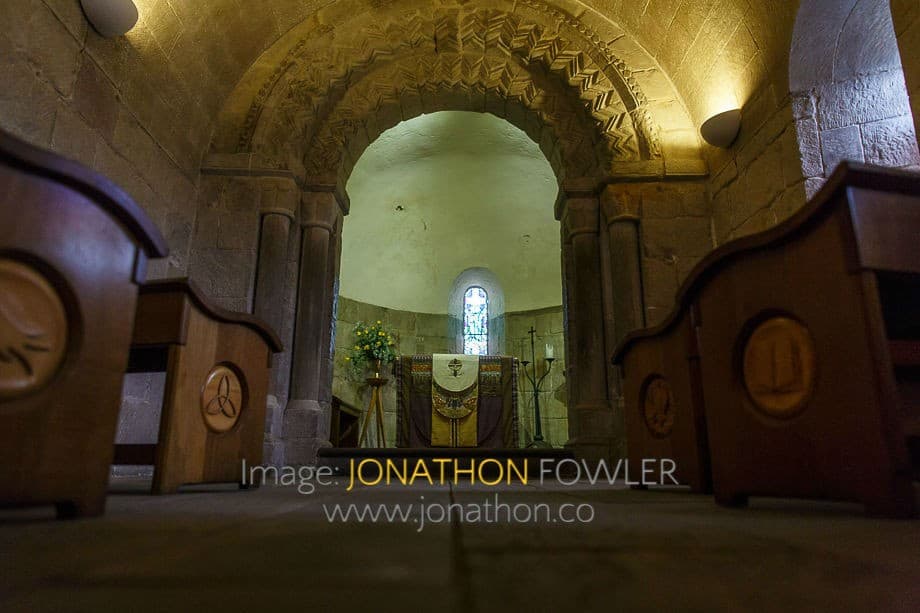 My day began with coverage of the preparations at the Apex International Hotel in the Grassmarket. A bit of a problem with the UK power voltage meant Emily and her mum had to make a last-minute dash to Cheynes Hairdressing, but even this wasn't enough to cause any panic or spoil the build-up to the ceremony!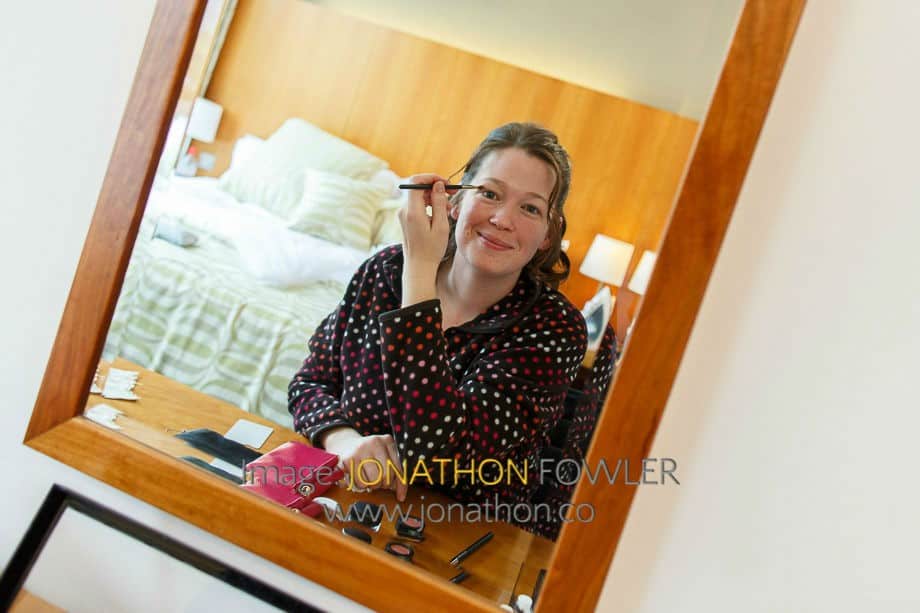 Parking at or near Edinburgh Castle can be a bit of a nightmare at times, fortunately, the staff at Edinburgh Castle were very helpful and allowed me to drive up into the Castle grounds. As expected at this time of year, the place was busy with tourists. This means the bride and groom usually feel a little bit like they're being photographed by paparazzi, with everyone eagerly waiting to get a photo of the couple!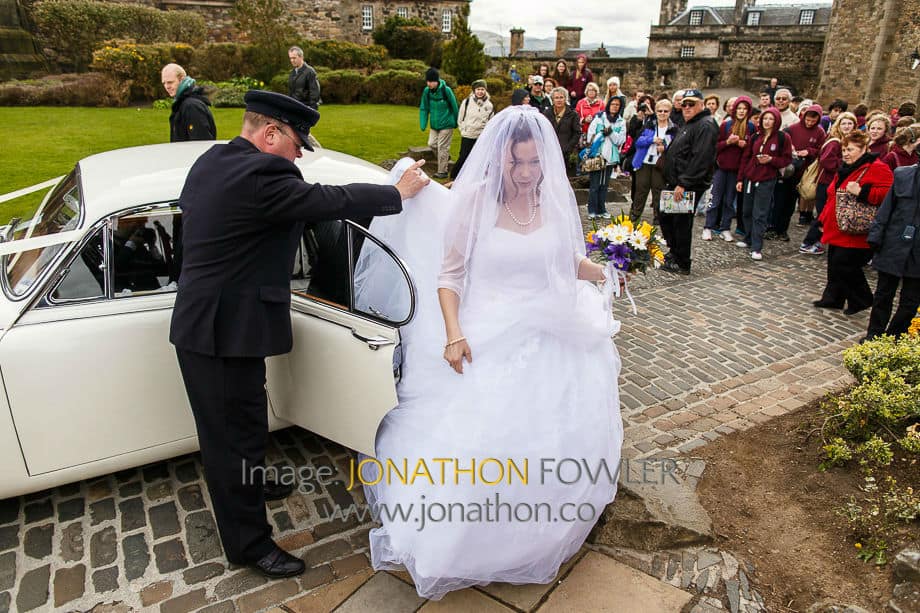 Stephen and Emily both arrived in beautiful classic cars – Stephen in an old silver Bentley, Emily in an old white Jaguar. The tourists all gathered around as Emily was piped into St. Margaret's Chapel. Once inside and the door was closed, the atmosphere was serene and intimate. Both mother of the bride and mother of the groom both did readings and managed (just!) to keep the tears at bay. After the ceremony, we went outside to shoot a few family photos. The weather was still favourable, so we decided to drive across town to Arthur's Seat to shoot a few newly-wed photos, followed by a few photos on Calton Hill. We were about halfway during our Arthur's Seat photo shoot when the skies darkened and the heavens opened. And so ended our outdoor photo session!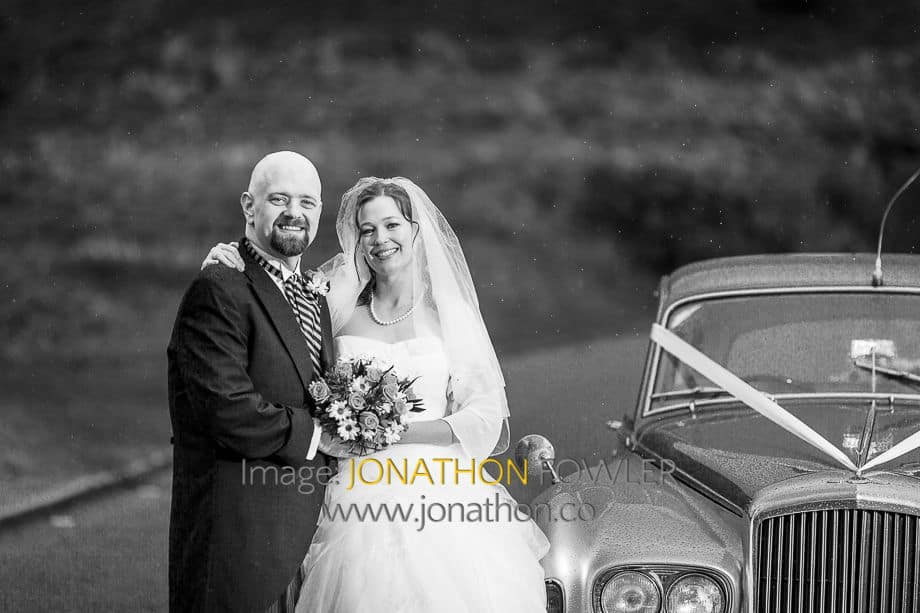 We headed back to the Apex International Hotel. The 5th-floor restaurant has fantastic views across to Edinburgh Castle, so we used this as a wonderful backdrop for photos. Back indoors I shot a selection of portrait photos of the couple. Although the rain put a dampener on the end of the photoshoot, to be fair we did get a selection of photos in locations that many couples could only dream about!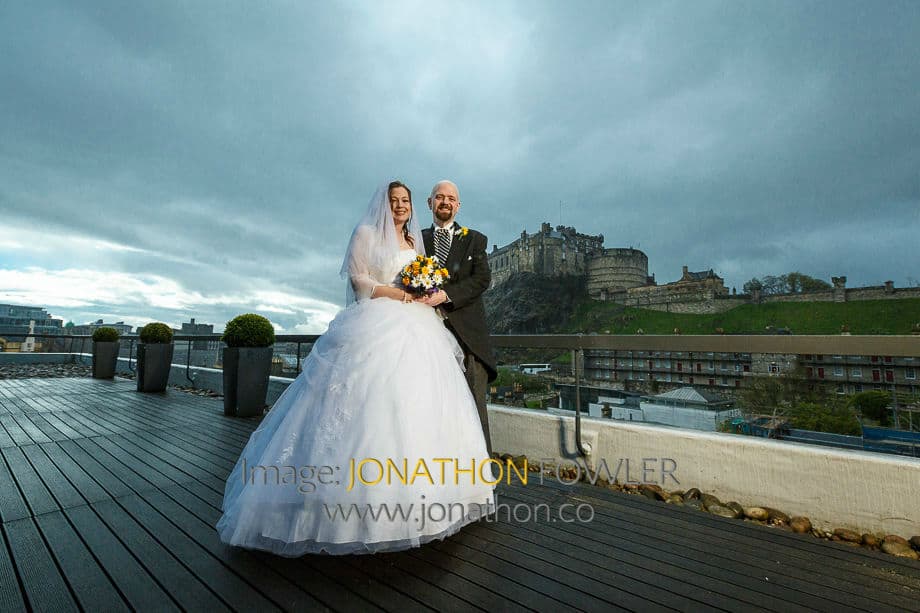 My day ended later that evening when I spent an hour with Emily and Stephen on the Royal Mile and inside one of Edinburgh's most famous restaurants, The Witchery.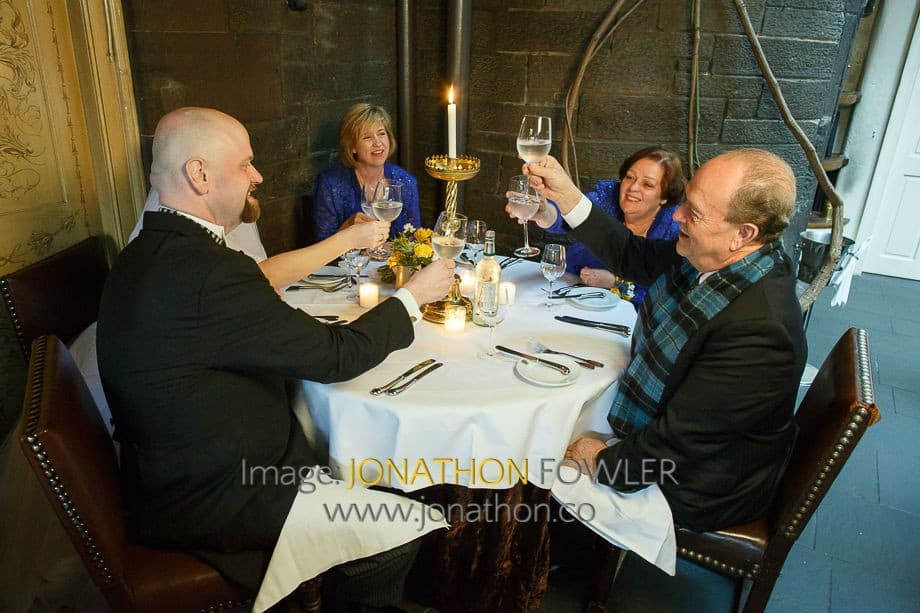 I had a lovely day with this awesome couple. Congratulations to Emily and Stephen, who continued their holiday by touring Europe.
Details of the wedding suppliers who helped make Emily and Stephen's Edinburgh Castle wedding so special and unique:
Florist: Stems Limited
Hairdresser: Cheynes Hairdressing
Piper: John Rae, The Pickled Piper
Groom's Attire: Men's Warehouse
Bridal Attire: David's Bridal
Bride's Shoes: Marmi Shoes
Cars: Ecosse Classic Wedding Cars
Edinburgh Castle Wedding Photographer Gallery
In the meantime, I'd like to share a few of my favourite wedding photos of Emily and Stephen's wedding day with you. I also photographed Chris and Sharon's Edinburgh Castle wedding, read the blog and see photos here.