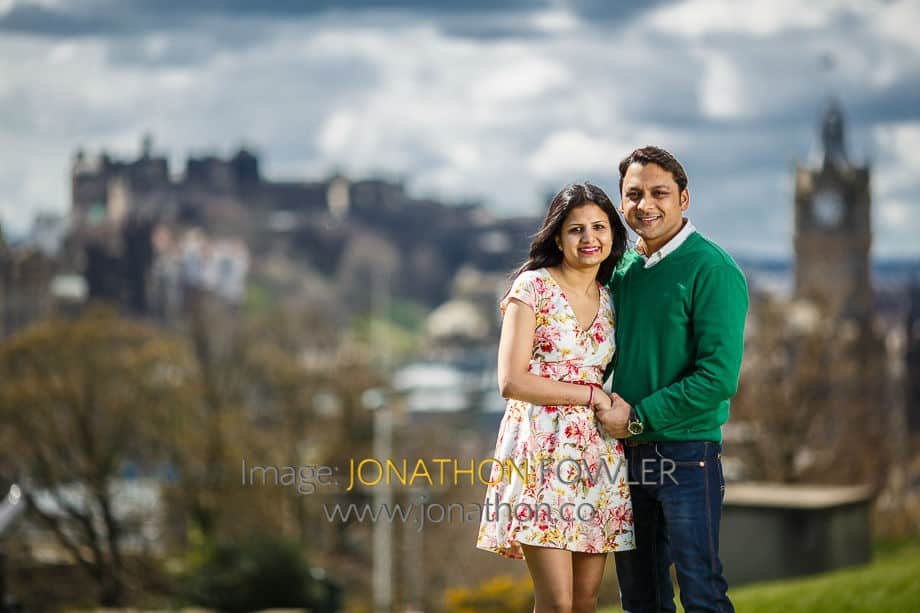 I've had the pleasure of proving my engagement photographer in Edinburgh services for Padmini and Rajat. This lovely couple is getting married in India but they wanted to have a few professional photos of themselves taken around Edinburgh while on a tour of Europe.
Padmini used to live in the Calton area of Edinburgh and asked if we could start our photoshoot there. I met Padmini and Rajat at Holyrood Park and started our photoshoot with a few photos of the couple with the Palace Of Holyrood House and Arthur's Seat as a backdrop.
From there we walked past the Scottish Parliament building to shoot a few photos on and around the Royal Mile. I love doing the city centre photo shoots. The couple being photographed always receive lots of interest from people passing by. We joked that Padmini and Rajat should pretend they're famous Bollywood stars in Edinburgh for a photoshoot!
From The Royal Mile, we made our way the short distance to Calton Hill. I recommended Calton Hill as a location as it offers some amazing views of Edinburgh. This was important. If you're making the effort to come to Edinburgh for a photoshoot, I feel that it's essential to add some context to your images and capture some key landmarks and buildings of Edinburgh in the background.
Calton Hill has the Scottish National Monument as one of it's most famous structures. This impressive monument was constructed to commemorate Scottish Soldiers killed in the Napoleonic wars. It makes for an impressive backdrop for some of my photos. I then asked Padmini and Rajat to turn around and another famous Edinburgh building, Edinburgh Castle, was used as a backdrop for our next photo.
We spent around 30 minutes on top of Calton Hill, shooting a really good and varied selection of photos.
It was great fun shooting photos of Padmini and Rajat. They're a lovely couple who are getting married in real style in India. Not like your typical Scottish wedding, which usually lasts a day, sometimes a weekend. Padmini and Rajat will get married in a five-day celebration, with over seven hundred wedding guests. The event will be covered by no fewer than six wedding photographers. Kind of makes what I do seem a bit lame by comparison!
Engagement Photographer In Edinburgh Gallery
I'd like to share a few of my favourite pre-wedding photos of Padmini and Rajat.