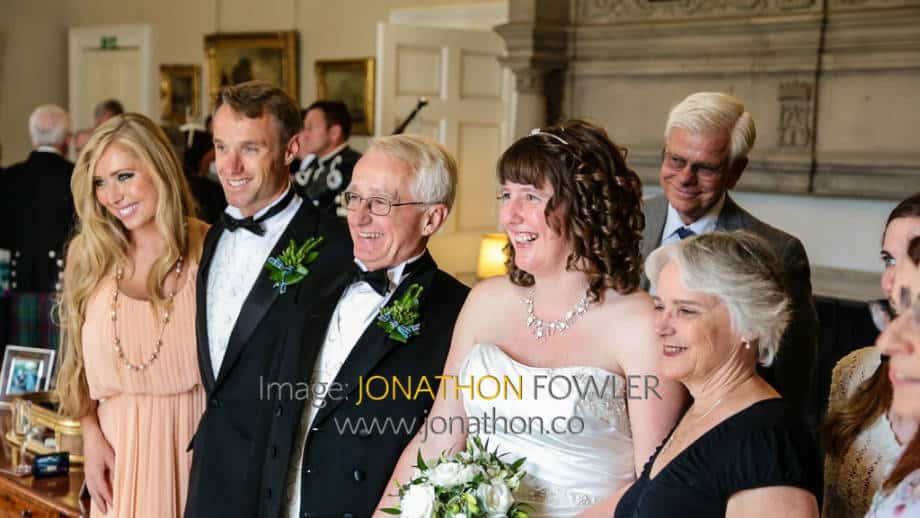 Filming Sheena and Paul's Winton Castle wedding video was a wonderful occasion. The day began with me filming the wedding ceremony at marvellous St. Mark's Church in Portobello. This was the first time I've filmed at this beautiful old building, located in the heart of Portobello.
Paul has a strong pastoral connection with the church and had travelled from the USA to marry his bride, Sheena. The ceremony was conducted by a good friend of Sheena's and was very moving and heartfelt.
I loved the view I had of the wedding ceremony, filming from the upper balcony area. Using multiple cameras ensured comprehensive coverage of the marriage ceremony. And the use of discreet lapel microphones ensured crystal-clear audio to match the high-quality video footage.
It was clear to see how much Sheena and Paul love each other…I'm sure I saw a wee tear in Paul's eye as he saw his bride Sheena walking up the aisle.
A few photos of the newly-weds were taken outside the church before they departed in their vintage car for the wedding reception at Winton Castle.
Winton Castle is one of my favourite wedding venues in East Lothian, located near the picturesque village of Pencaitland in East Lothian.
I've previously filmed weddings at Winton Castle, it's a beautiful East Lothian wedding venue which offers exclusive use and privacy for your wedding or event. Great to be back at Winton Castle, especially having the pleasure of filming such a warm and friendly group of people.
The grounds at this stunning Scottish wedding venue are perfect for newly-wed photos and video, with extensive lawns and woodland.
I particularly loved filming the speeches. It was great to hear anecdotes about the couple, how they met and how perfectly matched they are for one another.
My coverage of this fantastic wedding day ended with filming the first few dances.
Congratulations to Sheena and Paul, it was a pleasure to film your Winton Castle wedding video!
Winton Castle Wedding Video Highlights Edit
Shared below is the highlights edit of Sheena and Paul's wedding day. Enjoy!