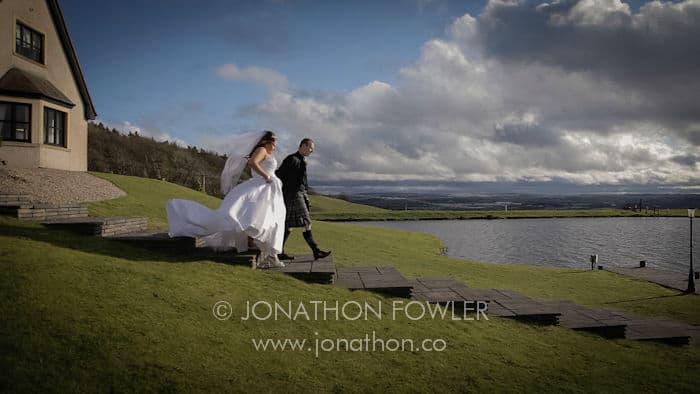 On Friday, I had the huge pleasure of being Jemma and Alan's videographer at The Vu, a top wedding venue in West Lothian. And what a great day it turned out to be. The Vu is one of West Lothian's leading wedding venues, at which I've had the pleasure of filming and photographing on many memorable occasions.
Over the past few years, I've been fortunate enough to film lots of weddings all over Scotland. I read a lot of wedding videographer and photographer blogs and these almost always state the same thing. What a lovely couple. What a great wedding venue. What an amazing wedding ceremony. The Bride looked gorgeous. The truth be told, that stuff can all be taken for granted. I've yet to meet a couple on their wedding day who has been anything less than beautiful, lovely, gracious, friendly, courteous etc. etc. All weddings are nice places to be, you can take that for granted, too. The only negative thing that I sometimes find about Scottish weddings is miserable weather. But even bad weather doesn't spoil a wedding day.
I always come home from weddings with a real buzz. It's exciting to be photographing and filming the best day of a wonderful couple's life. No matter how big or intimate a wedding I attend, it's always great to be there.
What I find sets some weddings apart from others is how much fun people are having on the day. And for this wedding, I can honestly say it's one of the most fun weddings I've ever been to. From the wacky Minister Liddle who conducted the ceremony (you can see a clip of this guy in action at another wedding, here: The Vu wedding Minister Riddell encouraging singing!), to the excitement and laughter during the reception, this was a really special day in a brilliant wedding venue.
Everyone laughed long and hard during the speeches. People were really enjoying themselves during the evening reception. What a really great day.
Videographer At The Vu – Some Photos From The Wedding Video
I've captured a few wedding photos from the video footage, below. I hope you'll agree I've captured the atmosphere and happy vibe of this beautiful wedding day. You'll be able to see how great the day was, how beautiful the Bride was and yes, how much fun it was 🙂