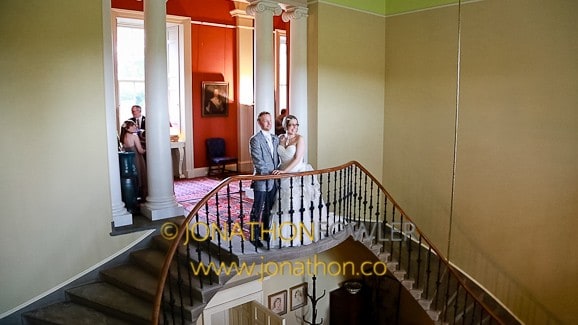 I had the pleasure of filming Emily and Craig's Wedderburn Castle wedding video. Emily and Craig are both Doctors of Philosophy who live and work in England. During a visit to Scotland, they both fell in love with Wedderburn Castle and no wonder. This idyllic setting in the Scottish Borders is a beautiful and exclusive wedding venue. Upon my arrival at Wedderburn Castle it was easy to see why, out of all the wedding venues available in the United Kingdom, they chose this stunning wedding venue.
The first part of my day was to film a little bit of time-lapse footage. My arrival was timed perfectly – after about 20 minutes of filming the heavens opened and the rain stayed on for most of the rest of the day. No worries, ever cloud has a silver lining, I filmed some amazing footage of the clouds rolling over Wedderburn Castle. You can see this short Wedderburn Castle time-lapse video here:
The wedding ceremony was a real tear-jerker. Emily and Craig were clearly very moved by the occasion, with a few tears shed during the proceedings. These guys are clearly made for each other and everyone in the room could see how much they love each other. A really lovely and heartfelt ceremony which I'll always remember.
After the ceremony, the newlyweds met and greeted their guests in an informal receiving line. Much laughter and joy during the champagne reception, with many beautiful moments filmed.
Emily and Craig were cheered into The Ballroom to rapturous applause. Speeches followed, with both Emily and Craig taking turns to say a few words and raise a toast.
After the speeches and wedding breakfast, I filmed a 'video diary room', where guests leave messages of goodwill for the newly-weds. This was great fun to film and I'm sure Emily and Craig will appreciate all the lovely messages when they view their wedding video!
Cutting the wedding cake was followed by the funniest first dances I think I've ever seen! The first dance song was literally a first – the Coronation Street theme tune, followed by 'The Birdy Song'. The way Emily and Craig danced and twirled to their first song was hilarious, a wonderful and non-traditional to end such an amazing day at a fantastic wedding venue.
Congratulation to Emily and Craig.
Wedderburn Castle Wedding
I'd like to share a few still images taken straight from Emily and Craig's wedding video at Wedderburn Castle.