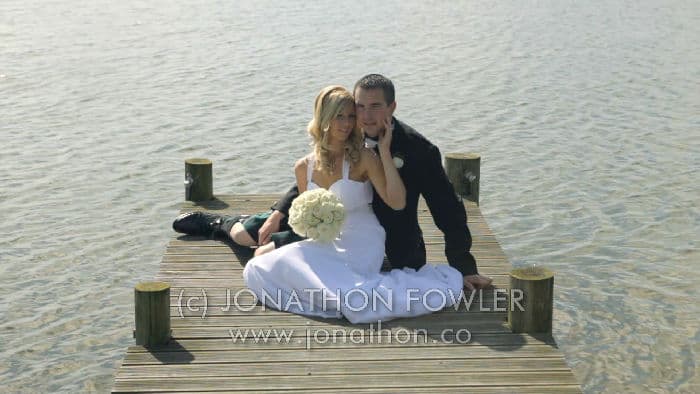 What a pleasure to have been invited to be wedding videographer at The Vu again.
For this latest day at The Vu, I've been filming the wedding of Christina and James. They were married at St John's Parish Church, Bathgate, and held their wedding reception nearby at Bathgate's top wedding venue The Vu.
This was a multi-camera wedding video, with all-day coverage from shortly before the wedding ceremony until 10 pm in the evening. The day started about 90 minutes before the wedding ceremony.
Arriving early means we have plenty of time to film a few establishing shots which set the scene for the opening of your wedding video. I filmed shots of the church, both inside and out. Along with shots of the groom and guests arriving, this part of the wedding video will have a music backing track synchronised with the video footage. A great way to begin your wedding film, nicely setting the scene for what's to come.
After the wedding ceremony, everyone headed across to The Vu for the wedding reception. Photos of the newly-weds, their families and friends were taken with the backdrop of West Lothian. Newly-wed photos were taken on the jetty with Ballecrieff Reservoir the romantic setting. One of the highlights of the day for me was the ceilidh in the evening. Christina and James live in Mallaig and had booked their local ceilidh band to provide the evening entertainment. The band were amazing, easily the best and most original ceilidh band I've seen!
Congratulations to Christina and James. What a great wedding day and amazing to see so many guests travelling to Bathgate from Mallaig and the surrounding area.
The Vu Wedding Videographer – Photos Taken From The Video
If you read through our various wedding videographer blog posts you will know we like to share photos we've captured from the wedding video and post them as little snippets, perfect for capturing moments from your wedding day which even the sharpest wedding photographer might miss.
Here's a few still taken from Christina and James's Vu wedding video.