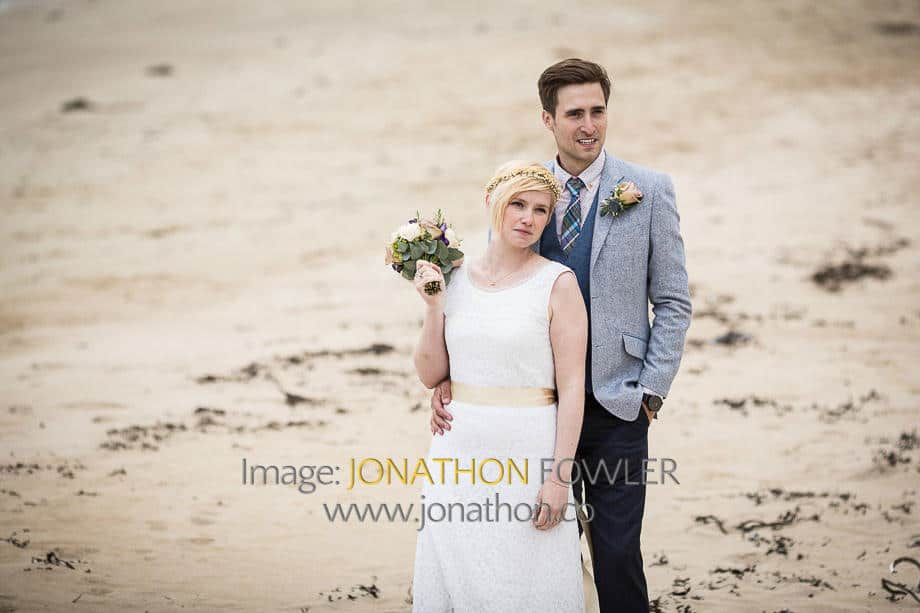 I was honoured to be asked to be Martin and Sally's Talmine Beach wedding videographer. Located in the far north of Scotland on the beautiful Sutherland Coast, Talmine Beach was an idyllic location for a small, intimate and romantic wedding.
The remote location meant a super-early departure from Edinburgh. What a fantastic drive through the scenic Scottish Highlands, arriving at Talmine mid-morning.
It was raining when I arrived, which was really disappointing as Sally and Richard were supposed to be getting married on the beautiful beach at Talmine. Thankfully, by early afternoon the weather was perfect. Honestly, what a transformation – filming the beach scenes you would be forgiven for thinking this was a Caribbean wedding!
Sally and Richard's choice of words for their ceremony almost brought a tear to my eye for what is one of the most wonderful Humanist weddings I've had the pleasure of filming. The sound of the tide lapping on the shore as Sally and Richard were announced as the new Mr and Mrs was such a wonderful moment.
Following a few newly-wed photos and video on Talmine beach, the rest of the day was a relaxed and celebration, with a delicious barbeque, drinks and party held nearby at Sally's parent's house overlooking Talmine Bay.
I'll always fondly remember this wedding day for being intimate, loving, relaxed and fun, with a lovely group of family and friends who couldn't have made me more welcome.
Brilliant speeches, charming company and hospitality, crazy dancing and heartfelt and sincere heartfelt greetings ensured this was the perfect wedding day.
A late finish meant an overnight stay nearby at The Tongue Hotel.
Talmine Beach Wedding Videographer Highlights Edit
This highlights video shows the highlights, or 'best bits', telling the story of Martin and Sally's wedding day, from the latter stages of the preparations in the morning to the dancing late in the evening. Highlights edits can be included with any of our wedding video packages.