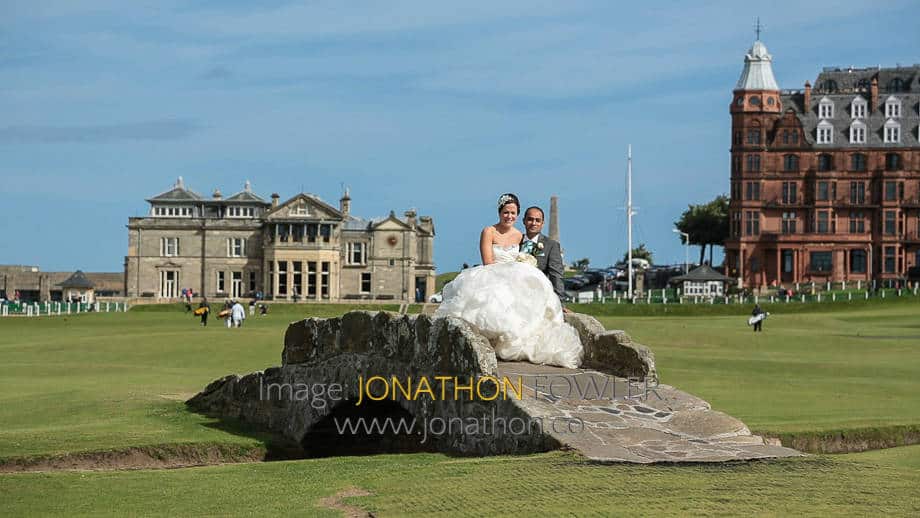 Filming Lynne and Shami's St Andrews wedding video was a highlight of the year for me. Back in beautiful St Andrews for a wedding on a sunny day is always going to be special. I'd previously met Lynne and Shami at Hannah and Amit's wedding and was delighted when they invited me to film their own wedding day in St Andrews.
The day began with me filming a little bit of both the girls and the boys getting ready at The Old Course Hotel in St Andrews. The champagne was flowing and the atmosphere was fun and friendly. I knew this would be a wonderful day!
Lynne and Shami were married nearby at beautiful Holy Trinity Church in the centre of St Andrews. I love this old historic church. The lighting and atmosphere inside were wonderful and added to the occasion.
Outside the church, the newly-weds were hugged and congratulated by family and friends. I enjoyed taking the newly-weds to the famous Swilken Bridge on St Andrews Old Course historic 18th fairway for a few video shots. This had to be timed to perfection as the course is always busy with golfers!
Afterwards, the newly-weds' wedding reception was held at the Old Course Hotel. By the time I left in the evening after the first few dances, the party was well underway.
Lynne and Shami were a pleasure to film. Shared here is a slideshow of video stills edited to music. I capture a selection of photos straight from the video, then synchronise these to music specially chosen by the newly-weds.
Enjoy!
St Andrews Wedding Video