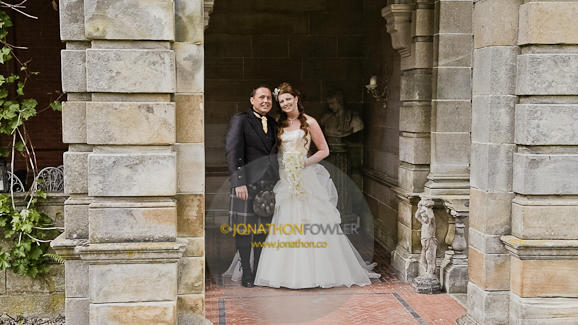 What a great time I had being Tracy and Scott's Solsgirth House wedding videographer. Last time I was here Solsgirth House was a privately owned family home, however at the time of writing this blog post it has since become part of the Aurora Hotel group. The same group owns Glenbervie House, Airth Castle and other top Scottish wedding venues.
It was an early start to the day as the previous day I was filming Gillian and Ryan's wedding near Inverness, so I had to be up early for a blast down the A9 to arrive in time to film the wedding party preparations at Solsgirth House.
Solsgirth House is a beautiful wedding venue set in acres of private grounds. The weather was warm and humid with plenty of clouds overhead. Perfect conditions for a nice wee bit of time-lapse video. This involves taking hundreds of photos and joining them together to create a few seconds of video. Well worth the time taken to create, as it creates a beautiful cinematic shot which really helps to increase the 'wow factor' of your wedding video.
Tracy and Scott were both nice and relaxed during their preparations. There was a lovely atmosphere during the proceedings, which I love to film. I love to capture all the little details, treating the filming in the same way I would shoot photos. Capturing little details is one of my specialities and an important part of your day as you've spent ages carefully choosing a perfume, jewellery, flowers, shoes and all the other million and one things that make your wedding day unique.
The wedding ceremony was originally planned to be held outdoors. The weather had deteriorated and we now had showers, so the plan was amended to hold the Humanist wedding ceremony in Solsgirth's private chapel. It was a tight squeeze in here, but two camera filming ensured I captured everything nicely.
The weather improved after the ceremony, enough that the majority of the group and couple shots were done outdoors.
After meeting and greeting all the guests in a receiving line the top table and newly-weds were cheered into the beautiful dining room and cut their lovely wedding cake. Speeches followed, all filmed with two cameras to allow me to create an interesting and varied edit.
My day ended with filming the first few dances. I filmed with 2 cameras, one covering the band, the other on my Steadicam to film gorgeous cinematic shots of the first dances.
This was a lovely wedding day and a pleasure to be a part of it. What an amazing weekend, I've met so many nice people and had a real blast filming two awesome wedding days!
Solsgirth House Wedding Videographer – Highlights Video
Solsgirth House Wedding Highlights Video
I'd like to share with you a few wedding photos taken from the video recording. You can add photos from your video as an upgrade to all wedding video packages.