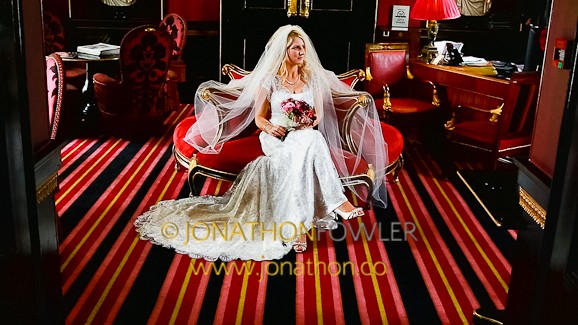 I recently had the pleasure of being Nicola and David's Prestonfield House wedding videographer. Great to be back at prestigious Prestonfield House, one of Edinburgh's finest wedding venues.
Today's wedding was held in Prestonfield House's historic circular Georgian stables. This is the perfect setting for larger wedding parties. Prestonfield House is set in beautiful lush grounds in view of Arthur's Seat, which overlooks this amazing wedding venue. Peacocks wander around and Highland cattle graze nearby. It's easy to forget just how close to Edinburgh city centre you are!
Groom David is from Northern Ireland. It was great to see so many family and friends making the trip over to Edinburgh for such a wonderful occasion. David was relaxed and showing no sign of any nerves at all. His beautiful bride Nicola looked stunning as she made the short walk across from Prestonfield House to The Stables.
Nicola and David were wed in a Humanist ceremony. Humanist ceremonies are non-religious and feature vows written by the engaged couple. I love witnessing Humanist wedding ceremonies. Each one really is unique and personal to each couple.
After the ceremony drinks were served out on the lawn. The weather for this wedding was beautiful and sunny, perfect for filming outdoors. It was great being able to make use of the beautiful grounds for filming in such lovely weather.
For filming a few shots with just the newly-weds, we made use of Prestonfield's exquisite interior. Decadent, opulent and just perfect for beautiful a wedding video.
Guest's made full use of the 'Luca's' ice cream van, with delicious ice cream on tap all afternoon. The ice cream van also provided a unique backdrop for a few images!
After the champagne reception, Nicola and David were piped to the top table to rapturous applause. The entertaining speeches took place after the wedding breakfast, with a champagne toast rounding things off nicely.
My day ended with filming the newly-weds' cutting their wedding cake, followed by the first few dances. Evening entertainment was provided by an excellent band, Rogues Gallery. By the time I finished the dance floor was packed with guests dancing – I knew the rest of the evening was going to be a wonderful party!
Congratulations to Nicola and David, being your Prestonfield House wedding videographer was such an amazing experience!
Prestonfield House Wedding Video – A Few Stills
I'd like to share a few images taken from Nicola and David's Prestonfield House wedding video. These are taken straight from the video recording and are available to all customers as an optional upgrade.