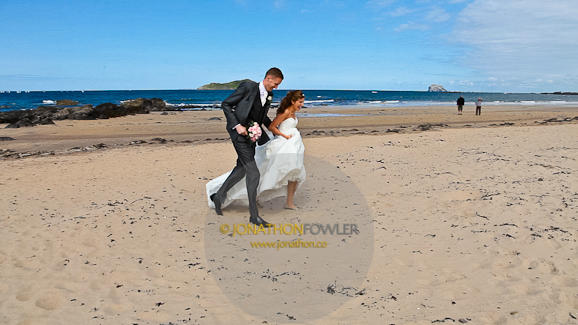 On Saturday, I had the pleasure of being Karla and Steven's Dirleton Kirk and North Berwick Marine Hotel wedding videographer. Filming my second wedding of the week featuring a beach, it was great to back in North Berwick.
My day began by filming the girl's preparations at Karla's mum's house in the beautiful seaside town of North Berwick. The champagne was flowing, the curlers were curling the hair and a lovely atmosphere was being enjoyed by everyone. No sign of any nerves from Karla, she was very smiley and relaxed and really looking forward to the day. After an hour, I headed over to nearby Dirleton Kirk, a historic wedding venue in the picturesque village of Dirleton to prepare for the filming of the wedding ceremony. I shot a wee bit of time-lapse footage of the clouds going over Dirleton Kirk which I'll add to the start of this North Berwick Marine Hotel wedding video.
Steven looked very smart in a sharp grey suit and was every bit as relaxed as Karla. The minister of Dirleton Kirk is a wonderful host as he was happy for me to place my cameras anywhere in the church. It was great to be able to pick my spots to ensure I got exactly the coverage I wanted.
Karla looked beautiful arriving in a vintage car. Steven's smile as Karla joined him at the altar said it all and before we knew it the ceremony was over and Karla and Steven were newly-weds.
After a few traditional group photos were shot outdoors, it was time to head over to the Macdonald Marine Hotel in North Berwick. Karla and Steven had time to enjoy a glass of champagne and soak up congratulations from their guests. My favourite thing about filming newlyweds at The Marine in North Berwick is taking a short trip over the golf course to shoot some exquisite wedding video on North Berwick beach. The weather was sunny if a little bit windy, so we made a run for it across the golf course before any possible rain started!
North Berwick beach enjoys magnificent views of mighty Bass Rock, an amazing setting for shooting beautiful wedding photos and video. Well done to Karla in particular who braved a slightly chilly wind. Karla, it was well worth it, because I've got some beautiful footage of the newly-weds! I was filming this part of the day with a Steadicam rig, this enabled me to film some really cool cinematic shots, such as Karla and Steven walking towards me along the beach as I walked backwards. This looks awesome and will really make this wedding video stand out with a bit of 'wow factor'!
Another run across the golf course was followed by the piped grand entrance to the Bass Rock Suite. Much cheering, clapping and whooping took place as the newly-weds were led to their top table by the piper.
Very entertaining speeches followed, these were good fun to watch and film. My day of filming ended with the newly-weds cutting their wedding cake, followed by coverage of the first few dances. The evening entertainment was provided by top Scottish wedding band Callanish. These guys always get the dance floor packed and never fail to impress.
Great to be back at this beautiful wedding venue, I look forward to filming another wedding here in future.
North Berwick Marine Hotel Wedding Videographer – Highlights Edit
I've captured a few photos from the video footage and created a highlights film of all the 'best bits' from the North Berwick Marine Hotel wedding film which I'd like to share with you so you too can see how wonderful this day was.