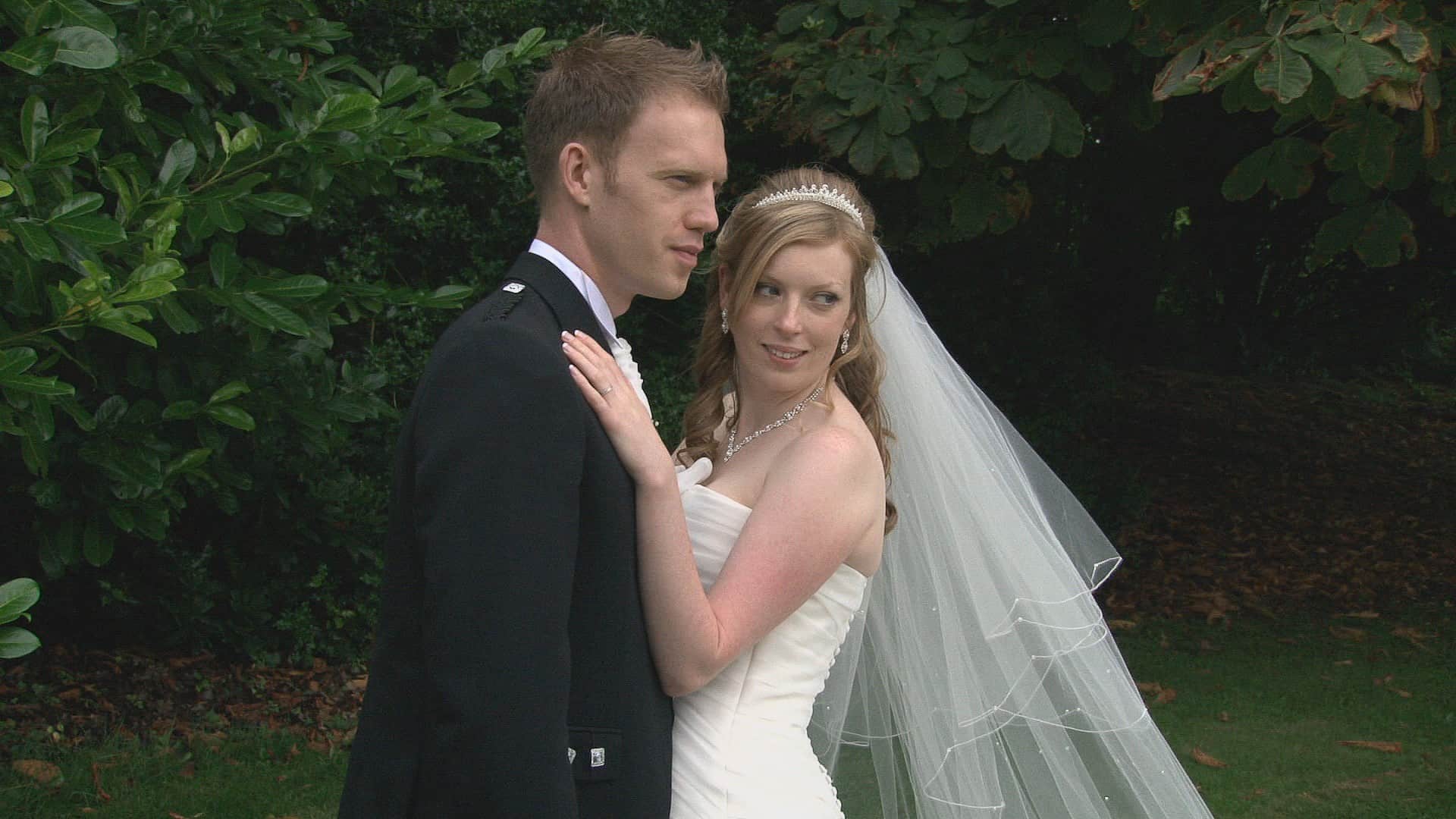 Moorpark House Wedding Video Highlights
Moorpark House wedding video highlights from Jemma and Kenneth's magnificent wedding day. This lovely couple were married at St Mirin's Cathedral in Paisley. Their wedding reception was held at Moorpark House, Kilbirnie. The full wedding video is approximately two hours long. This wedding highlights video consists of all the 'best bits' of the full wedding video edited down to around six minutes. This highlights edit contains music specially chosen by the bride and groom.
Although we're based in Edinburgh, we're always happy to travel throughout Scotland to film beautiful weddings. We've covered a lot of Glasgow and West Coast weddings and this wedding was one of the best we've been to!
We extensively used a Steadicam cinematic stabiliser for filming this beautiful wedding day. The Steadicam allows the camera to 'float' in the air. This means we can walk in and around guests and film beautiful cinematic shots of the event as it unfolds. One of our favourite shots is a long shot of Jemma arriving in the Rolls Royce arriving at St. Mirin's Cathedral. Another favourite is of the newly-weds as they walk down the aisle. For this shot, we slowly walked back up the aisle as the newlyweds walked towards the camera. This style of filming is nearly impossible to do without this kind of stabilisation, as the shot would be quite unstable.
After the wedding ceremony, the reception took place at Moorpark House. This beautiful venue is perfect for filming gorgeous shots of the newly-weds. Moorpark House has extensive gardens, a beautiful staircase and grand rooms. Everything for a perfect wedding reception.
We enjoyed filming the wedding speeches, which were very amusing and warmly received by all the guests. This was followed by the cutting of the wedding cake and the first few dances. It was a great wedding day to film which ended for us at around 10 pm. Plenty of video footage for us to edit and turn into a brilliant story of Jemma and Kenneth's wedding day.
One highlight of this wonderful day which we will always remember was Kenneth's Grandfather having a wee dance in the evening. He was a lovely old gentleman who had spent most of the day confined to his wheelchair. It was fantastic to be able to record him having the strength to spend a minute or so joining all the other wedding guests having a dance on the dance floor. What a character!
It was with great sadness that we were informed by Kenneth that since recording the wedding his dear Grandfather had passed away. We are pleased that we have some lovely video footage of their Grandfather on their wedding video. Especially the final recording of him getting up to dance – what a beautiful memory of a loved one, having a brilliant time on your wedding day.
Still Images Slideshow
We've created wedding photos taken from our favourite parts of the Moorpark House wedding video. The images are then edited and combined with music to create this storytelling slide show of the day, shown below.
The slide show was created with over a hundred photos from the video camera footage and edited to a music backing track.
The movement of the images keeps the entire mix fresh and interesting.
Here's a few still images taken straight from Jemma and Kenneth's Moorpark House wedding video: