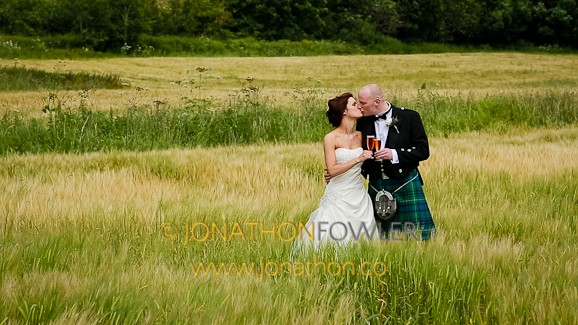 I've had the pleasure of filming Alison and David's Menzies Castle wedding video in rural Perthshire. It was an honour to be filming Alison and David's wedding video, particularly in this beautiful part of Scotland.
Menzies Castle is the ancient and historical seat of the Chiefs of the Menzies clan. Very apt, as Alison's maiden name is Menzies! This 400-year-old castle is set in its own grounds in rural Perthshire. A beautiful location which ensures privacy and exclusivity on your wedding day. Just the kind of Scottish wedding venue where I love to film!
David was nice and relaxed and looking forward to the day. Today was also a very special day as it was the tenth anniversary of Alison and David's first-ever date. How romantic is that? The beautiful bridal party arrived in a gorgeous old Citroen car. Bride Alison looked beautiful in her white wedding dress, escorted into the castle by her father.
The civil marriage ceremony was lovely. The wedding ceremony was held in the Main Hall, also known as the 'Pink Room'. A highlight of the ceremony was a reading by David's father, in which he incorporated the titles of lots of Beatles songs! A nice touch that was a wee bit different to the usual Corinthians or Captain Corelli's Mandolin readings.
After signing the marriage schedule, the newly-weds were piped out to the front of the castle for the formal photo shoot. During this part of a wedding day, I usually film discreetly in the background, capturing the newly-weds from various angles. Menzies Castle is surrounded by fields of rye, so the field was used as the setting for a few lovely photos. I filmed Alison and David from a distance, filming some exquisite shots of the newly-weds kissing, with the rye swirling about in the breeze.
There was time for the newly-weds to mingle with their guests for a bit, before being piped into the Ballroom, also known as the Dewar Room. A toast to the newly-weds from the piper was followed by the speeches. Entertaining, amusing and heartfelt, the speeches were good fun to film and I'll enjoy editing these, especially as they were filmed by two cameras.
My day ended with the newly-weds cutting their wedding cake, followed by filming the first few dances. Entertainment was provided by excellent Edinburgh band, Cranachan. A good mix of pop, rock and ceilidh tunes were played, and by the time I departed the dance floor was packed and the party was well underway!
This was a lovely day, filming a really lovely couple. I'd like to share a few Menzies Castle wedding photos taken straight from the newly-weds' film.
Menzies Castle Wedding Video – A Few Stills