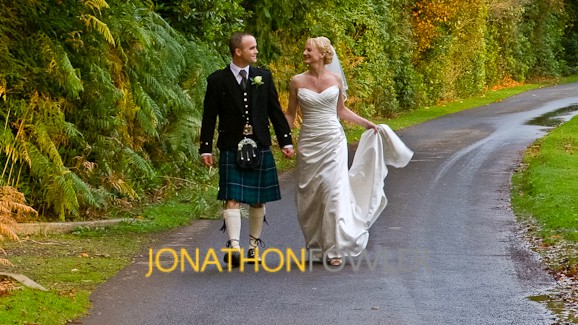 We've recently finished editing Joanne and Carl's Melville Castle wedding video. This lovely couple were recently married at St Mary's Cathedral, Edinburgh, followed by their reception at Melville Castle. We live about a mile from St Mary's Cathedral, so it was nice to be filming so close to home for a change!
This was a 'multiple camera shoot'. We recorded most of the day with multiple high definition cameras. One camera filming Carl and the guests arriving at St Mary's. Another camera filming the string quartet inside the cathedral. Bride Joanne looked beautiful in a gorgeous white wedding dress. We got a fantastic close-up shot of Carl's face as it lit up when he turned to watch Joanne walking up the aisle.
We recorded the Roman Catholic wedding ceremony with multiple cameras covering the proceedings from different angles. One of our cameras was used to capture close-up detail shots; Jo and Carl holding hands, the exchange of rings, the readings.
After taking a few photos of the newly-weds outside St Mary's Cathedral, everyone departed to Melville Castle for the wedding reception. Melville Castle is nestled in a beautiful private estate situated to the south of Edinburgh near a small town called Lasswade. The grounds of Melville Castle are a great backdrop for wedding photos. During the photo shoot, we record shots of the newly-weds and their guests and edit this to music chosen by the newly-weds. The sun was getting low in the sky by the time the photo shoot was underway, a beautiful backdrop for the wedding photos and video, lit by the setting golden sun. Very romantic and beautiful to capture!
A benefit of having your wedding reception at Melville Castle is being able to include the use of a large pavilion as part of their service for larger wedding parties. We've been to many weddings and events at Melville Castle and the provision of the pavilion is a big improvement for larger wedding receptions as it gives everyone plenty of space to move around, whereas the main Castle building is better suited to smaller events. The Pavilion was the perfect setting for the first few dances!
We used multiple cameras to record the first few dances. One camera filming the live band, the other recording all the action on the dance floor.
We really enjoyed filming Joanne and Carl's wedding and we're really pleased with the edit. Congratulations to Joanne and Carl, we had a blast filming your Melville Castle wedding video!
Here's a peek at part of the wedding film, showing the first dances in the evening.
Melville Castle Wedding Videographer – Jo and Carl's First Dance