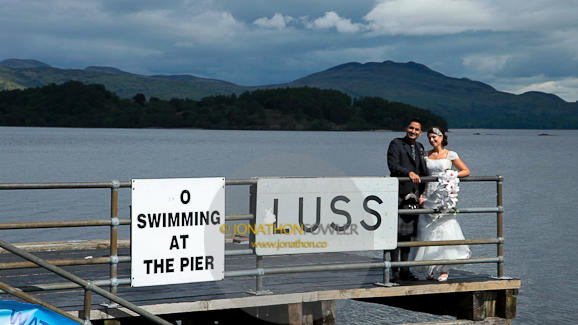 I was delighted to be invited to be Hannah and Amit's Lodge On Loch Lomond wedding videographer.
It was an early departure from Edinburgh for me as I was filming the bride and groom preparations in the morning.
When I arrived at the Lodge On Loch Lomond the weather was pretty miserable. Unlike the atmosphere during the preparations, where there was lots of laughter and champagne quaffing. As the entire wedding party got ready at the hotel, I was able to film both the guys and the girls' preparations. This makes for a lovely balanced start to the wedding film, which is edited and synchronised to music chosen by Hannah and Amit.
A brilliant, personalised Humanist wedding ceremony was followed by champagne and congratulations. By this time, the weather had cleared and for the rest of the day, and we had glorious sunshine. This was awesome, as it meant the newly-wed photos could be performed outdoors in the beautiful grounds of the hotel.
Loch Lomond is a stunning backdrop, for wedding photos and a wedding video the location is just sublime. We headed over to nearby Luss pier and the beach. Previewing the video I filmed you would think we had been in the Caribbean! Hannah and Amit were so relaxed and great fun to film, a real pleasure to spend time with them during their first couple of hours as newly-weds.
Hannah and Amit welcomed their guests into the McMillan Suite, which they themselves entered a few minutes later while led by a Scottish piper. The speeches that followed were great fun to watch and film, with a couple of Amit's pals acting as Masters of Ceremony having everyone laughing at some of their comments.
The wedding reception evening celebrations began with the cutting of the gorgeous wedding cake. The first dance music was a lovely duet sung by good friends of the newly-weds. The rest of the evening entertainment was provided by a fantastic singer called Andy Wilsher.
It was an amazing day filming such a lovely couple. I went home really buzzing from filming such a wonderful day!
Lodge on Loch Lomond Wedding Videographer – A Few Photos From The Video
I'd like to share a few wedding photos taken straight from Hannah and Amit's Lodge On Loch Lomond wedding video to show you just how special this day was at this wonderfully romantic wedding venue.