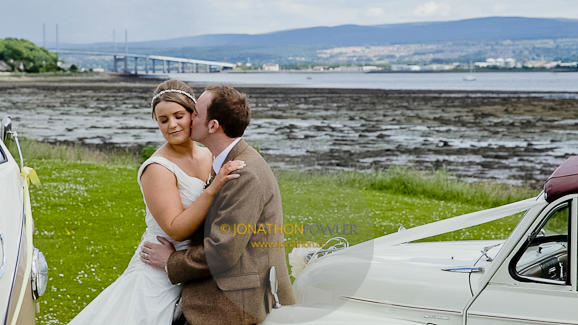 What an awesome end to the week, when I was hired as Gillian and Ryan's Loch Ness Country House Hotel wedding videographer. This was going to be the longest weekend I've had filming weddings. A 6.30am departure from Edinburgh. Film the wedding in Inverness (ending with a fireworks display at 11pm). Stay overnight in Inverness, then a quick blast back down the A9 to film another wedding at Solsgirth House, Dollar! Over 400 miles travelled. Several hours of wedding footage. And decent weather for a change. What a great weekend!
I arrived at beautiful Urray Church West, Muir Of Ord, at about 11am. The weather was very warm and humid, with lots of fast-moving clouds zipping by overhead. Perfect for filming a bit of time-lapse for the opening chapter of the video.
Groom Ryan was due to arrive by helicopter at 12pm, so I waited at the rear of the church with a good view of nearby fields, which I reckoned would be the best landing spot around. Right on time, the sound of rotor blades chopping away grew louder, and after about a minute the boys were flying low overhead. How to arrive in style! What a great opening to the video so far.
Beautiful bride Gillian arrived in a lovely old Morris Minor car. Her Bridesmaids arrived in a classic Volkswagen camper van. The bridesmaids' yellow dresses were perfect for such a sunny day. The service was conducted by really nice, laid-back Minister Scott Polwarth. He was kind enough to allow me to set-up my tripods wherever I wished.
After the lovely wedding ceremony, everyone headed outside to congratulate the newly-weds and have a few group photos taken. As the weather was so nice the wedding party, I and the wedding photographer headed along the Beauly Firth coastal road to find a spot to shoot a few photos and video sequences of Gillian and Grant. It was a really hot day. The temperature display in my car telling me it was 23 degrees centigrade! Not bad considering how miserable the weather was back in Edinburgh!
After shooting some cinematic video footage of the newly-weds, it was time to head over to the Loch Ness Country House Hotel for the wedding reception. The beautiful weather meant everyone could enjoy a drink or two outdoors. I love to film the guests chatting, making new friends and catching with old friends and family, my cameras and lenses allowing me to do this discreetly, ensuring the wonderful atmosphere at this beautiful venue is captured.
Gillian and Ryan were piped into Loch Ness Country House Hotel's huge marquee to rapturous applause. Speeches and toasts followed. I filmed these with two cameras, ensuring the wedding video edit will be interesting and varied. The speeches were good fun to watch and film.
I also filmed the first few dances with two cameras. One camera focused on the band, the other mounted on my Steadicam rig. This allows me to film gorgeous cinematic shots of the newlyweds during their first dances. A much more dynamic and interesting way to film than most videographers. By the third dance, the party was in full swing. I had time to go and check into my hotel and start charging my batteries and backing up today's footage in preparation for the next day at Solsgirth House. My day ended with heading back to the party to film a surprise fireworks display which Gillian had secretly arranged for Ryan.
A wonderful end to the most amazing wedding day in a beautiful location. It was great to be filming a Loch Ness Country House Hotel wedding, with the added bonus of beautiful weather the icing on the cake of a day I will remember for a long time. I was knackered by the time I got to bed, but what a buzz having filmed so many lovely scenes!
Congratulations Gillian and Ryan!
Loch Ness Country House Hotel Wedding Videographer – The Opening Scene
Muir Of Ord Wedding Arrivals
I'd like to share a few photos taken from the video, which is available as an upgrade to all wedding video packages.