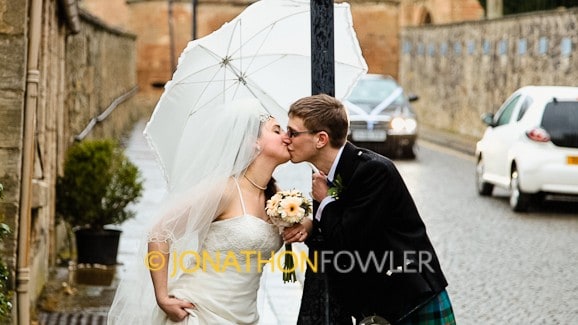 Friday 13th might be considered unlucky by some, but not when it came to filming Denise and Alistair's Linlithgow Burgh Halls wedding video.
This beautiful civic venue has recently undergone a major £5 million renovation. Linlithgow Burgh Halls is located right in the heart of Linlithgow. This is a beautiful old venue now benefiting from the highest modern standards of decor and finishing. This fantastic wedding venue in West Lothian is a great choice for any wedding.
Not even the miserable Scottish weather put a downer on this wonderful day. Bride Denise looked beautiful as she was escorted down the aisle by her father. The Humanist wedding ceremony was both good-humoured and heartfelt, with Denise and Alistair reciting their personalised marriage vows.
After the ceremony, the weather had cleared up a little bit, so the wedding party made the very short walk up to nearby Linlithgow Palace for a brief newly-wed video and photo shoot.
Unfortunately, the weather wasn't on our side, so time to head over to Grangemouth and The Grange Manor Hotel for the champagne reception. A brief break in the rain on the way to Grangemouth meant taking advantage of a quick photo opportunity at Linlithgow Loch.
No matter that the weather wasn't ideal, Grange Manor Hotel was a great location for a wedding reception.
The newly-weds greeted their guests in a receiving line before being cheered into the wedding breakfast suite. The couple then cut their wedding cake and posed to enable their guests to take lots of photos.
The wedding speeches were good fun, particularly the Best Man's, whose speech told tales of student life in Edinburgh. Very entertaining and he had the guests laughing and clapping.
The day ended with me filming messages of goodwill from family and guests. This was good fun to watch, some of the comments were really funny and there was even a group singalong!
A fun-packed day with a lovely couple. Great to be filming in Linlithgow at a new wedding venue.
Linlithgow Burgh Halls Wedding Video – A Few Stills From The Day
Below I've shared a few wedding photos straight from Denise and Alistair's Linlithgow Burgh Halls wedding video.