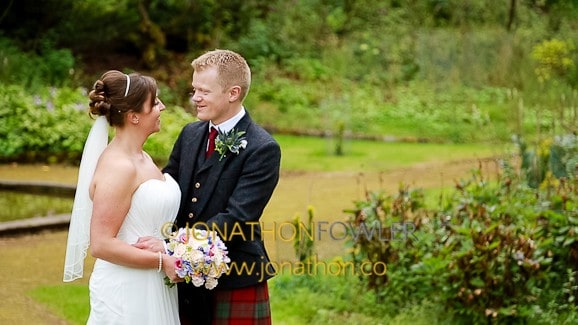 On Saturday I had the pleasure of being Kirknewton House Stables wedding videographer for the second time. I recently filmed Laura and Hamish's wedding at Kirknewton House Stables. This time it was Lou and Kieran who was getting married at this beautiful wedding venue.
I arrived at Kirknewton House Stables an hour before the ceremony. The weather was pretty miserable, though fortunately it cleared a bit and stayed dry throughout the day. The wedding ceremony was due to have taken place on the lawn, however, with the weather being unpredictable it was decided to play it safe and hold the wedding ceremony indoors.
Kieran was relaxed as he chatted to the arriving guests. Lou looked beautiful as she emerged from her classic Jaguar car, smiling and looking so happy. Lou and Kieran were married in a Humanist ceremony, where the marriage vows are bespoke and the celebrant tells the story of how the couple met. A lovely ceremony which was very personal.
The champagne reception was held out on the patio after the newly-weds walked down the aisle. The weather was cloudy but dry. This was great news as it meant outdoor photos and video of the newly-weds and we were able to take advantage of Kirknewton House Estate's beautiful grounds. We took a walk around the gardens, capturing some gorgeous video of Lou and Kieran's first moments as newly-weds.
Lou and Kieran were then piped back into the Stables, where they received the warmest of welcomes. Cutting of the wedding cake was followed by the speeches. These were good fun, with a few amusing tales and anecdotes.
My day at this wonderful wedding venue ended with filming the first few dances. Watching Lou and Kieran dancing closely on the dance floor, it was clear to see how much they love each other. This was the perfect end to such a lovely wedding day.
Congratulations Lou and Kieran, I thoroughly enjoyed being your Kirknewton House Stables wedding videographer for the day.
Kirknewton House Stables Wedding Video
I'd like to share a few Kirknewton House Stables wedding photos, taken straight from the video recording (you too can add photos of your wedding day as an optional upgrade to any of our wedding video prices).