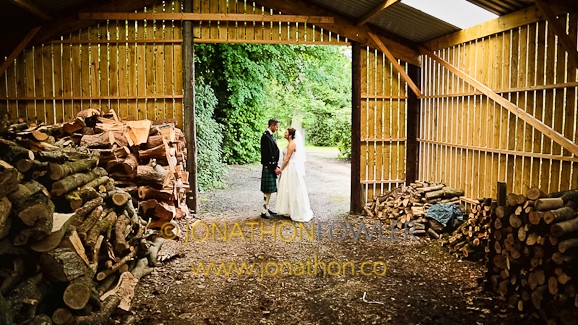 I recently had the pleasure of filming Laura and Hamish's wonderful Kirknewton House Stables wedding. What a beautiful day and location for filming a wedding. It wasn't the sunniest day ever, however, any sun was a bonus compared to some of the horrible wet days we've had during the recent 'summer'.
Laura, Hamish and their families and guests had all travelled from England to be married at this wonderful wedding venue in Scotland. It's wonderful to see such a large number of people come to Scotland to enjoy a wedding weekend. And Kirknewton House Stables was a wonderful venue for such an occasion. The stables are a lovely setting, with the massive lawn to the front the perfect place to take advantage of this break in the weather.
All of the guests were transported from central Edinburgh to Kirknewton in a fabulous old red London double-decker bus. Laura looked beautiful as she arrived in a really nice open-topped Beauford car. The Humanist wedding ceremony was held outdoors on the lawn. I've been filming Scottish weddings for over many years, this was only the third occasion I've filmed an outdoor wedding! Plenty of others have planned to hold an outdoor ceremony, but decided to play it safe on the day due to the weather forecast or the appearance of heavy grey clouds! I'd forgotten how nice an outdoor ceremony is!
The Humanist wedding ceremony was lovely. Laura and Hamish wrote their own wedding vows, with neither knowing what the other had written. I was filming from the rear and saw a few hankies coming out during the vows.
The newly-weds were showered with plenty of confetti as they walked back down the aisle. This was a great photo and filming opportunity. A surprising number of weddings nowadays don't feature a confetti shower at all.
Taking advantage of the lovely weather I filmed the newly-weds during their photo shoot on the grounds of Kirknewton House. This is a wonderful location for wedding photography, you really are spoilt for choice with such a varied range of scenic backdrops.
My day finished with the newlyweds being cheered to the top table by all their family and friends. I really enjoyed filming this wedding day for such a lovely couple. I really look forward to coming back here next month!
I'd like to share a few photos I've taken from the Kirknewton House Stables wedding video recording. I also blogged about Connie-Louise and Gavin's wedding reception and Lou and Kieran's wedding day at Kirknewton House Stables.
Kirknewton House Stables Wedding