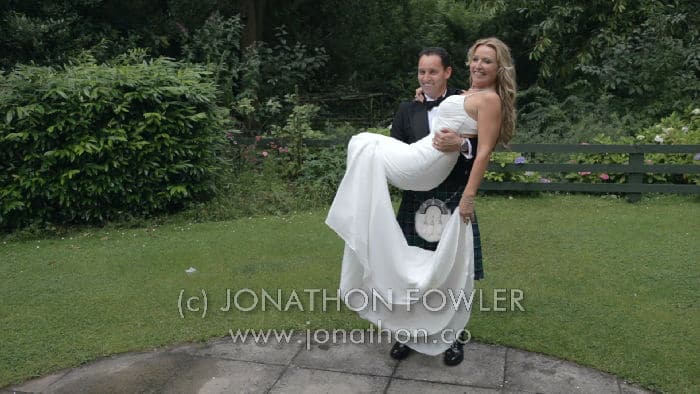 The end of another busy week, this time, I had the pleasure of filming Niamh and Steven's Keavil House wedding video at Keavil House Hotel, Dunfermline, Fife.
This was my first ever filming a wedding at Keavil House wedding. What a great venue for a wedding, particularly on another rain-sodden 'Scottish summer' day! Keavil House Hotel has a massive main hall which is where wedding ceremonies are held. I love the layout of this room, as it makes it very easy for me to film a wedding here. There's plenty of space to accommodate guests, and ample room for me to set up a couple of tripods without feeling space is tight. Perfect!
The event was actually a wedding blessing, as Niamh and Steven were recently married in Seychelles. So Saturday was a wonderful gathering of family and friends who weren't able to attend the wedding in Seychelles. Niamh and Steven had a decent number of guests at their wedding, with people travelling from across the world. A truly cosmopolitan and international celebration.
And what a relaxed and fun day it was! It really was great fun to be there filming everyone enjoying themselves.
I filmed the blessing, the speeches and the first dances with two full hi-definition video cameras. For the dances I mounted one camera on my Steadicam rig, ensuring some super smooth cinematic shots of the newly-weds and guests on the dance floor! The evening entertainment was provided by local band 'Wildcard'. These guys are great. This is the third wedding at which I've seen Wildcard perform in the past couple of months. A great wedding band and highly recommended!
Congratulations to Niamh and Steven, thank you so much for allowing me to film such a wonderful day!
Here are a few wedding photos taken straight from Niamh and Steven's wedding video at Keavil House Hotel.
Keavil House Hotel Wedding Video – A Few Stills From The Day