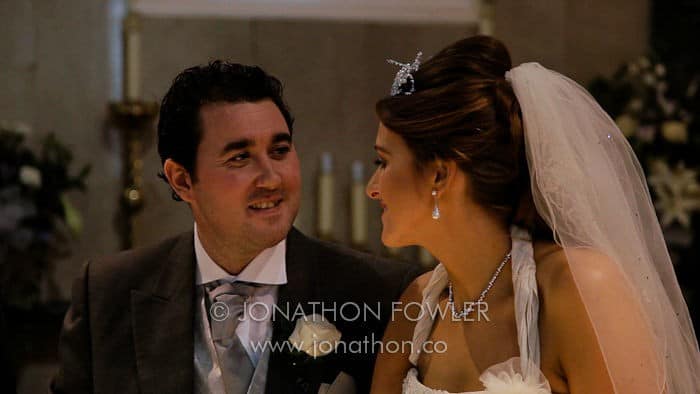 Great to be back in West Lothian when had the pleasure of filming Liza and Phil's Houstoun House wedding video.
It's always a pleasure to be at Houstoun House to film a wedding. Located at Uphall, West Lothian, this hotel wedding venue is about 20 minutes from Edinburgh. I've filmed a number of weddings at Houstoun House over the years. With January typically being 'off-peak' and quieter time of year for weddings, it was great to be booked to film Liza and Phil's beautiful winter wedding.
My day started with filming the bridal party preparations at Houstoun House. What a great atmosphere, a wee bit of nervousness and lots of excitement. Afterwards, I headed across to Saints John Cantius and Nicholas church in Broxburn, where the ceremony was being held.
Bride Liza looked beautiful as she arrived at the church. The wedding ceremony was very moving and at times emotional, it was clear to see how in love Liza and Phil are.
After the wedding ceremony, everyone made the short journey back to Houstoun House for the wedding reception. Houstoun House has magnificent gardens which are great for filming the newly-weds as they walk hand-in-hand.
One of the highlights of the day was the change to the standard wedding reception format. All the bridesmaids and groomsmen were announced into the room, then they stood opposite each other in two lines. Then the newly-weds were announced into the room, with the guys and girls letting off lots of party poppers overhead. The newly-weds then started their first dance, after which everyone was seated for the meal. This was a very simple but exciting change to how a newly-wed couple are usually announced into the room. Going straight into the first dance kept up the momentum of excitement and makes for a really exciting part of the wedding video!
My day ended with filming the speeches (all 11 of them!) and a couple of dances. The party was in full swing by the time I left! What a fantastic day and a real pleasure to be filming the wedding day for such a lovely couple.
Houstoun House Wedding Video – Images From The Day
Below are a few wedding photos I've taken straight from the video camera.