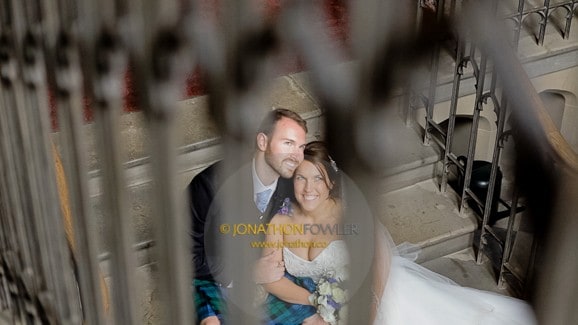 Last Saturday I had the huge pleasure of being Corinna and James' Duns Castle wedding videographer. Almost all the guests and wedding party had flown in from Washington D.C. There are so many beautiful, often exotic, worldwide locations to choose from for a wedding. I really love it when people are attracted to the romance of a traditional Scottish wedding in a historic castle. And Duns Castle is certainly the perfect 'fairytale wedding' venue.
It was such a shame about the weather. All-day, from the moment I got up and well into the following day, it rained. And it rained hard! Fortunately, Duns Castle is a wedding venue with the history and architecture to ensure even the most miserable of weather won't spoil your wedding day.
Groom James' family is originally from Scotland, so in true Scottish tradition James and the Groomsmen, all wore kilts. And very smart they all looked, well worth the effort!
The civil ceremony was lovely, the surroundings adding to the atmosphere of the occasion. Corinna and James couldn't stop smiling at each other and the warmth for the couple from everyone was lovely to watch.
After the ceremony, the formal photo shoot took place while I observed and filmed candidly. Duns Castle was perfect for photos and video, even on a rain-sodden day like this!
The cake cutting and speeches took place before the meal in the historic hall within the castle. The beautiful wedding cake was cut using an intricately decorated old knife and was a great photo opportunity for the guests.
The speeches were quite informal though heartfelt and quite moving. Particularly Corinna's dad's speech. This had quite a few eyes welling up with tears with tales of affection for his daughter.
The wedding breakfast took place in one of the most exquisite dining rooms I've ever seen. All the guests were seated around one massive dining table, and you could feel the history oozing out of the place. A large open fireplace was filled with logs and the atmosphere in here was wonderful.
After the wedding breakfast, the guests made their way to the marquee where the evening celebrations would commence. I finished filming at the end of the third dance, by which time the party was well underway.
What a wonderful, romantic wedding day this was.
Duns Castle Wedding Videographer – A Selection Of Still Images
Below I've shared a few photos taken straight from the newly-weds' wedding video at Duns Castle.