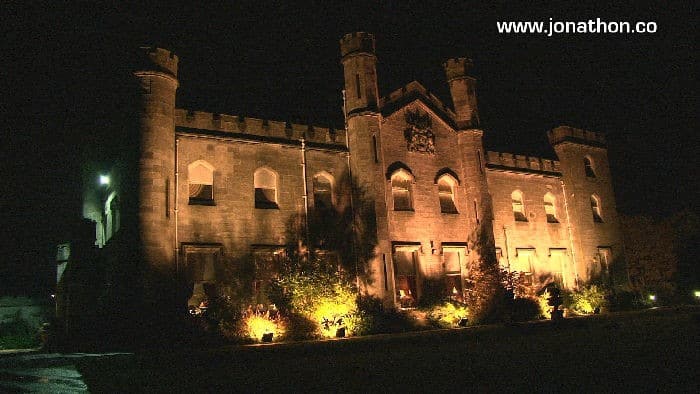 We've had a really enjoyable day filming Louise and Chris's Dundas Castle wedding video. Louise and Chris were married at beautiful Dundas Castle, near South Queensferry, Scotland. Dundas Castle sits in a magnificent estate. This ensures total privacy for your wedding day. This was the second time this year we've filmed a wedding at this exquisite Scottish venue. I filmed Fiona and Andrew's wedding at Dundas Castle wedding at the end of May, so I knew to expect another wonderfully romantic wedding day.
This wedding at Dundas Castle began with me filming the Bridal Party preparations. Both Louise and Chris were getting ready at the castle. This was great, as I was able to film both of them, and their families, getting ready for the wedding. Everyone at the wedding had travelled from Essex. Chris and his Groomsmen chose to wear traditional Highland kilt outfits. It was amusing to watch a group of Englishmen figure out how to put all their Scottish kilt gear on! In the other room, Louise looked beautiful in her white wedding dress.
The wedding ceremony took place in the 'Auld Keep'. This is a large room accessed via a very narrow and twisty stone staircase. As you would expect, a Scottish castle wedding is always a wonderfully romantic occasion. The building housing the Auld Keep is particularly impressive for a wedding and is the oldest part of the castle.
Louise and Chris were married in a Humanist wedding ceremony, which was very enjoyable and unique. Particularly the wedding vows, which were written by Louise and Chris.
Due to the awful Scottish weather (to be expected in November!), the champagne reception and photo shoot took place in the main part of the castle. The speeches took place shortly afterwards on the grand staircase.
After the wedding breakfast, Chris showed he's really a Scotsman at heart by playing a couple of reels on his bagpipes! And to Chris's credit, he actually played them very well! The guests loved it. They were whooping, clapping and having a wonderful time! Shortly afterwards the evening celebrations began with the newly-weds first dance. After filming a couple of more dances my wedding at Dundas Castle was complete.
It's really nice to see couples from all over the world choosing Scotland as their wedding destination. It's increasingly popular to head off to sunnier destinations for wedding celebrations. Personally, we think there's nothing to beat the romance and splendour of a traditional Scottish castle wedding, particularly in a historic wedding venue like Dundas Castle!
Congratulations to Louise and Chris! Shared below are a few wedding still images captured straight from their wedding video.
Dundas Castle Wedding Photos Taken The Video