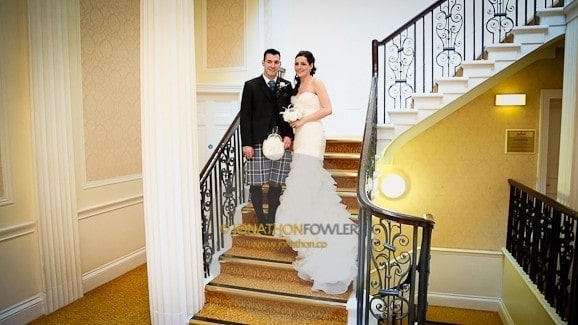 It was a pleasure to be wedding videographer at The Dalmahoy Hotel for the third time in less than two months. It was also my third wedding in eight days! St Mary's is a beautiful little church set in the grounds of the impressive estate at Dalmahoy Hotel And Country Club.
It was such a shame that the rain was lashing down. No problem at all, though, I've just purchased a couple of new Canon cameras. Being confined indoors all day was the perfect opportunity to put the low light capability of this camera to the test.
James was nice and relaxed and really looking forward to the wedding ceremony. It was such a shame that the weather meant quite a few of the guests were late for the ceremony. Not the best thing for anyone's nerves, but, at least, Wendy was getting ready just a few hundred yards away at the Dalmahoy Hotel and Country Club. When Wendy arrived and walked up the aisle, James had the biggest smile on his face. A deluge of rain was never going to spoil Wendy and James' Dalmahoy Hotel wedding day!
A few photos were shot in the church as going outdoors was out of the question. I did manage to film Wendy and James depart for Dalmahoy Hotel in their black MX5 convertible. A pity that we weren't able to have the roof down, but still a great shot of the newly-weds' departure for their champagne reception.
It was great to film everyone relaxing and having a wee drink or two during the reception. It's really easy to be discreet with these Canon DSLR cameras, no 'in your face' shooting means I capture people acting completely naturally, which looks brilliant on the final wedding video.
After meeting and greeting all their family and guests in a receiving line, the newly-weds were piped into the Dalmahoy Suite. After cutting the wedding cake the piper raised a toast to Wendy and James, then it was time for the speeches. These were good fun to watch and film, it's always great to capture people's various expressions during this part of the day.
My Dalmahoy Hotel wedding day ended with filming the first few dances. The evening entertainment was provided by the fantastic wedding band 'Funky Bumpers', who had the dance floor packed in no time at all.
This was a lovely wedding day and a pleasure to film such a lovely couple. Well done Wendy and James, you guys were great, thanks for asking me to be your wedding videographer at The Dalmahoy Hotel.
Dalmahoy Hotel Wedding Video Still Images
And the Canon camera low light performance? Fantastic! Being able to film on such a dark and rainy day this camera totally excels at low-light wedding videography. These cameras are exceptional, a joy to use and… well, I'll let these images, taken straight from the camera video footage, tell you. No lights or flashes were used to create these images, just the camera, top quality lenses and natural light. Why not upgrade your wedding video package to include hundreds of bonus photos taken from the video footage?