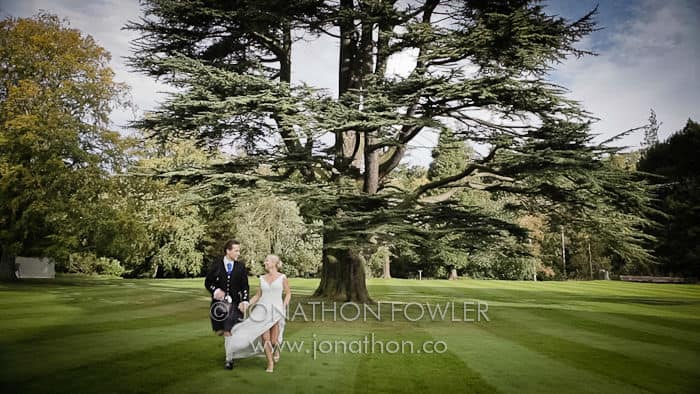 Wonderful to be back in Midlothian filming as Yana and Grigory's Dalhousie Castle wedding videographer. What a great way to start the week, filming weddings in Scotland is such a privilege! Yana and Grigory had flown in from Russia for this special wedding at Dalhousie Castle. From discussing the preparations with the couple, I knew that this unique Scottish wedding was going to be extra-special and wonderful to film.
This was probably the most unusual Dalhousie Castle wedding I've filmed. There were only eight people at the wedding, including Yana and Grigory. They had travelled to Scotland from Moscow, Russia, to witness what was essentially a marriage blessing and to experience some of the very best of what Scotland has to offer regarding facilities, dining and entertainment. I've never experienced so many wonderful things packed into a wedding day. The itinerary was inspired.
The day began with me arriving early to take a few establishing shots of the castle. I captured some cool time-lapse footage – this took around ten minutes to capture. This will feature as a short clip on the final edit, probably of no more than 5 or 6 seconds duration. I also created some nice shots of the castle interior.
Then time to film the wedding blessing, which took place in Dalhousie Castle's private chapel. Dalhousie Castle is great as it's home to some birds of prey, so for this blessing, the rings were 'delivered' from one end of the chapel to the other by a beautiful big owl! My wee girl Anabelle is going to love watching this unique footage!
Immediately after the ceremony, it was time to take a stroll around the grounds of Dalhousie Castle for a photo shoot. Great weather and a fantastic setting for filming a newly-wed couple. Yana and Grigory were so natural in front of the cameras, meaning some beautiful shots were captured.
After the photoshoot, the rest of the day was pretty much about the guests being entertained by a list of immensely talented musicians. Harpist Alina Bzhezhinska. Singer Madaleine Pritchard and an amazing jazz band. Caroline Marshall's string trio. Piper Roderick Deans (who does one of the best 'Address to a Haggis' you'll ever see!). A full 25 piece pipe band (which brought a lump to my throat as I stood there filming it, makes you proud to be Scottish!). Clan fighters who were just crazy. Highland dancers and the excellent wedding band Kilter. So much packed into one day for so few people, it was wonderful to see all of this in such a fantastic Scottish wedding venue!
What an amazing day to be part of, this goes down as one of the most feature-packed wedding days I've ever seen!
Congratulations to Yana and Grigory, you were great fun to film and such a lovely couple! You guys could have picked anywhere in the world to have your wedding, and it's brilliant that you chose this little corner of Scotland to do so.
Here's a sample of the time-lapse footage I've created for the opening chapter of the wedding video:
Below is a selection of wedding photos taken from the video footage. Enjoy!
Dalhousie Castle Wedding Videographer – A Few Photos