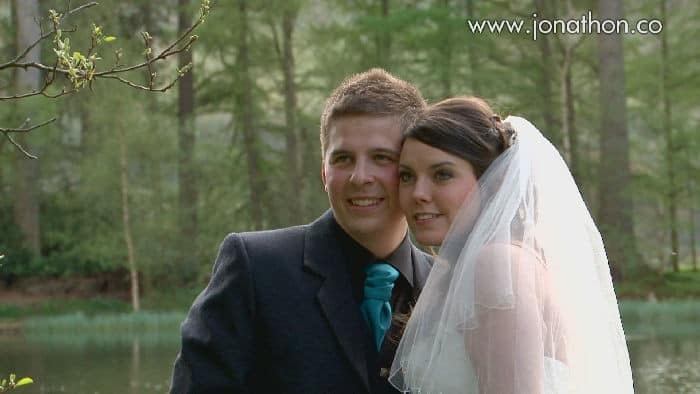 I was hoping for nice dry weather for filming Shona and Chris's Culcreuch Castle wedding video. It's been quite a while since it rained on one of my wedding days. I've been fortunate to have decent weather since last year. Pretty good going for Scotland! So yesterday it was disappointing, but I guess kind of inevitable, to see a miserable, wet rainy start to the day.
Never mind, weddings are great fun to film regardless of the weather and it would take more than a bit of rain to spoil things for Shona and Chris. This lovely couple were getting married at the historic Culcreuch Castle, Fintry, Stirlingshire. Culcreuch Castle is one of Scotland's oldest hotels with the main hotel building dating from the 14th century. It has been the ancestral seat of the Scottish Clan Galbraith for over 700 years. As the centrepiece of 1,600 acres Culcreuch Estate, and overlooking its own private loch, Culcreuch Castle was the perfect setting for this fairy-tale wedding.
Shona and Chris were married in the grand Galbraith hall, with friendly Humanist Celebrant Jim Petherick conducting the wedding ceremony.
Bride Shona looked gorgeous in her wedding dress. Groom Chris looked fantastic in traditional Highland kilt outfit. Humanist weddings are great due to the couple being deeply involved in the creation of their wedding vows, meaning that no two Humanist wedding vows are ever the same. A very enjoyable, and at times emotional, wedding ceremony.
Afterwards, everyone headed over to the main building of Culcreuch Castle for the champagne reception. As if right on cue, the rain and clouds disappeared and for the rest of the day we were gifted with perfect weather! This was great news as it meant that Shona and Chris were able to walk down to the loch to shoot some beautiful wedding photos. I also captured some beautiful footage of the wedding party and I really look forward to editing this to music specially chosen by Shona and Chris.
During the champagne reception, the kids were able to go hunting for Easter Eggs. I filmed some candid shots of a wee boy stuffing his face with a chocolate egg!
The speeches took place in Galbraith Hall after the wedding breakfast. This was great fun for me as the collection booked by Shona and Chris meant that I was able to record the speeches with two high definition video cameras. This means that I can simultaneously record the speaker and also capture the guest's reactions to what is being said. When carefully edited together this makes for a highly entertaining documentary of the wedding speeches and so much more interesting than what many wedding videographers in Scotland offer.
For the evening entertainment, everyone was in for a real treat. The first few songs were played live by Chris's friend Brian, who sang a few of the newly-weds' favourite songs while playing along on acoustic guitar and harmonica. This was excellent entertainment and everyone really appreciated the performance.
The main entertainment for the evening was provided by the brilliant Red Hot Poker Band. They played a number of amazing cover versions of timeless classic songs. These guys were fantastic, ensuring the dance floor was jam-packed with guests.
As a special treat for Shona and the guests, groom Chris had secretly arranged for a live fireworks display, which was put on by Midnight Storm Fireworks and Effects. The clear evening sky and backdrop of Culcreuch Castle was the perfect setting for what was a fantastic display of fireworks. Shortly before the display began, Shona and Chris made a wish as they released a massive Chinese lantern into the sky. What a great way to end a wedding video. Except…
Shona and Chris had also booked my services to record a 'Video Diary Room – Guest Messages', where family and guests left greetings messages of goodwill. This is a very entertaining way to end your wedding video, with amusing and heartfelt messages left.
This was a wonderful feature-packed wedding day which I really enjoyed filming. Thanks to everyone who I met yesterday, you were all a pleasure to film and made my role so much fun.
Thank-you Shona and Chris for being such a great couple to work for. You were great fun to be around and film.
Culcreuch Castle Wedding Video Opening Chapter
Presented here is the opening chapter of Shona and Chris's Culcreuch Castle wedding video. The music was chosen by the newly-weds. This edit is a bit more upbeat than a typical wedding video. I think this edit works rather well and I'm very pleased with the result.
And a few wedding photos I've taken from the wedding video: