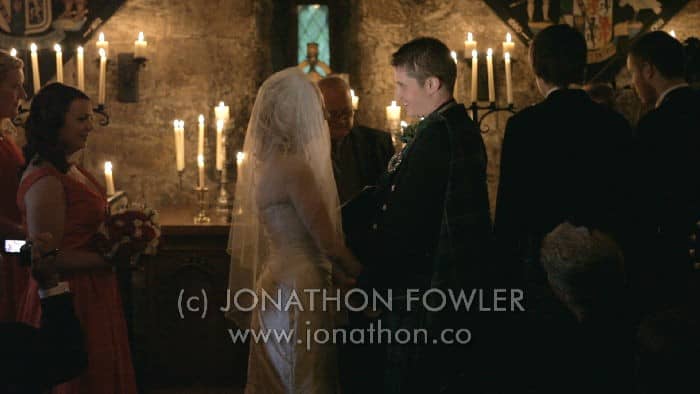 Brilliant to be filming Vanessa and Gareth's Balgonie Castle wedding video. My coverage of this wonderful wedding day begins a few minutes drive away at Balbirnie House. After a late finish the previous evening, on this early August day it was an early start at Balbirnie House Hotel to film the Bridal party preparations.
Vanessa and Gareth had travelled from Australia for their wedding. It was a real shame to have such wet weather. As is always the case, wet weather just means a slight change to the schedule of the day. Everyone still had an amazing time and didn't allow a miserable Scottish summer to spoil the big day!
I spent an hour filming Vanessa and the girls' preparations. Then it was time for me to head off to nearby Balgonie Castle. I'd been told that Balgonie Castle was a very dark wedding venue – and that was certainly true. I can't think of another wedding venue with so little light! No problem though, fortunately, the cameras and lenses I use mean that even a dimly lit venue such as Balgonie Castle poses no problems. A dimly lit wedding venue can pose problems because a lot of camera equipment really struggles to create a decent image quality if there isn't a good level of lighting. Balgonie Castle's ceremony room is solely illuminated by candles. This creates a beautiful, intimate feeling within the venue, but it could cause a real headache for some photographers and videographers if they don't have suitable equipment or experience. Fortunately no problem for an experienced wedding videographer like me!
I was advised by the very pleasant 'Laird Of Balgonie' about his desire to keep the castle as authentic as possible. Hence the lack of modern lighting in the castle. But what a beautiful and intimate wedding venue it is. There was something really romantic and cosy about this wedding venue. Particularly on such a wet and windy day.
This was a two-camera shoot, with all-day coverage from Bridal preparations until late in the evening. After the ceremony, the rain actually stopped and the sun came out! This was great as it meant the everyone could head outside for a glass of champagne and allowed for some outdoor photography. It would have been a shame not to have been able to take a few outdoor photos at this splendid venue.
The wedding reception was held back at Balbirnie House Hotel. This is a venue I love and regularly film at. Fantastic to see Ritz Trio providing the entertainment during the champagne reception. I've included a video of the band playing, below.
It was great to film a few Guest Messages and hear all the lovely messages left for Vanessa and Gareth. My day ended with me filming the first few dances using a Steadicam camera stabiliser. I have some wonderful footage of the dances, which took place on Balbirnie's unique LED dance floor.
Congratulations to Vanessa and Gareth, it was a pleasure to be part of your special day at such a brilliant Scottish wedding venue.
Here are a few wedding photos taken from the wedding video. Enjoy!
Balgonie Castle Wedding Video – Photos Taken From The Footage