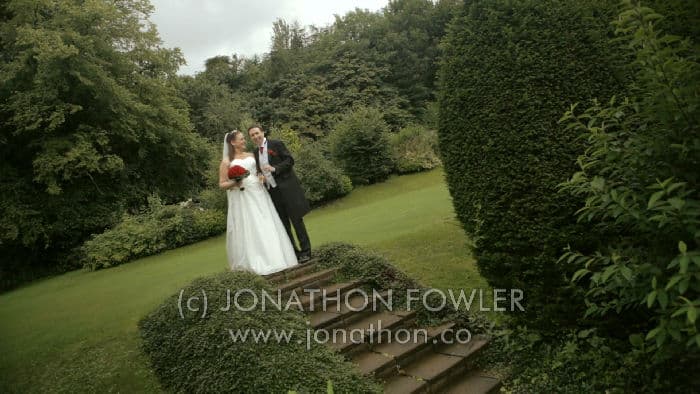 Another week, another Balbirnie House Hotel wedding video to be filmed! It was brilliant to be back at this wonderful wedding venue in Fife to film the wedding of Tracey and James.
Sadly, this video was filmed on yet another grey and wet wedding day. Not the best for filming a wedding video at Balbirnie House Hotel 🙁
Though as with any quality wedding venue, this isn't an issue. Balbirnie House has lots of large rooms and a grand staircase which all provide excellent backdrops on even the most miserable of Scottish summer days. After a lovely Church of Scotland wedding ceremony by Bill Armitage, everyone mingled and chatted over a glass of champagne and canapés.
Tracey and James were fortunate to benefit from a respite in the rain, so took full advantage and headed outside for a photo shoot in the lush grounds of Balbirnie House. Around 20 minutes was spent meandering around the beautiful gardens. I captured some beautiful video of the newly-weds, including a wee sneaky shot of Tracey's ruby red shoes. Just like the shoes, Dorothy wears in The Wizard of Oz!
Tracey and James were kind enough to arrange for me to be sat at a table with a few of their guests for their wedding breakfast. As always, the food at Balbirnie House was outstanding, and the people I sat with were good fun and interesting to chat with. It's always great to chat with guests when time allows. **Update – 2 years after filming this wedding my wife Claire was giving birth to our wee boy Joshua at Edinburgh Royal Infirmary. When we arrived at ERI we saw a few familiar faces, including Bride Tracey and a Doctor and nurse whom I sat next to during the meal at Balbirnie House. This time, I wasn't filming anything :)**
I filmed the rest of the wedding day up until the first dances in the evening. The dances were filmed with two cameras, one mounted on my Steadicam rig, ensuring some super smooth cinematic shots of the newly-weds and guests on the dance floor!
Evening entertainment was provided by a duo called Pepperpot – I've included a short video of the band, below!
What a brilliant wedding day at Balbirnie House. Congratulations to Tracey and James!
Shared here are a few wedding photos which I've taken straight Tracey and James' wedding video at Balbirnie House.
Balbirnie House Wedding Video – Some Stills Taken From The Film
Pepperpot Band Playing Live at Wedding Reception
Evening receptions are always great to film at Balbirnie House. Filming a wedding video at Balbirnie House Hotel is great as the venue has the most amazing dance floor. It looks like a regular dance floor. However, when the newly-weds step onto the floor and begin their first dance, the floor becomes illuminated with hundreds of tiny flashing LED lights. The lights are actually built into the floor and look brilliant when lit up. An added bonus is that the dance floor is a decent size for a wedding celebration. Plenty of space for larger wedding parties. And lots of room for me to walk around the edge of the dance floor filming everyone partying!
Here's the video of the first three dances of the evening reception. The entertainment in this film was provided by Arbroath-based entertainers, Pepperpot.