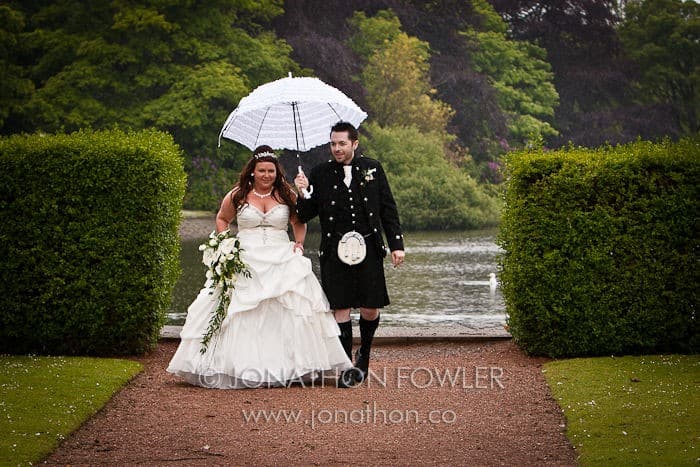 On Saturday I had the pleasure of photographing Michelle and Derek's Kirkcaldy wedding photos, in Kinghorn, Fife. Their wedding ceremony was held nearby at St Bryce Kirk, Kirkcaldy, Fife. Their wedding reception took place at The Bay Hotel in nearby Kinghorn.
After the rain of last weekend, I had my fingers crossed that the weather would be fairer. It was a cloudy but dry drive to the church. I hoped it would stay dry. After a very enjoyable ceremony at St Bryce Kirk, we decided to take our chances and head to nearby Beveridge Park for a few outdoor photos. No sooner had we arrived it started raining! Good old Scottish weather! But no problem, we'd brought a white umbrella and the Canon camera gear is thankfully weather-sealed. This meant I could take photos of the wedding party outdoors regardless of the inclement weather. A massive thank you to the wedding party for their willingness to brave the elements for a few photos.
It was actually good fun taking photos in the rain, and the light was pretty decent considering how overcast it was. I'm really pleased with the photos and really glad we ventured outside!
After taking all the official wedding pictures on our list, we headed to the wedding reception venue at The Bay Hotel in nearby Kinghorn. The Bay Hotel has fantastic views over the Firth of Forth, with Edinburgh just visible through the rain and mist. A number of group photos were taken indoors. Then time for the newly-weds to greet their families and guests in a receiving line.
After being cheered into the function suite by everyone during the grand entrance to the wedding breakfast, Michelle and Derek cut their beautiful wedding cake. A great photo opportunity for everyone, followed by the speeches. Very heartfelt and entertaining speeches, I've taken a number of candid photos of family and guest's reactions to what was being said.
I really enjoyed the day and had great fun meeting everyone and taking their photos. I look forward to seeing the beautiful wedding album for this wedding. Congratulations to Michelle and Derek, a really nice couple who I wish all the best for their future together!
Kirkcaldy Wedding Photos