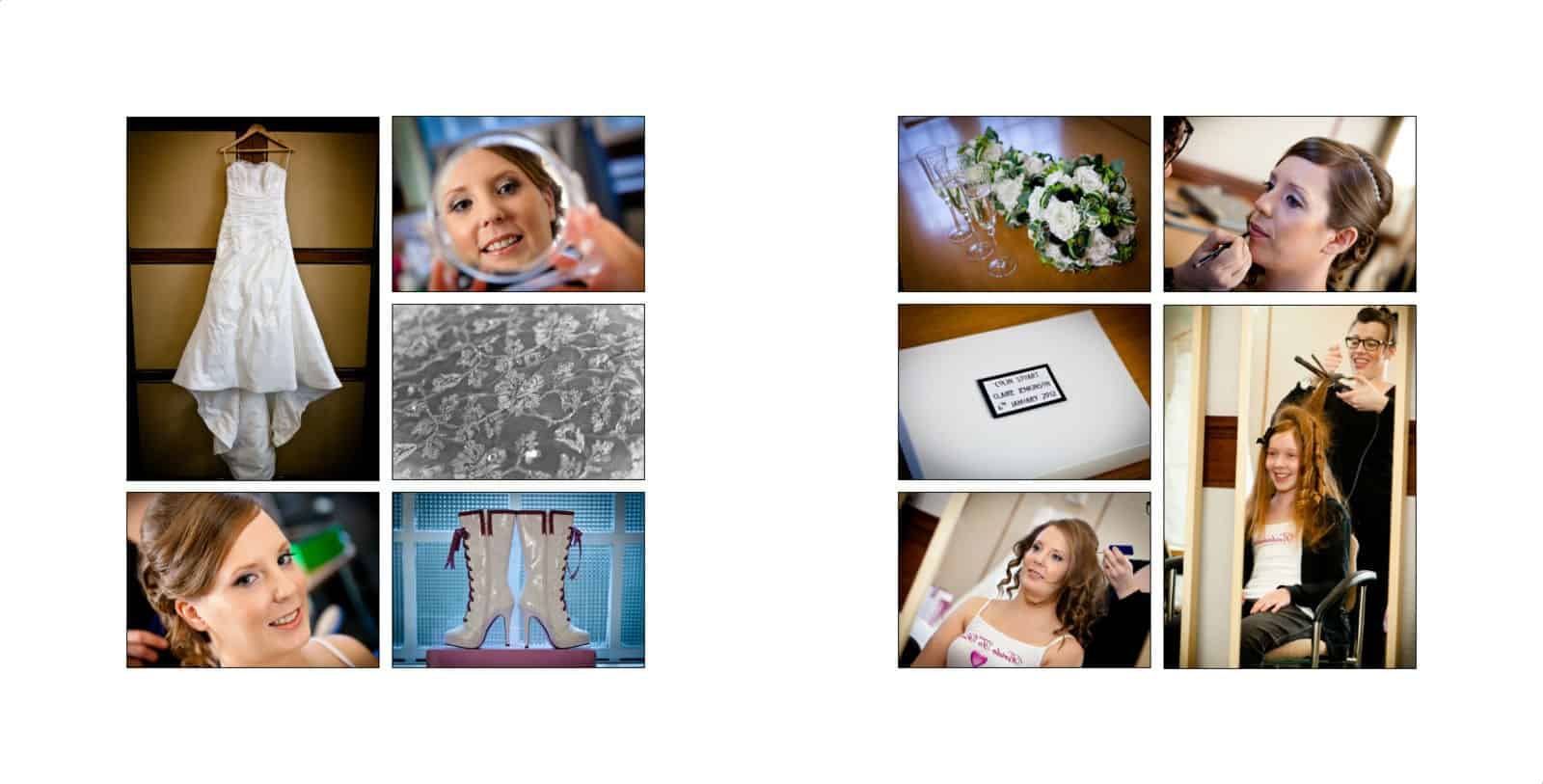 I recently had the pleasure of photographing Claire and Colin's Surgeons' Hall wedding photos. Surgeons' Hall, located in Edinburgh city centre, is a beautiful and historic grand old building which is a great place for shooting wonderful wedding photos. Claire and Colin were great fun to photograph and now they've had a chance to pick their favourite photos of their wedding for their custom made luxury wedding album.
All of my wedding photography package options include all of the photos supplied as high-resolution JPEG files via digital download. The client can then choose their favourite wedding photos for me to design a beautiful bespoke wedding album, following our advice on how to choose photos for your wedding album. A wide range of layouts, page and cover materials and sizes are available to choose from. There's something to suit all tastes and budgets. You can check out the various wedding album prices and options here.
Most couples tend to choose photos which tell the story of their wedding day. Sometimes a couple prefers to choose their favourite wedding photos but not necessarily concentrate on telling the story of the wedding day. The main thing to note is that every couple is different and each wedding album is a reflection of the couple's personality and tastes.
The most popular luxury wedding album options tend to be leather, leatherette and ultra-modern acrylic album covers, with many materials available in a range of classic and contemporary colours. Most clients also purchase miniature 'Parent' albums, too. These are miniature versions of the main album, with exactly the same page design and layout as the main album. These make perfect gifts for the Wedding Party and family. Mums, in particular, love these as they easily fit into a handbag and can be pulled out at every opportunity by a proud Mother of The Bride!
Colin and Claire chose a square design for their album, with a cream leather cover and photographic paper for the pages. Below you can see a layout of the design. All my album designs are approved by the client, with minor changes allowed before the design is transferred to be handmade right here in Scotland, with super-quick delivery usually taking less than 10 days!
Surgeons' Hall Wedding Photos Album Design
I hope you enjoy the wedding photos and album design. I love the end look of this wedding album and know it will stand the test of time.