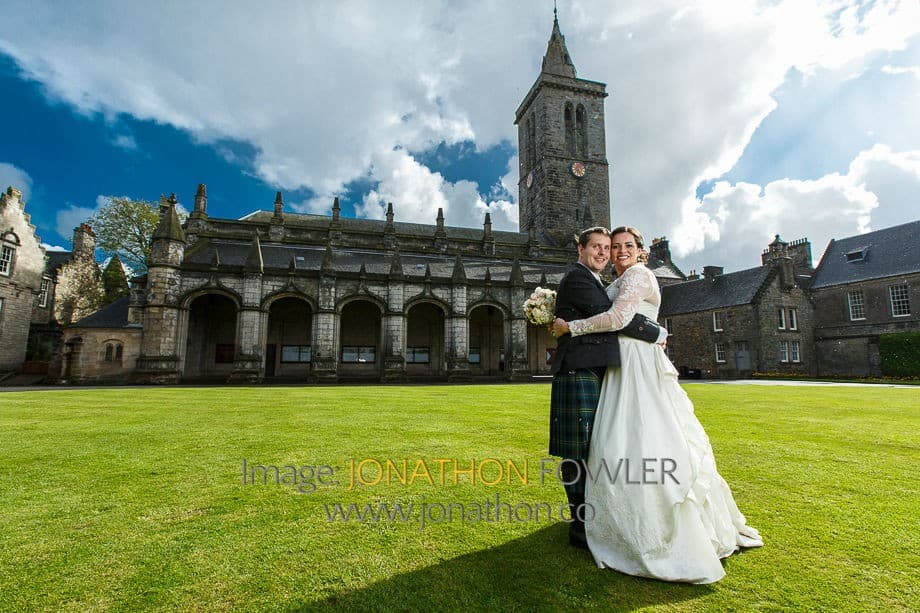 I had the pleasure of shooting St Salvator's Chapel wedding photos at the wedding of Melissa and Gordon. It was brilliant to be back in St Andrews for the second time in a week. The previous week I photographed Amy and Kieran's wedding reception at Fairmont St Andrews. It's always a pleasure to be photographing a wedding in St Andrews and I was really looking forward to being inside St Salvator's Chapel for the first time.
There's a bit of a theme running through many of my weddings this year. I've many clients who come from abroad to get married in beautiful Scotland. Who can blame them? We've some of the finest wedding venues in the World! Melissa and Gordon live in Texas but Gordon's originally from Fife and like so many couples they loved the idea of a Scottish wedding. I met Melissa and Gordon last year in Edinburgh and instantly warmed to them and their sense of humour.
My day began with photographing the bridal preparations in St Andrews. Melissa was getting ready nearby at College Street. Perfect for me as it meant a 60-second walk from the house to Salvator's Chapel = more time spent shooting photos, less time travelling!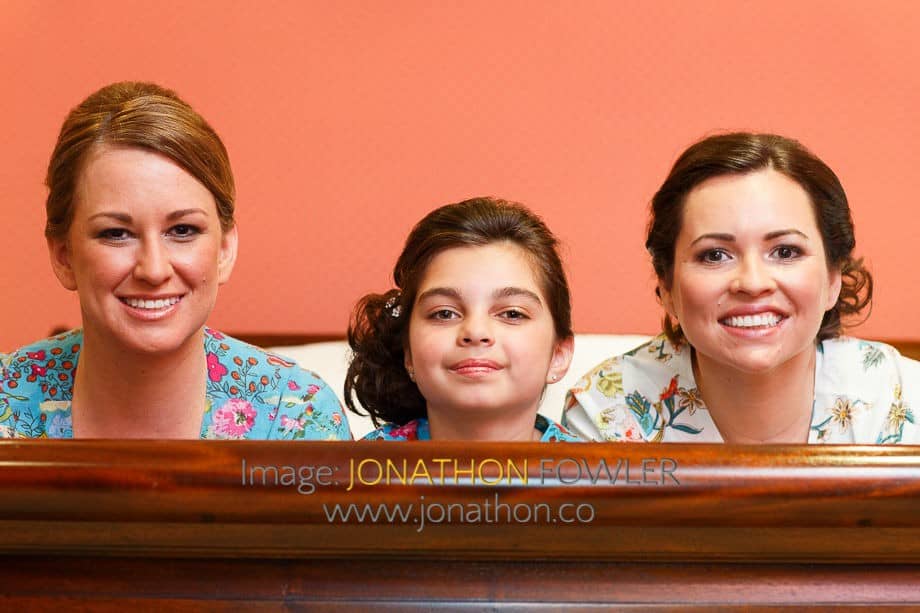 I spent about an hour with Melissa and the girls. It was a lovely atmosphere, the champagne flowing and excitement about what was ahead. I then popped across to St Salvator's to shoot a few photos of Gordon and the boys and to check out the interior of the Chapel. Gordon looked the part in his kilt outfit, and as is typical with most grooms, there wasn't any sign of nerves. The first thing anyone asks the groom is 'how are you feeling?', or 'are you nervous?'. But I rarely see nerves….must be the hip flask playing its part!
Back over at the house, Melissa was ready on time and made the short walk over to St Salvator's Chapel. I got some excellent 'street shots' of this, one of my favourites is Melissa walking across the road. Very Beatles-esque!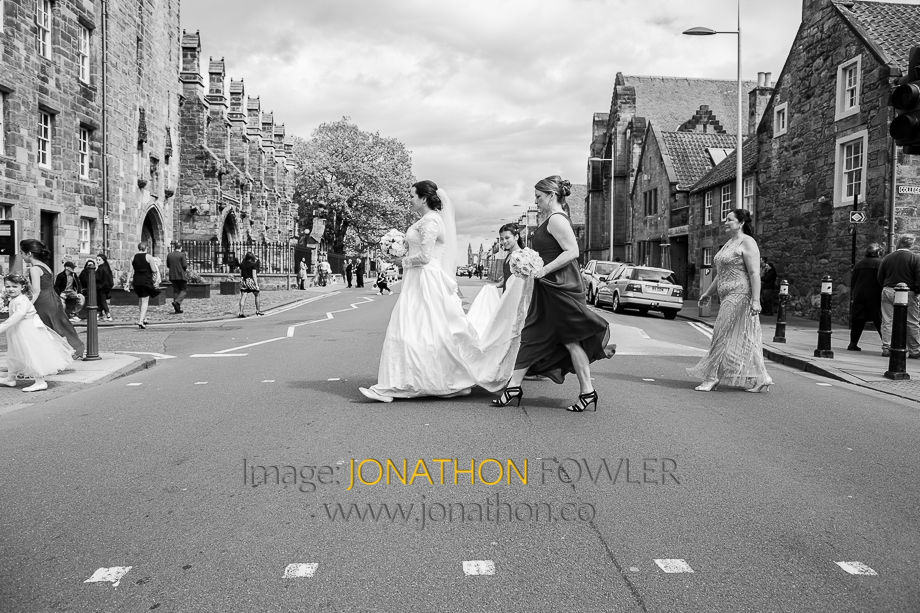 St Salvator's Chapel is a beautiful wedding venue. I'd previously discussed the site with photographer colleagues and I'd been advised that all wedding photography during the ceremony must take place from the back of the Chapel. This isn't unusual for religious services. However, Melissa and Gordon were being married by their own Minister, not St Salvator's own Minister, and he graciously allowed me to move discreetly around the Chapel to take photos during the ceremony. This was great as it allowed me to fully capture the atmosphere of the wedding ceremony. It also makes for a far more interesting sequence of photos to tell the story of the day.
After the beautiful wedding ceremony, everyone headed outdoors to St Salvator's Quadrangle to congratulate the newly-weds and enjoy a glass of bubbly. Fortunately, the rain stayed off just long enough for me to shoot the group and newly-wed photos!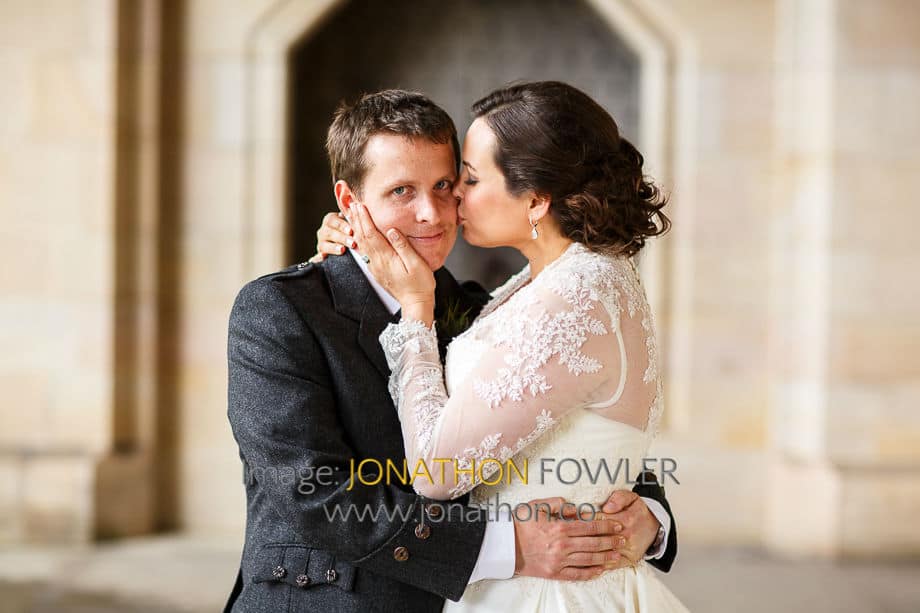 The wedding reception took place at the University Of St Andrews Upper and Lower College Halls. Very handy as this beautiful building is directly across from St Salvator's Chapel. Melissa and Gordon looked so happy as their Piper escorted them into the Lower College Hall to rapturous applause. The newly-weds enjoyed this moment, with plenty of high-fives from guests as Melissa and Gordon weaved their way to their top table.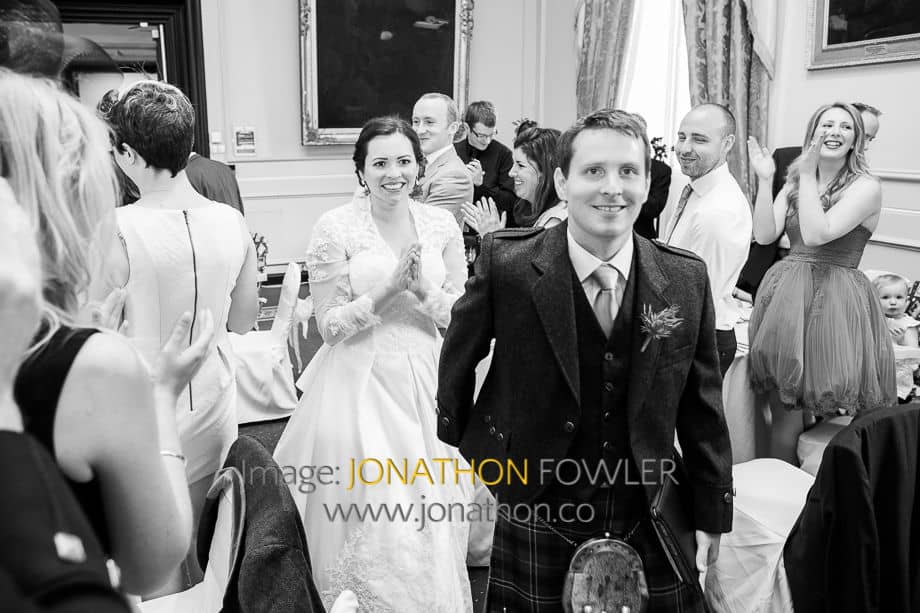 I love the American way of cutting the wedding cake. The cake is cut, then the newly-weds 'feed' each other a piece of cake. Or end up smearing it over each other's faces, which is great fun to watch and photograph!
The speeches took place after the meal. Always a highlight of the day for me to photograph people's emotions, there was plenty of fun, laughter and even a few tears to round things off nicely.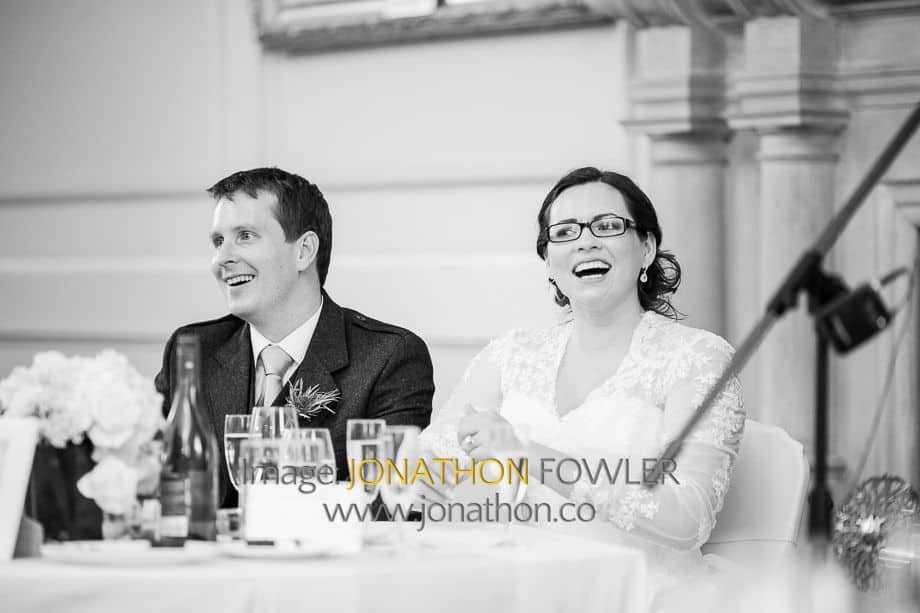 My day ended with coverage of the first few dances in the Upper College Hall. I loved some of the dance moves by Melissa and Gordon, plenty of twirling makes for a great wedding photo! The final dance I covered was the beginning of the ceilidh. A packed dance floor meant this was going to be a great party!
What a wonderful wedding day in gorgeous surroundings, I thoroughly enjoyed creating Melissa and Gordon's St Salvator's Chapel wedding photos. Their wedding album is going to look wonderful.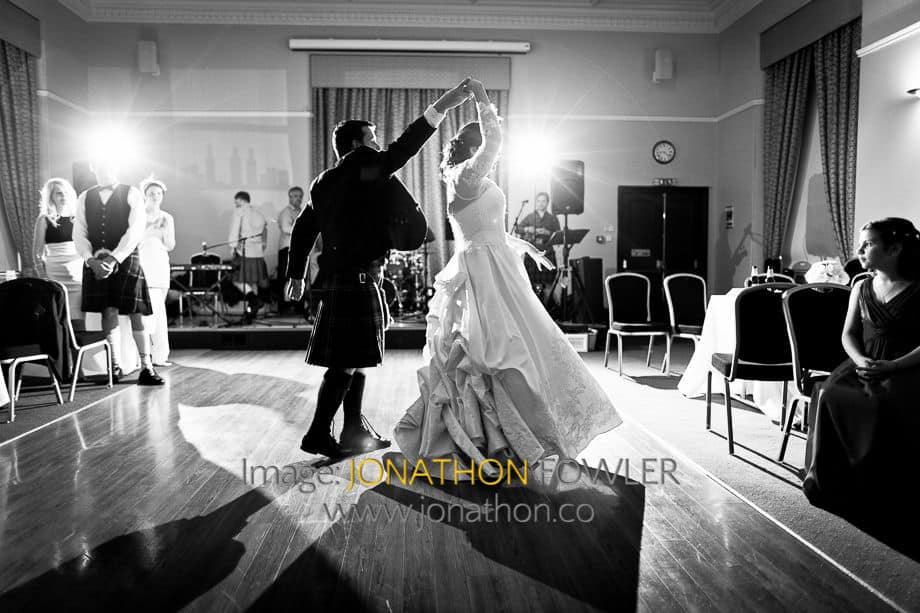 A few of the wedding suppliers who helped make Melissa and Gordon's St Salvator's Chapel wedding so special and unique:
Florist: Amy Annand
Bridal Dress: David's Bridal
Wedding Planning: Karran Porter
Wedding Cake: Marks and Spencer
St Salvator's Chapel Wedding Photos Gallery
I'd like to share a few of my favourite photos from Melissa and Gordon's wedding day.