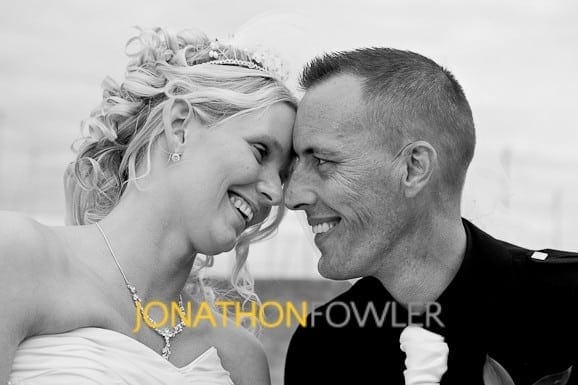 I recently had the pleasure creating Michelle and Ali's St Mary's Church Dalkeith wedding photos. They were married at the exquisite St Mary's Church in Dalkeith. This beautiful old building's interior is bathed in natural light. According to the curator, it has one of Europe's oldest water-powered organs. I've now been to a few weddings at St Mary's Church and always enjoy being there.
The Reverend Peter Green is the Minister of St Mary's church. He always conducts a wedding ceremony in a way which guests enjoy. Peter includes a bit of humour as well as the more formal aspect of a wedding ceremony. This calm and warm approach always manages to relax the couple being married. And a relaxed couple is a happy couple who look radiant on camera!
After the wedding ceremony, I took a few photos of the newly-weds in around the grounds of the church. Afterwards, we made our way to the wedding reception at The Quay in Musselburgh. There we took a short walk to the beach, which is only about one hundred metres away. We shot a few newly-wed photos there before heading back into The Quay. Michelle and Ali were a lovely couple to work for. Both very relaxed and good fun to photograph.
My next edit is to design a beautiful wedding album for the couple, it's going to be great.
St Mary's Church Dalkeith Wedding Photos Slideshow
Presented here is a selection of Michelle and Ali's wedding photos in a carefully crafted slide show. This is where I take your favourite wedding photos and combine these with your favourite music. The end result is a musical montage of your wedding photos. This is a really popular upgrade. I'll also put your wedding photo slide show online, perfect for sharing your photos with family and friends.
The slideshow shown here was created from around one hundred photos, specially selected from a total of around three hundred photos.
Here's a selection of Michelle and Ali's wedding at St Mary's Church Dalkeith and The Quay, Musselburgh.