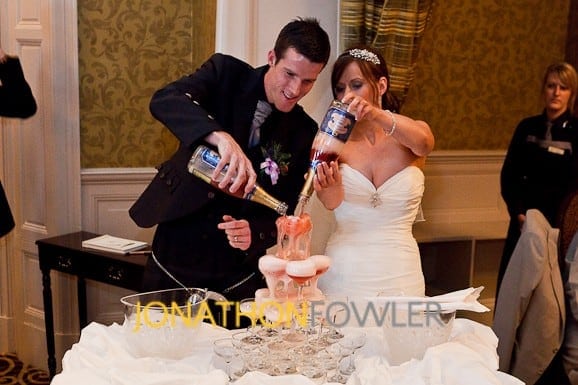 I had the great honour of filming and photographing Michelle and Alan's recent Seamill Hydro wedding photos and video. This lovely couple's wedding day started really early for me. I was due to film the bridal preparations in Greenock. Always a pleasure to start the day a bit earlier for my drive through to the west of Scotland for a wedding. After a bright sunny start in Edinburgh, it was disappointing to see the rain teeming down by the time I arrived in Greenock! The weather is always on your mind when you're a Scottish wedding photographer and videographer.
After taking a range of photos of our beautiful bride Michelle it was time for me to head across to the church to take photos of the groom and guest arrivals. After the Roman Catholic wedding ceremony, there was a drive down the west coast to make our way to Seamill Hydro. This award-winning wedding venue is situated on the Ayrshire coast. It was a real shame about the weather, it would have been brilliant to take photos of the newly-weds down on the beach. We were fortunate to have enough of a break in the weather to capture a group photo of everyone on the lawn. After that, we were restricted to shooting outdoor photos under the cover of the bandstand. Good old Scottish weather playing a part in a wedding day!
This short video from the wedding shows the newly-weds creating a 'Champagne Fountain'. The aim is to see who would empty their champagne bottle first. As you can see, it was a close call!
The champagne fountain was originally supposed to have been set-up on the lawn. But due to the rain, the plan changed and we had to film indoors. This made no difference in the end as Michelle and Alan still let rip trying to be first to empty their bottles! This was the first time I've seen a champagne fountain at a wedding and I must say it was great fun to photograph and film. A really good photo opportunity which the guests took advantage of.
Michelle and Alan are a brilliant couple who were great fun to be around and made my role as a wedding photographer very enjoyable. Designing a wedding album for this couple is going to be difficult with so many lovely photos to choose from.
Seamill Hydro Wedding Photos And Video
Watch Michelle and Alan's champagne fountain, below.
And here's a few wedding photos from Michelle and Alan's wedding: