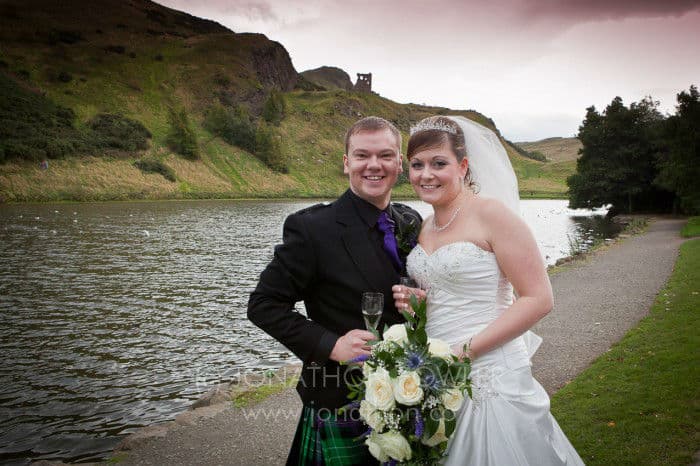 I recently spent the most wonderful day photographing Claire and Jamie's Our Dynamic Earth wedding photos. Claire and Jamie were married at top Edinburgh visitor attraction Our Dynamic Earth.
As I was booked to photograph the full wedding day from start to finish, coverage of this wonderful day began with the bridal party preparations. It was a full house, with family and friends everywhere. The girls all looked beautiful and relaxed. Plenty of champagne was flowing. Everyone was good-humoured. It was going to be a great day!
An hour later I drove to Our Dynamic Earth to take photos of the groom and guests. Jamie was relaxed and in good humour and couldn't wait for the ceremony to begin!
Claire and Jamie were married in a romantic civil ceremony. This was followed by a champagne reception in the grounds of Our Dynamic Earth. The weather was fine so we drove to St Margaret's Loch at the bottom of Arthur's Seat. What a beautiful location for outdoor photos of the newly-weds. A brilliant location for taking lovely wedding photos of the newly-weds with such a stunning backdrop. Big thanks to our driver who kindly directed/stopped the busy traffic!
The receiving line provided lots of expressive wedding photos. Followed by the newly-wed being piped into the wedding breakfast. The Piper proposed a toast to newly-weds Claire and Jamie. Amusing and heartfelt wedding speeches followed. It was great fun capturing the emotion and character of the wedding party at the top table!
In the evening the visitor galleries were opened for a private viewing for everyone. What a great opportunity to capture photos of family and guests. I even took a photo of the newly-weds in front of a man-made iceberg!
My day came to an end with the evening celebrations. The cutting of the magnificent wedding cake. Always a great photo opportunity for the wedding guests. Live entertainment was provided by top wedding band 'Cut The Cake'. These guys are great. I've seen them a few times and they always get the place rocking!
This was a wonderful wedding day. Great to be in such a unique wedding venue. I'm booked for another Our Dynamic Earth wedding soon and I look forward to coming back. Congratulations to Claire and Jamie. You're a lovely couple and a pleasure to photograph! I can't wait to design a beautiful wedding album for you.
Our Dynamic Earth Wedding
A few of my favourite Our Dynamic Earth wedding photos from Claire and Jamie's wonderful day.