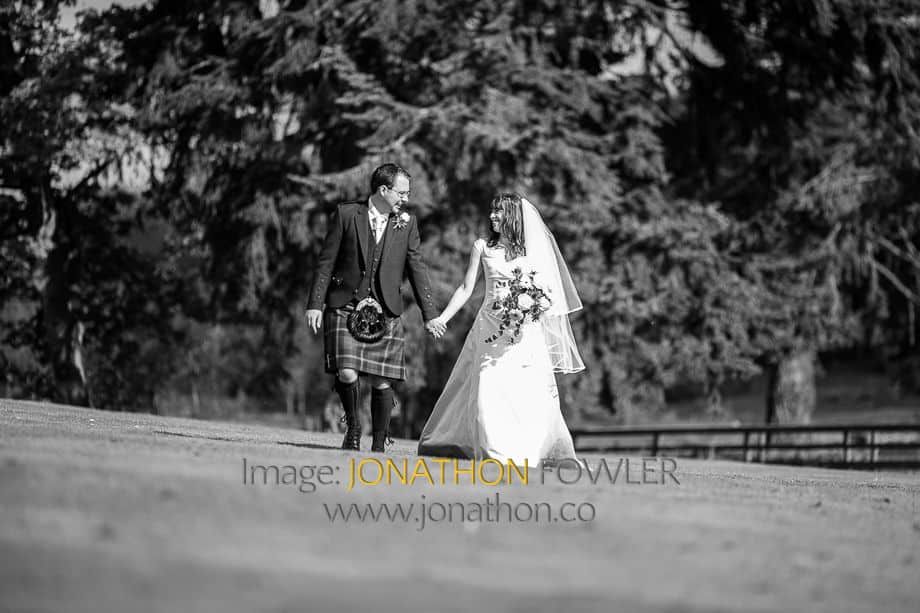 I had an early start on Friday as I was booked to create Carolyn and Chris's Meldrum House Hotel wedding photos. Meldrum House Hotel is a beautiful wedding venue located in Old Meldrum, north of Aberdeen. As I was covering the bridal preparations I departed Edinburgh early in the morning.
I'd met Carolyn and Chris on a couple of occasions prior to their wedding day. One of these occasions was to do a pre-wedding photoshoot in Edinburgh. In my limited time with Carolyn and Chris, I quickly realised they were going to be good fun to work with and I was thoroughly looking forward to their wedding day.
I was delighted to arrive at Meldrum House Hotel to find the place basking in the sunshine. I had a look around to familiarise myself with this impressive venue. Through the house and into one of the nicest wedding marquees I've ever seen. What a beautiful location and venue for a wedding reception.
Bride-to-be Carolyn was relaxed and enjoying a glass of Bucks Fizz. There was a really nice atmosphere with the girls and no sign of any nerves at all. I knew this was going to be a great day! I loved the choice of bridesmaids dresses and shoes, with rich, bold colours perfectly suited to a warm summer day in the country.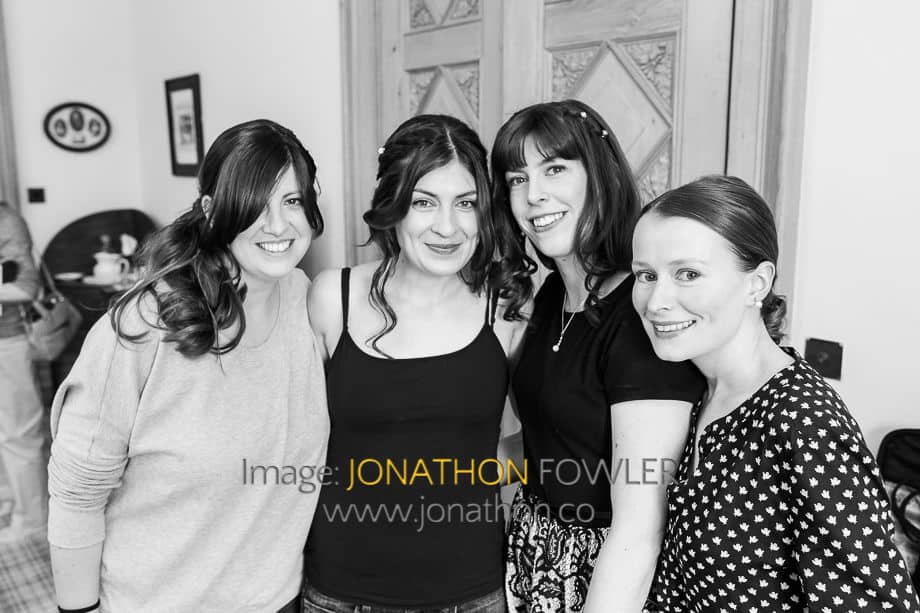 I spent just over an hour with the girls capturing lots of detail photos and of the preparations. Then it was time for me to make the short journey to Inverurie West Parish Church and prepare for the wedding ceremony.
Chris and the boys were also relaxed and with no sign of nerves. Chris is an Englishman who lives and works in Edinburgh, so it was great to see that he and the boys had chosen to wear full kilt outfits. They looked great, just the part for a north-east Scotland wedding!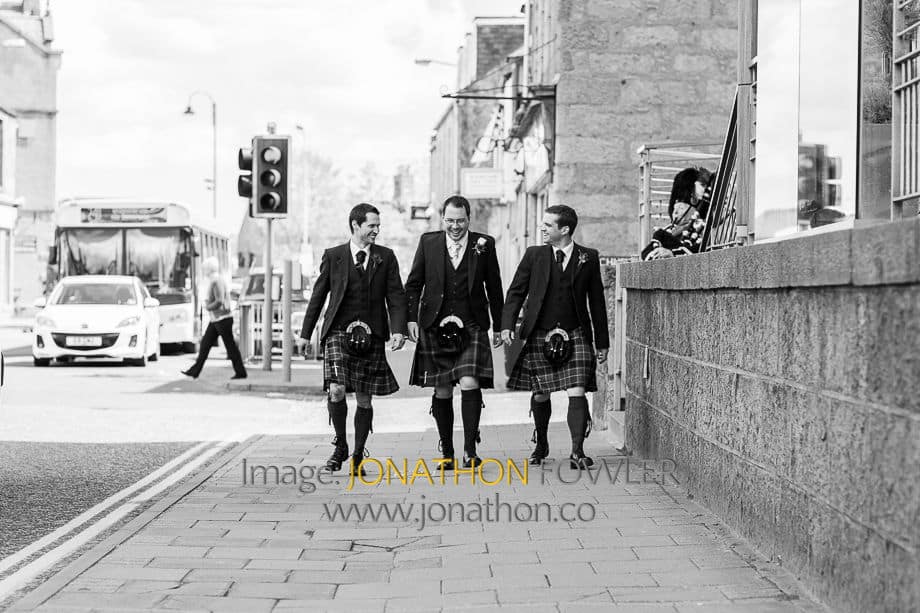 Carolyn and Chris were wed in a lovely traditional Church of Scotland wedding ceremony at Inverurie West Parish Church. A couple of readings were followed by Chris's sister singing and playing a tune on her guitar.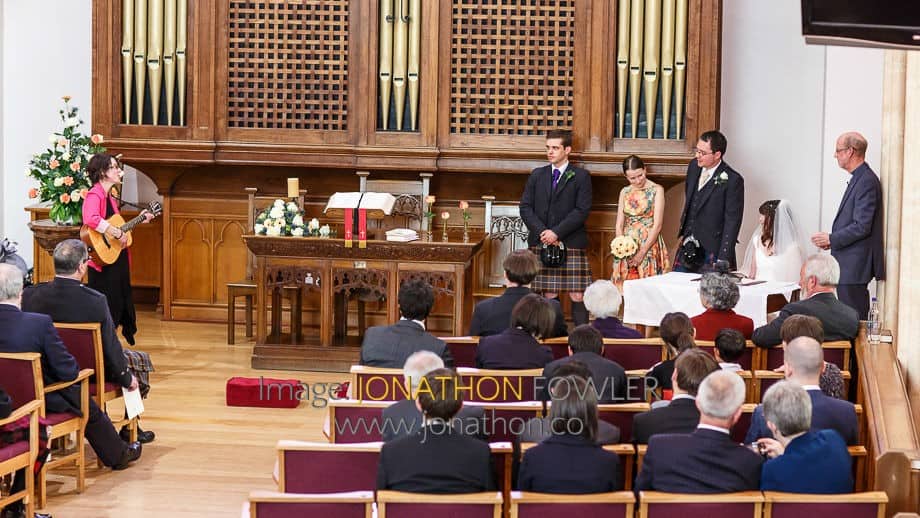 After the ceremony, everyone headed back to Meldrum House Hotel for an outdoor champagne reception. The sun was beating down. It was a beautiful day and a great location for an outdoor wedding reception. After a few group photos, the newlyweds and I went for a walk around the grounds of Meldrum House Hotel. We created some really lovely photos on the grass and made the most of the shade around the back.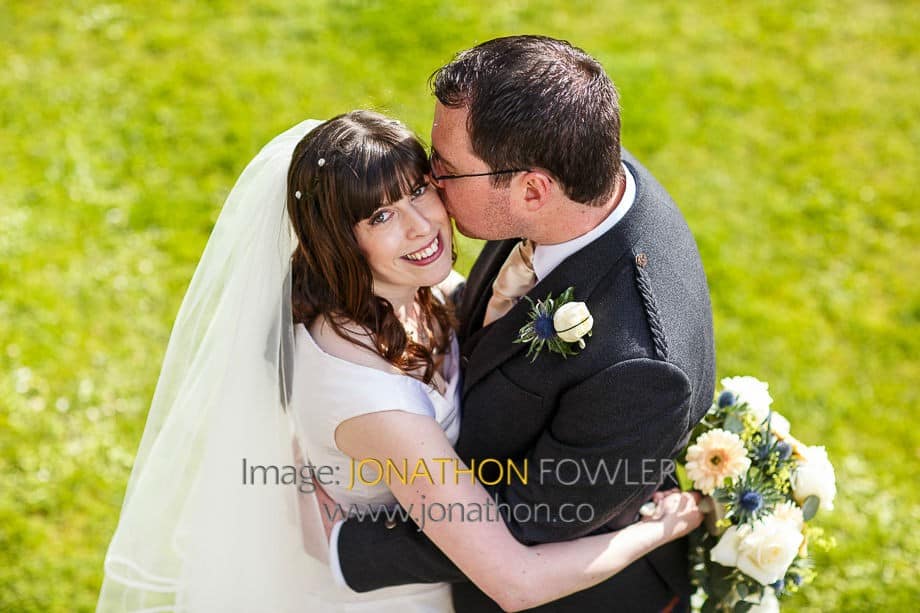 The newlyweds were piped into the marquee to their top table. Always a key moment of the wedding day, with lots of cheering and clapping! This was followed by the speeches which brought out a range of emotions from Carolyn and Chris. From beaming smiles and laughter to tearful memories of loved ones who are no longer with us, the speeches are always a great opportunity for capturing expressions.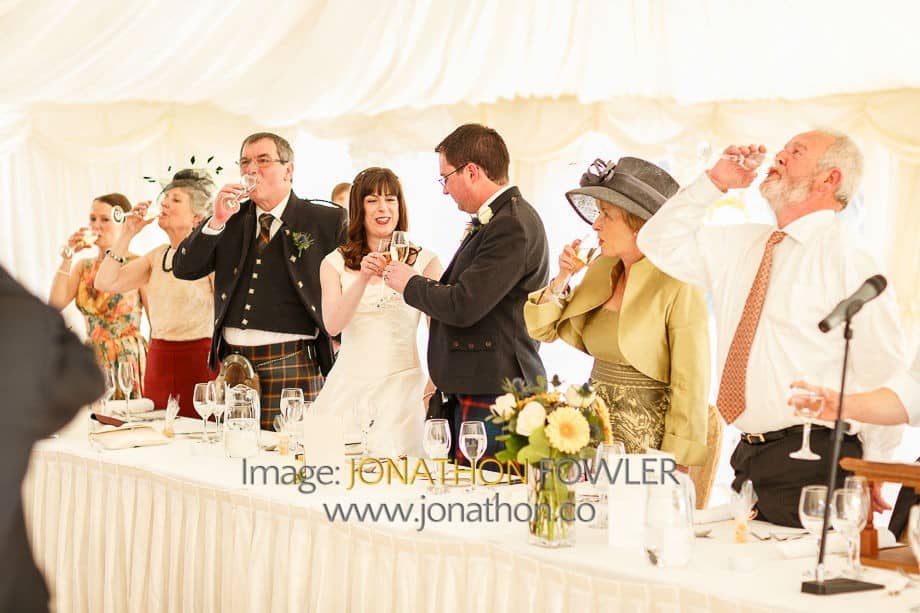 My day with Carolyn and Chris ended with the cutting of the wedding cake and the first few dances. The evening entertainment was provided by an excellent ceilidh band called Iron Broo. These guys had everyone up dancing. I loved capturing the moves on the dance floor, a great way to end my day.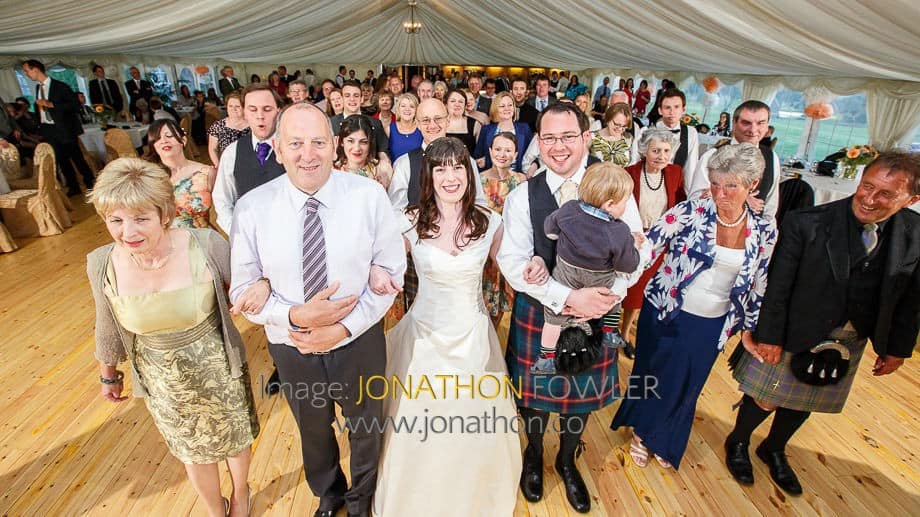 What a great day. Great people, wonderful weather and a fantastic wedding venue.
Then back to my hotel to back up my photos and get my gear ready for another wedding the following day in the beautiful Kingdom of Fife.
Details of some of the wedding suppliers who helped make Carolyn and Chris's Meldrum House Hotel wedding so special and unique:
Florist: Floral Design
Make-up: Preen Beauty
Hairdresser: Gail Robertson of Partners In Hair
Grooms Outfit: Gordon Nicolson Kiltmakers
Meldrum House Hotel Wedding
In the meantime, I'd like to share a few of my favourite photos of Carolyn and Chris's amazing Meldrum House Hotel wedding day with you.