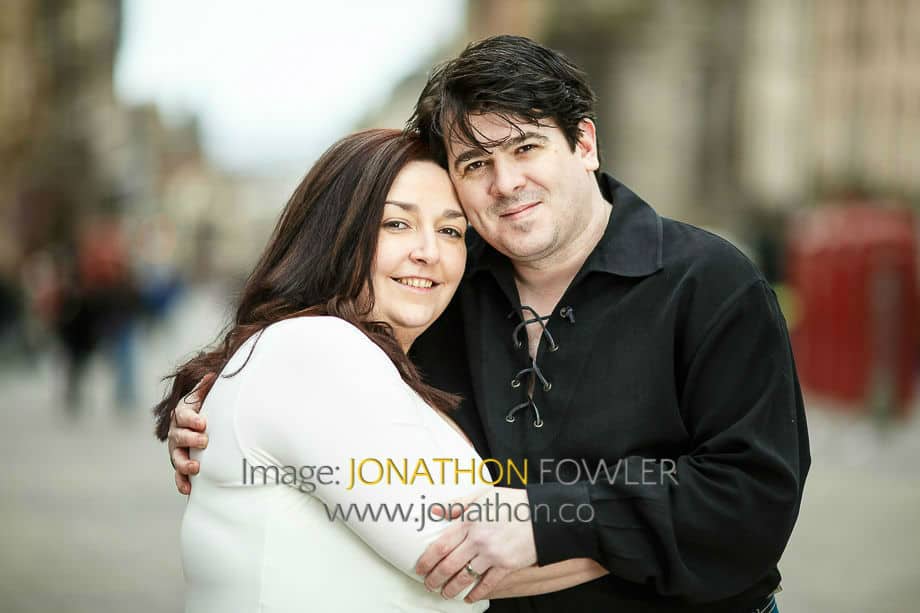 I recently had the pleasure of taking Tricia and Ross' wedding photos at Lothian Chambers. I read many wedding photography blogs and notice one thing seems to stick out. Wedding suppliers often forget that the most important thing in our business is the love of two people for each other and their commitment to each other. Lavish weddings can be fantastic. Big weddings have their place. But at the end of the day, a wedding is a commitment between two people. That public show of commitment is what matters first and foremost.
Ross and Tricia's wedding was a perfect example of this. Tricia and Ross have been together for eighteen years. They recently decided to get married and chose my home city of Edinburgh to get married. All they wanted was to get married in their own special way. Tricia, Ross, the Registrar and myself were the only people who knew they were getting married. No guests or family were present. Upon their arrival at the Registry Office, Tricia and Ross asked a couple of ladies to witness the wedding.
I've covered similar Lothian Chambers weddings in the past. I sometimes felt a little bit sad on these occasions. Most of the time the couple's family and friends know they're getting married, but for whatever reason, the couple decided to do it all alone. Often, I'm hired as an elopement photographer in Edinburgh. It's a little sad that others weren't there to enjoy the occasion. Quite often elderly grandparents can't make it to the wedding. I do like knowing that my photos will be shared with family and friends when the couple break the good news to everyone.
No sadness for Ross and Tricia's wedding, though! I was really happy for Tricia and Ross. There was something really romantic about eloping, keeping everything secret and doing it alone. I really enjoyed being there to photograph the wedding, it was clear to see how much Tricia and Ross love each other. They got married their own way and managed to keep it secret. Good on them!
After the wedding ceremony and newly-weds' first kiss, we went outside to create a selection of photos in and around Parliament Square and the Royal Mile. Tricia and Ross were fantastic – it was freezing outside, yet not one complaint about being cold. Tricia and Ross were great!
So back to my opening paragraph of this blog post. A wedding is a commitment between two people. That is the most important thing, and Tricia and Ross clearly know that. I wish the very best of luck to them. And I hope their families are delighted at their wonderful news! I very much look forward to designing a beautiful wedding album for the happy couple.
Real Wedding Photos At Lothian Chambers
I'd like to share a few of my favourite wedding photos of Tricia and Ross with you.