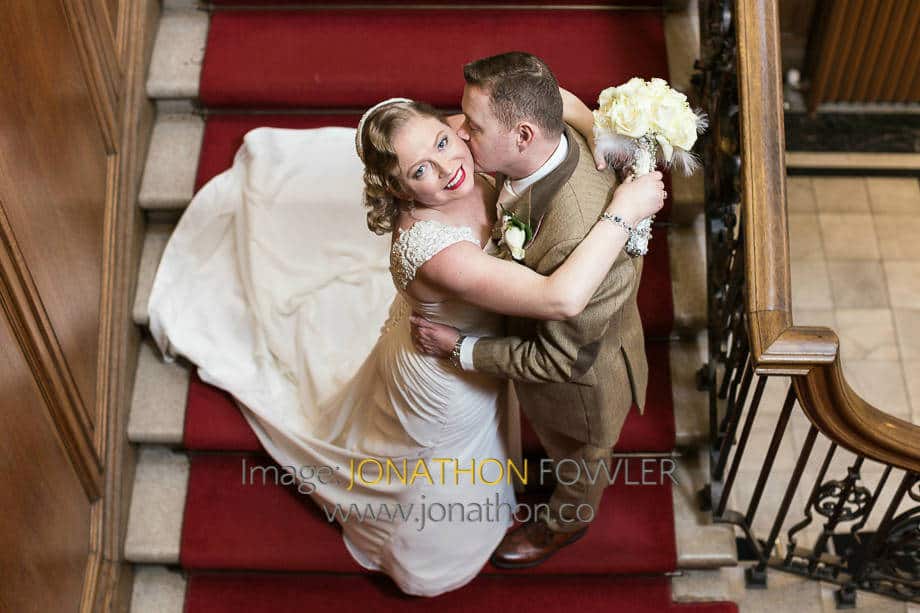 Kirsteen and Steven wanted an experienced photographer to shoot their wedding photography at Lothian Chambers. I have photographed many weddings at this beautiful venue, situated directly opposite St Giles' Cathedral in Edinburgh's Old Town, so being invited to work with this lovely couple was great.
Before the wedding ceremony, I spent about an hour covering some of the bridal party preparations at Kirsteen's parent's house at Silverknowes in the north of Edinburgh.
Kirsteen looked beautiful. I loved the 1920s theme to Kirsteen and Steven's wedding at Lothian Chambers. Some of the details were gorgeous and unique to their wedding story.
Our couple looked so happy as they were announced as the new Mr and Mrs! Formal signing of the marriage schedule was followed by a few photos on and around Lothian Chambers' exquisite red-carpeted staircase.
After the wedding ceremony at Lothian Chambers, we spent about 30 minutes around Parliament Square and Edinburgh's Old Town shooting a selection of newly-wed photos. It's always fun shooting photos of a newly-wed couple around the Royal Mile after their civil wedding ceremony at Lothian Chambers. Lots of tourists offering congratulations to the couple and snapping away on their cameras adds a bit of unexpected excitement to the photoshoot, with Kirsteen and Steven getting a taste of what it's like being famous and photographed by paparazzi!
Kirsteen and Steven celebrated the rest of their day with a wedding reception at the Scotch Whisky Experience, located on Edinburgh's historic Royal Mile.
Scotch Whiskey experience has a wonderful collection of thousands of types of whisky, beautifully displayed in glass cabinets. Better still, you can sample as many of the whiskies as your palate and budget allow!
Having your wedding reception at Scotch Whisky Experience means you and your guests are allowed to tour the building and view everything on display, with guides on hand to provide details about many of the rare whiskies on display.
My coverage of this lovely couple's wedding day ended at the end of the first few dances. For their first dance as newly-weds, Kirsteen and Steven chose to have a brilliant three-piece band playing an old jazzy tune, perfectly keeping to the theme of their wedding day.
Gallery Of Wedding Photography At Lothian Chambers
Shared below are some of my popular photos from Kirsteen and Steven's beautiful Lothian Chambers and Scotch Whisky Experience wedding day. I hope you agree that when shooting Kirsten and Steven's wedding photography at Lothian Chambers, I've captured much of the excitement, happiness and story of their wonderful day.
Sadly, since Kirsteen and Steven were married, civil wedding ceremonies at Lothian Chambers have ceased. The City Of Edinburgh Council has moved their Registry Office to Edinburgh City Chambers Marriage Suite, just a short walk across the Royal Mile. Lothian Chambers is now the French Consulate in Edinburgh.