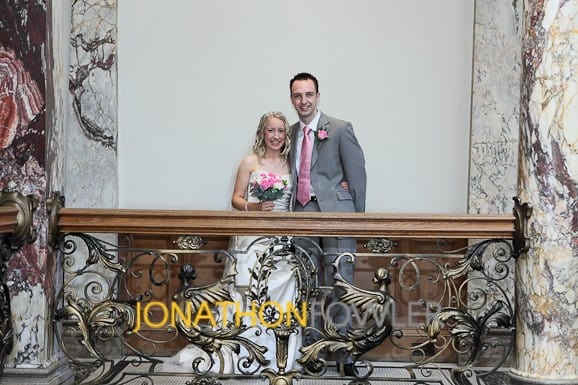 I recently had the pleasure of being Jen and Andy's Lothian Chambers wedding photographer. Jen and Andy were married at Edinburgh's impressive city centre wedding venue, Lothian CHambers Registrars Office. Afterwards, they held their wedding reception nearby at another fabulous venue located in Edinburgh city centre, The Dome on George Street, Edinburgh.
The weather was lovely. I took photos of the groom and guests as they arrived in Parliament Square. Bride Jen looked beautiful as she arrived with her father in a Rolls Royce car. The civil wedding ceremony was really good fun. The ceremony room at Lothian Chambers is great for capturing gorgeous wedding photos. It's bathed in natural light from the big windows. The layout of the room means I can discreetly walk around capturing photos from various viewpoints.
After the wedding ceremony at Lothian Chambers, everyone made their way to Parliament Square. A few group photos were taken in Parliament Square. Then the guests departed for The Dome. I took a few more 'posed' contemporary photos of Jen and Andy around Parliament Square. Then we also made our way over to The Dome.
The Dome is located on Edinburgh's prestigious George Street. Upstairs a beautiful private room was used for Jen and Andy's wedding. Jen and Andy were a really lovely couple to work for. They were very relaxed and really made my role as a wedding photographer very easy. I very much look forward to creating a gorgeous wedding album for Jen and Andy.
Lothian Chambers Wedding Photographer
Here are a few of my favourite photos from Jen and Andy's wedding day at Lothian Chambers. Enjoy!
Presented here is a wedding photo slideshow of a few of my favourite photos from Jen and Andy's wedding. This popular upgrade is a great way to share your favourite photos with your family and friends. You choose your favourite photos and music and I'll do the rest!
The video below was created from around one hundred photos. They were selected from a total of around two hundred quality wedding photos.