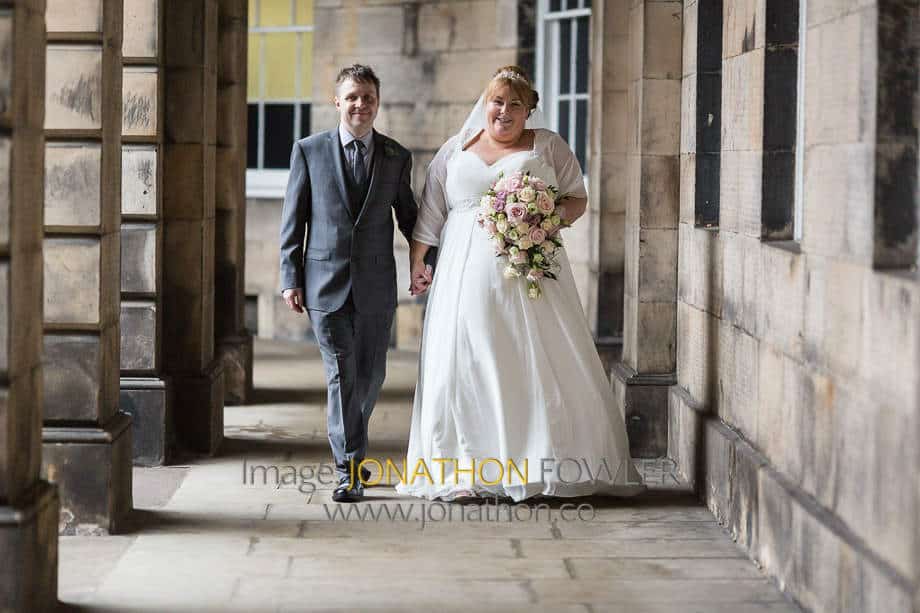 Jacqueline and Robert had travelled across the Irish Sea to get married and kindly invited me to shoot their Lothian Chambers wedding photos.
Jacqueline and Robert married at the beautiful Lothian Chambers wedding venue, located in the heart of Edinburgh's Old Town. This warm and friendly couple then held their wedding reception nearby at The Carlton Hotel, in Edinburgh city centre.
The wedding ceremony was held in The City Of Edinburgh Suite, overlooking Parliament Square and St Giles' Cathedral.
I've photographed many weddings at Lothian Chambers and I always love photographing a wedding in this beautiful venue. It's a great place to get married, especially for smaller, more intimate wedding ceremonies and elopements. The city centre location is wonderful for the newly-wed photos immediately after the wedding ceremony, with Edinburgh's Old Town architecture making a beautiful backdrop for your wedding photos.
After the wedding ceremony, I spent a few minutes taking newly-wed photos of the couple in the area around Lothian Chambers red-carpeted staircase. Beautiful light, marble pillars and wood panelling make a beautiful setting for the newly-wed photos.
Afterwards, we took advantage of Parliament Square, St Giles' Cathedral and the archways at the rear of the Signet Library for a good and varied range of newly-wed photos. Jacqueline and Robert looked so happy and in love as wellwishers offered their congratulations to our couple.
Newly-wed photos completed, we made the short journey to the wedding reception at The Calton Hotel on North Bridge. I loved the couple's wedding cake, a personalized cake in the colours of Blackburn Rovers football team!
Congratulations to Jacqueline and Robert. The weather wasn't great, but they braved the cold and rain ensuring we got a varied selection of photos for their beautiful luxury wedding album.
Lothian Chambers Wedding Photos
A few of my favourite Lothian Chambers wedding photos of Jacqueline and Robert are shared below.