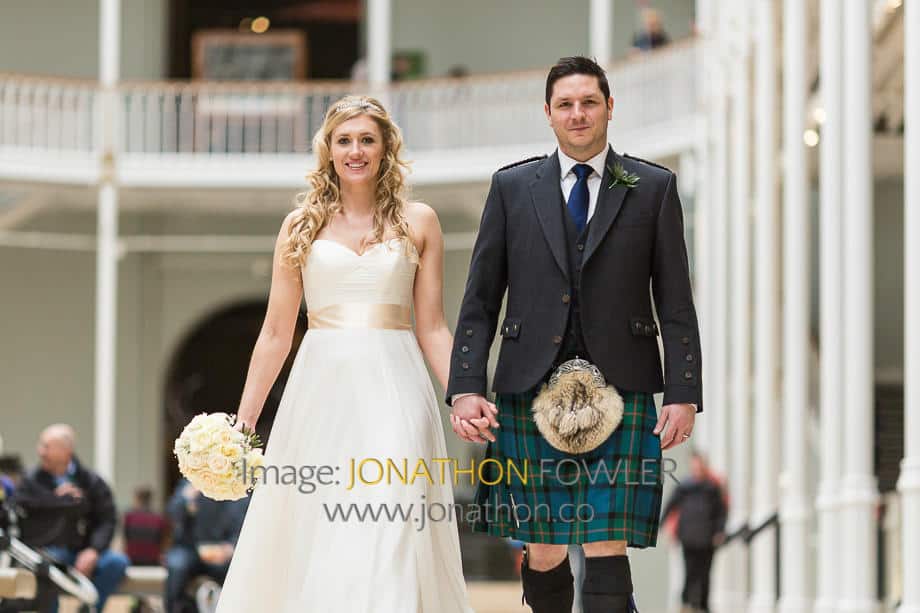 As Gill and Jamie's National Museum Of Scotland wedding photographer, I was excited to be going to this fantastic new wedding venue in Edinburgh city centre. Like so many other people, the National Museum of Scotland is a place I've visited with my family on many occasions. But I had never been there to photograph a wedding reception.
I began coverage of Gill and Jamie's wedding day at Gill's parent's house in Swanston, in the south of Edinburgh, before heading across Edinburgh to Lothian Chambers.
Gill and Jamie married at the beautiful Lothian Chambers Registrar's Office, located in the heart of Edinburgh's Old Town.
I've photographed many weddings at this wonderful Edinburgh civic wedding venue. Gill and Jamie's wedding took place in The City Of Edinburgh Suite, the largest of the three rooms for wedding ceremonies at Lothian Chambers. I love photographing wedding ceremonies in this room, and the large windows allow natural light to spill into the room. Lots of natural light means I can take photos without the use of distracting camera flashes.
When the ceremony was finished Gill, Jamie and I created a selection of newly-wed photos around the staircase and upper landing area. The red carpet and marble pillars are a wonderful backdrop for the photos. Gill and Jamie looked so happy as they departed for their wedding reception at National Museum Of Scotland, located a few minutes walk from Lothian Chambers.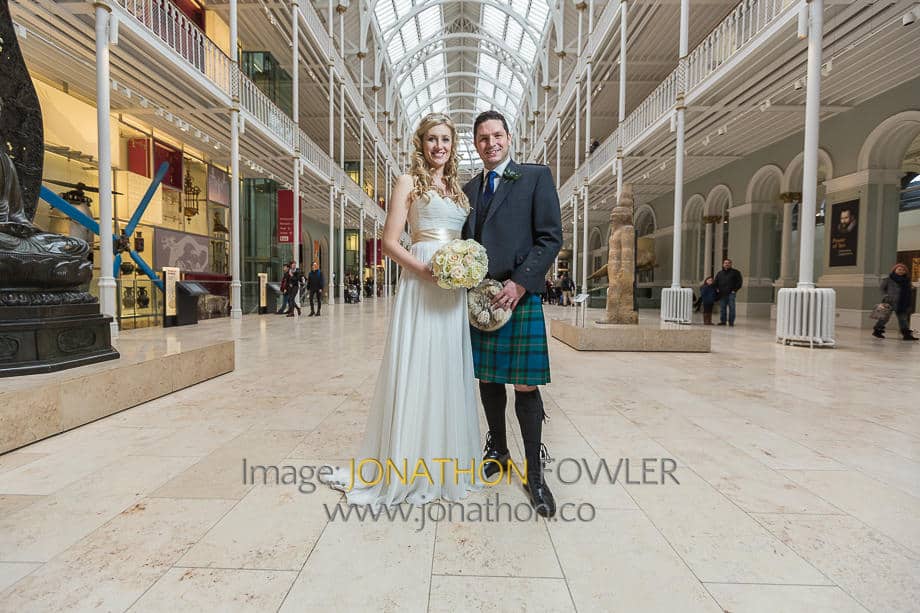 Gill and Jamie held their wedding reception at the magnificent National Museum of Scotland on Chambers Street, in Edinburgh city centre. The weather was awful, pouring rain most of the day. Fortunately, the museum is a brilliant place for photos. As you would expect, it's spacious, has lots of natural light and a bonus was being able to take a picture of the newly-weds under a dinosaur exhibit!
Congratulations to Gill and Jamie, you were a pleasure to photograph.
National Museum Of Scotland Wedding Photographer Gallery
Shared below are a few of my favourite photos captured as Gill and Jamie's National Museum Of Scotland wedding photographer.