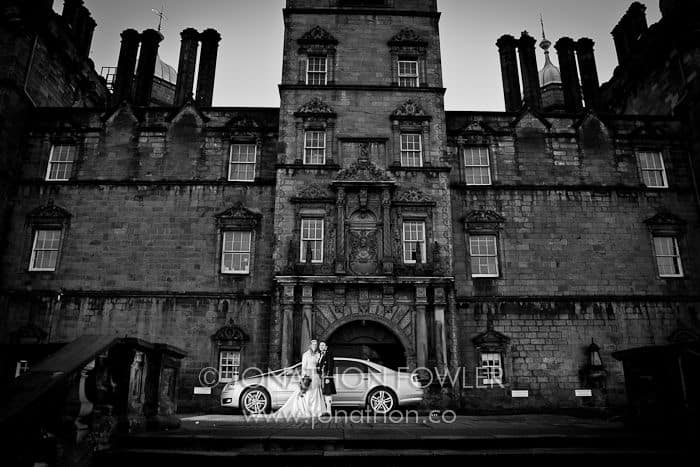 Last Saturday I had the pleasure of shooting Sandra and Alex's George Heriot's wedding photography Edinburgh. George Heriot's school is located right in Edinburgh city centre.
George Heriot's school is an amazing location for stunning Edinburgh wedding photography. The school building is almost 400 years old. The main building of the school is notable for its Renaissance architecture and is a turreted building surrounding a large quadrangle.
Within the main building is a private chapel. We were fortunate enough to benefit from beautiful sunshine throughout the afternoon, which bathed the interior of the chapel in beautiful golden light. Perfect for goregous Edinburgh wedding photography!
George Heriot's school itself is amazing, but the icing on the cake for me was the stunning view from the rear of the building. One of the best views in the city of Edinburgh Castle! I love this wedding venue, it's now one of my favourite Edinburgh wedding photography locations!
I arrived nice and early to take a few photos of the chapel and the boys as they arrived at George Heriot's school. Alex was pretty relaxed as he welcomed guests. I got a few nice shots of Alex on his own and with his Best Man, then waited for our Bride Sandra to arrive.
Sandra looked beautiful, and like Alex was also very relaxed. It's quite rare to see a tearful bride, most brides are usually raring to getting down the aisle!
It was a really lovely wedding ceremony, which was beautifully lit by the sun streaming through the large stained glass windows.
After the ceremony, it was time for a few traditional formal posed group photos. These group photos are ideal for ensuring that everyone present is photographed.
I always shoot a combination of candid and traditional wedding photography. The candid style captures your day and tells the story of the day as it unfolds. This is great because it results in candid and beautiful Edinburgh wedding photography in a way which reflects events as they actually happened on the day. But often this style misses capturing photos of everyone present. Sometimes guests are missed for a variety of reasons. They are away to the toilet, having a cigarette, at the bar. Other times they are not keen on having their photo taken. It's amazing how a nervous guest will manage to hide away when they see a photographer in their field of view!
Utilising traditional 'group photos' is still a great way to ensure you have a few photos of your nearest and dearest as they share the most important day of your life.
And a great wedding photographer will always be able to encourage guests to pose and smile and capture a great moment of everyone together.
So after taking a number of group photos, I had around 20 minutes to spend with the newly-weds. This time was spent taking a few photos in and around George Heriot's, making the most of the beautiful architecture and golden sunlight. I'm really pleased with the results and I'm delighted to share some of these photos with you, below.
After spending 20 minutes with the newly-weds it was time to depart for the wedding reception at the nearby Ellersly House Hotel, Murrayfield.
What an amazing day at a fantastic wedding venue in Edinburgh. Congratulations Sandra and Alex, you guys were a pleasure to work with!
You might also enjoy Karen and Stefan's beautiful George Heriot's wedding photos.
George Heriot's Wedding Photography Edinburgh
Here are a few images showing Sandra and Alex's beautiful Edinburgh George Heriot's wedding photography. You can also view a slideshow of some of the photos edited to a music backing track.
George Heriot's Wedding