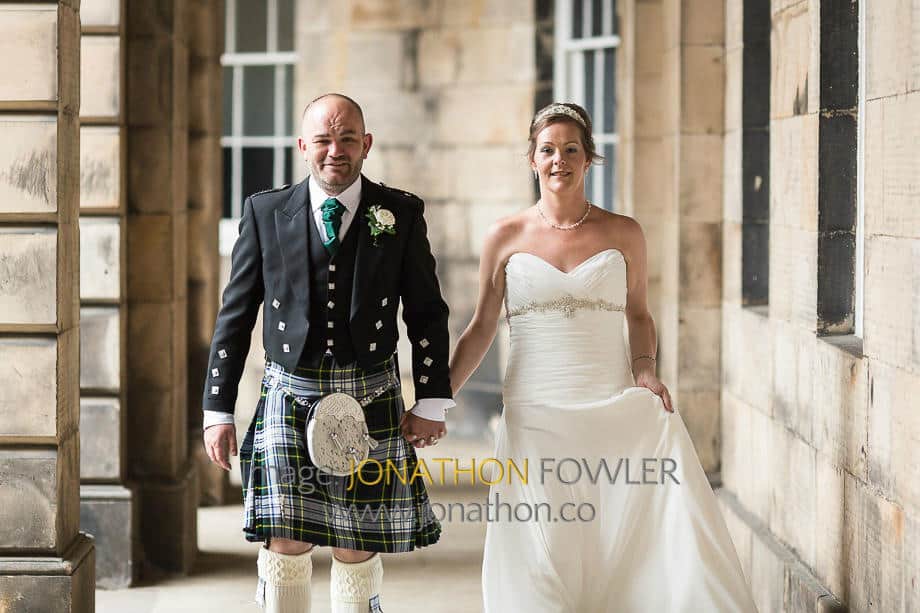 It was an honour to be asked to create Louise and Steven's Edinburgh Registry Office wedding photos. This lovely couple decided to have an elopement wedding in Edinburgh. Lothian Chambers Registry Office on the Royal Mile is the ideal and popular venue for a small and intimate wedding in Edinburgh. Louise and Steven loved the beautiful interior of the Lothian Chambers wedding venue and felt the location in the heart of Edinburgh's Old Town was perfect.
Travelling from their home in Shetland, it was great to see the happy couple joined in their celebration by family and friends. I think Louise and Steven brought a bit of Shetland weather with them – it was torrential rain at one point! But the awful weather didn't stop this lovely couple having fun on their wedding day.
After the wedding ceremony, we took advantage of the exquisite staircase and landings at Lothian Chambers to shoot a few photos of the newlyweds.
Nothing ventured, nothing gained as the old saying goes. Fortunately, we managed to shoot lots of lovely photos around the Old Town in spite of the miserable weather.
The area around Lothian Chambers and the Royal Mile is one of my favourite city centre locations for newly-wed photos. Parliament Square, surrounded by St Giles' Cathedral, Lothian Chambers and the Signet Library, is a great place to begin the photo session. St Giles' Cathedral has two sets of steps, one at the front, the other at the rear, which is a great place for newly-wed photos. To the side of the Signet Library are covered walkways with their wonderful arches which allow light to spill in and envelope the newly-weds. Ending up on the other side of St Gile's Cathedral on the famous Royal Mile, with its cobbled roadway and the fantastic backdrop of Edinburgh Castle, we photographers in Edinburgh are spoiled for choice in this urban setting.
Louise and Steven were a pleasure to photograph, their wedding album is going to look beautiful.
Edinburgh Registry Office Wedding Photos
Shared here is a selection of my favourite photos from Louise and Steven's wedding day.