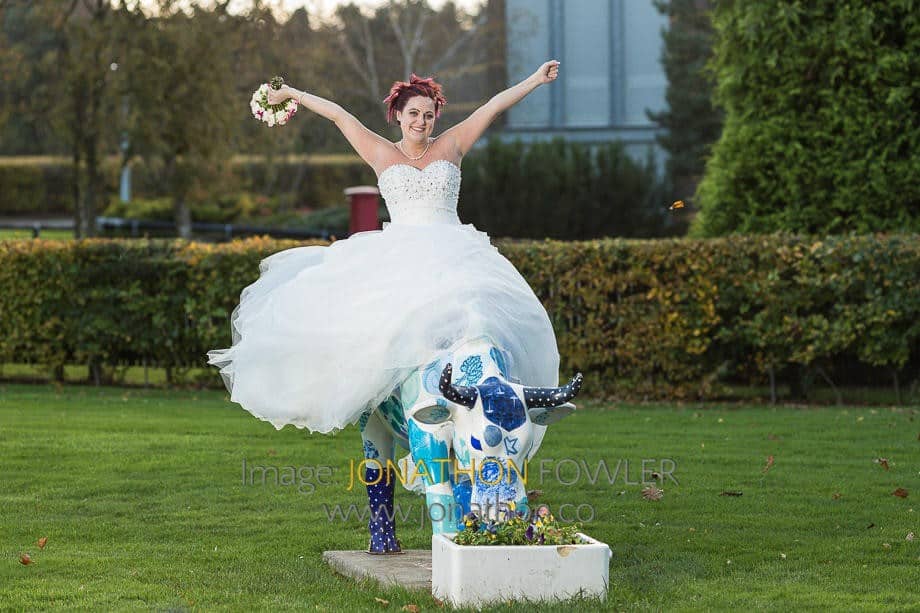 It's always great to photograph weddings in exciting new locations, and being Lynsey and Keith's Wedding Photographer In Edinburgh Conference Centre was no exception. What a wonderful venue for a wedding.
I'd recently photographed Lynsey and Keith at our engagement photoshoot at Harlaw Reservoir. I knew from our initial meeting that this lovely couple would be really good fun and relaxed when being photographed.
Lynsey and the girls were getting pampered and prepared at Lynsey's parent's house nearby in the village of Currie. Everyone was relaxed and enjoying a wee glass of bubbly before departing for Edinburgh Conference Centre.
Located within Heriot-Watt University, Edinburgh Conference Centre is a brilliant wedding venue. I'd visited the venue a few days before the wedding to familiarise myself with the layout. What a fantastic job everyone did of transforming a functional conference hall into a beautifully lit and stylish wedding venue. Very impressive indeed!
Groom Keith was relaxed and chatting with guests as he looked forward to marrying his beautiful bride Lynsey.
Bride Lynsey arrived in a lovely old Morris Minor convertible car, accompanied by her dad.
The wonderfully personal Humanist wedding ceremony was hosted by one of my favourite Humanist celebrants, Brian Hawkins. A perfect wedding ceremony – sincere, heartfelt, entertaining and memorable, from the vows it was clear Lynsey and Keith are perfectly matched.
Afterwards, there was the customary glass of champagne and congratulations for the newlyweds followed by a selection of family and friend group photos.
The October weather was good enough for us to head outside and shoot a selection of newly-wed photos on the lawn and spacious grounds of the Edinburgh Conference Centre.
The rest of this wonderful occasion was celebrated in style in the main function room within the Edinburgh Conference Centre.
Heartfelt, sincere and amusing speeches were followed by the arrival of the evening guests and the start of the evening celebrations.
Congratulations to Lynsey and Keith, I really enjoyed photographing both of you. Also great to see my previous wedding photography couples Claire and Neil, and Michelle and Darren!
Wedding Photographer In Edinburgh Conference Centre Gallery
What a great day as a wedding photographer in Edinburgh Conference Centre. Enjoy this selection of my favourite photos of Lynsey and Keith's brilliant day.