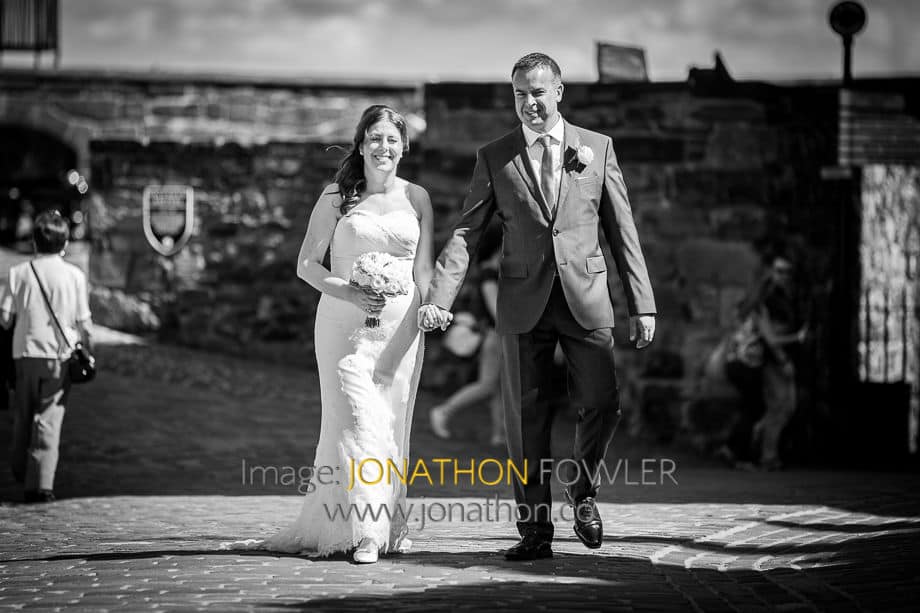 I was honoured to be shooting Edinburgh Castle wedding photos at Scotland's most visited tourist attraction, Edinburgh Castle. I recently photographed Emily and Stephen's Edinburgh Castle wedding so I knew this was going to be another brilliant wedding day at a wonderful wedding venue in Edinburgh.
My day began at Deacon Brodies Tavern on the famous Royal Mile. Chris arrived with a few family and friends and had a wee drink before the walk up to the top of Edinburgh Castle. I'd met Chris a few months ago during a pre-wedding meeting in Edinburgh. Chris advised me that he was looking at various Edinburgh wedding venues and happened to be at Edinburgh Castle with his fiancée Sharon when a wedding was about to begin. From that moment they loved the idea of getting married at Edinburgh Castle. It's easy to see why people want to have their wedding at Edinburgh Castle. The place is steeped in history and looks awesome!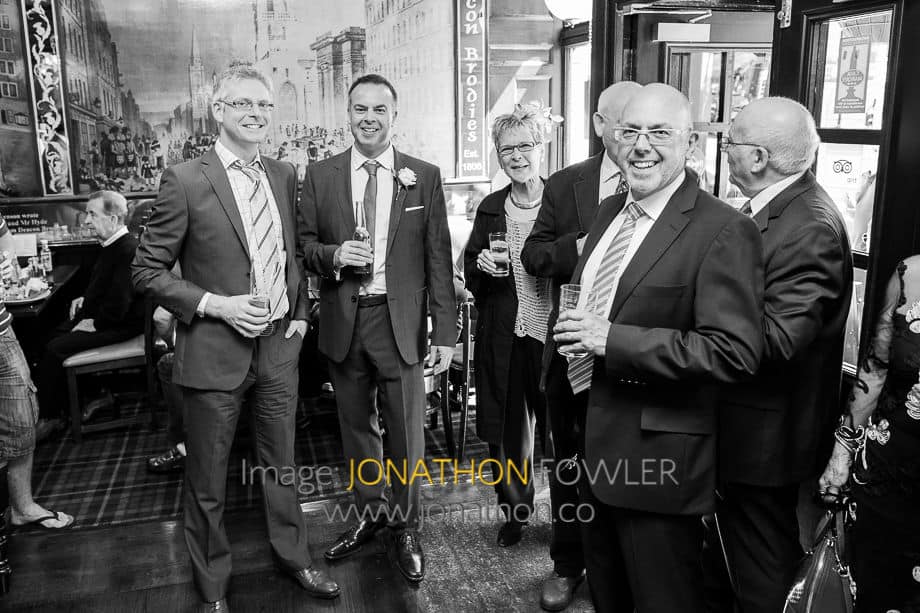 It was a beautiful sunny day. After finishing their drinks everyone made their way on foot to St Margaret's Chapel. This exquisite little chapel is the oldest building in Edinburgh, dating back to the 12th century. It's also the smallest wedding venue I've ever been to, accommodating around 22 people.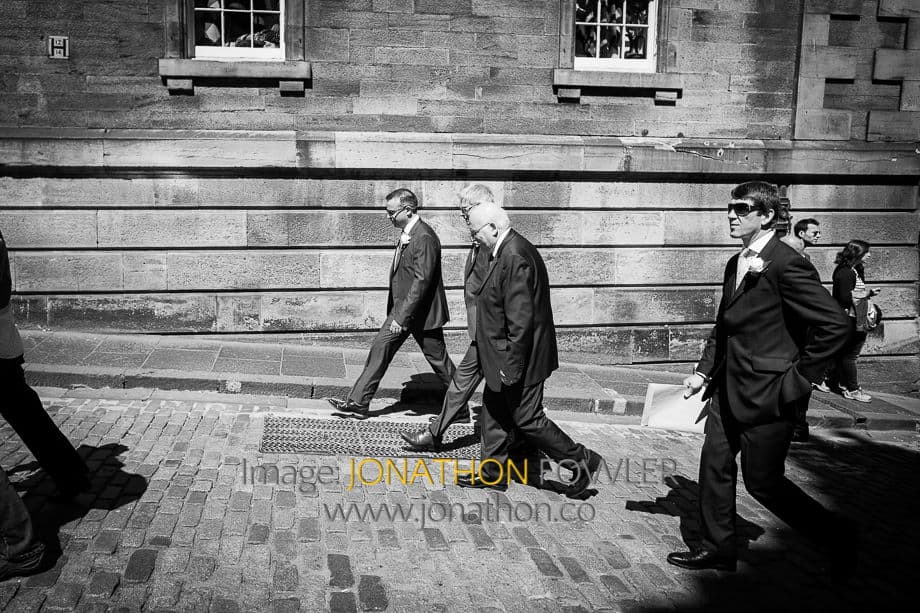 As Edinburgh Castle is one of the UK's busiest visitor attractions, it's guaranteed there will be plenty of onlookers when the Bridal Party arrives! A few years ago a tunnel was drilled through the Castle rock to enable vehicles to be driven to the top of Edinburgh Castle. This is very handy, as it means the wedding cars can be driven to within a few feet of St Margaret's Chapel. Also, very handy for me with various bags of equipment, it would have been a tough venue to shoot if everything had to be carried on foot!
Beautiful bride Sharon looked radiant as she emerged from her wedding car. As always, the tourists wanted a photo of the bride as she made the short walk to St Margaret's Chapel. It's surprising how relaxed the brides are considering the number of onlookers!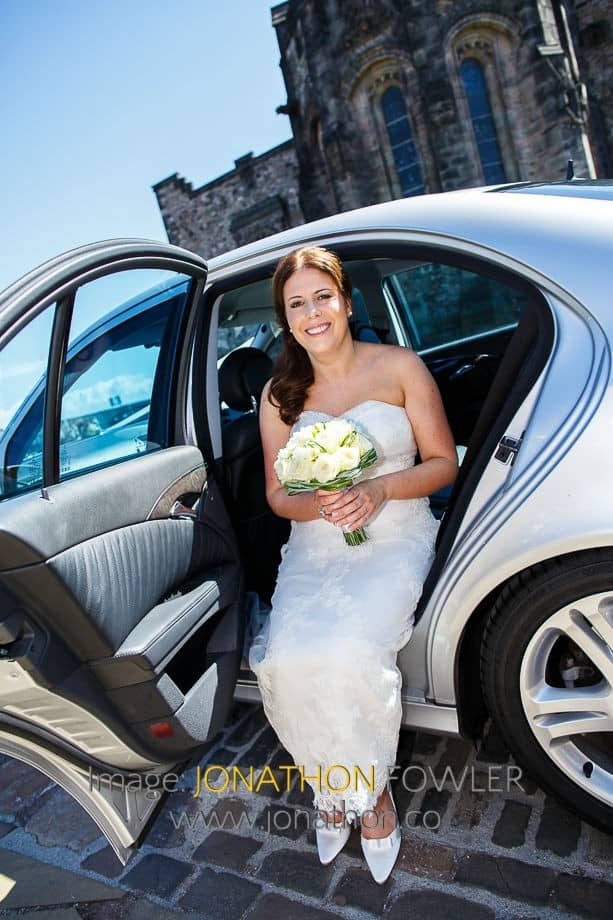 A beautiful wedding ceremony was conducted by Minister Melville Schofield. I covered my first Edinburgh Castle wedding back in 2007. Melville was the Minister at that wedding, it's great to see he's still going strong!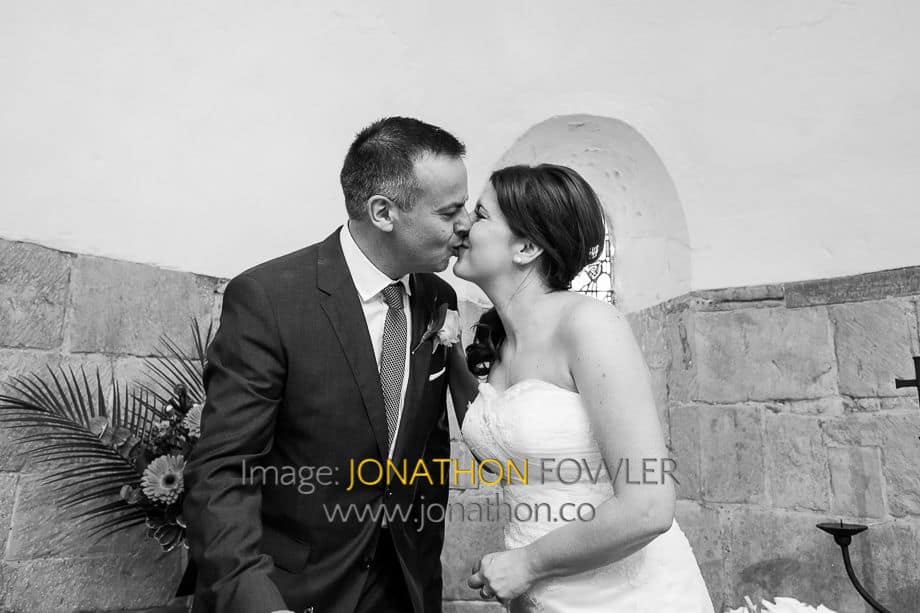 Emerging from St Margaret's Chapel into the bright sunlight, we made our way to a grassy area behind the Scottish War Memorial to shoot a few group photos. Drinks and canapés were served in the adjacent Argyle Tower, where Chris and his Best Man/brother Jez gave a couple of entertaining speeches.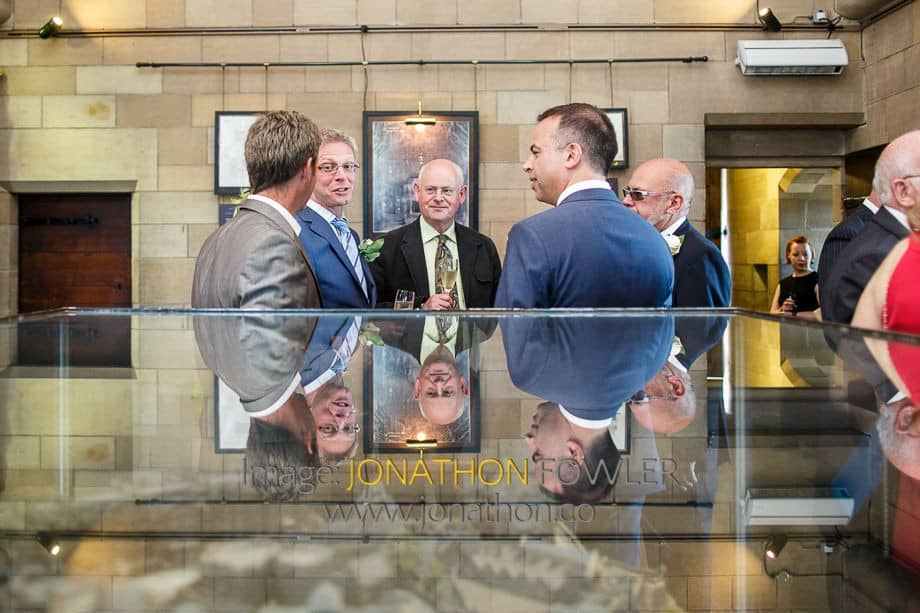 This wonderfully relaxed wedding reflected the nature and attitude of the newly-weds. The majority of the wedding photos I shot were candid and natural, with very little posing or direction required from me.
Chris and Sharon's wedding album is going to look wonderful and unique.
Details of some of the wedding suppliers who helped make Sharon and Chris' Edinburgh Castle wedding so special and unique:
Florist: Flowers by Arkadius
Hairdresser: Angus Gordon Hairdressing & Beauty
Bridal Dress: Ann Bridal London
Bride's Shoes: Rainbow Collection
Harpist: Toni Russell
Groom's Attire: Hugo Boss
Edinburgh Castle Wedding Photos Gallery
I'd like to share a small selection of my favourite Edinburgh Castle wedding photos with you, below.