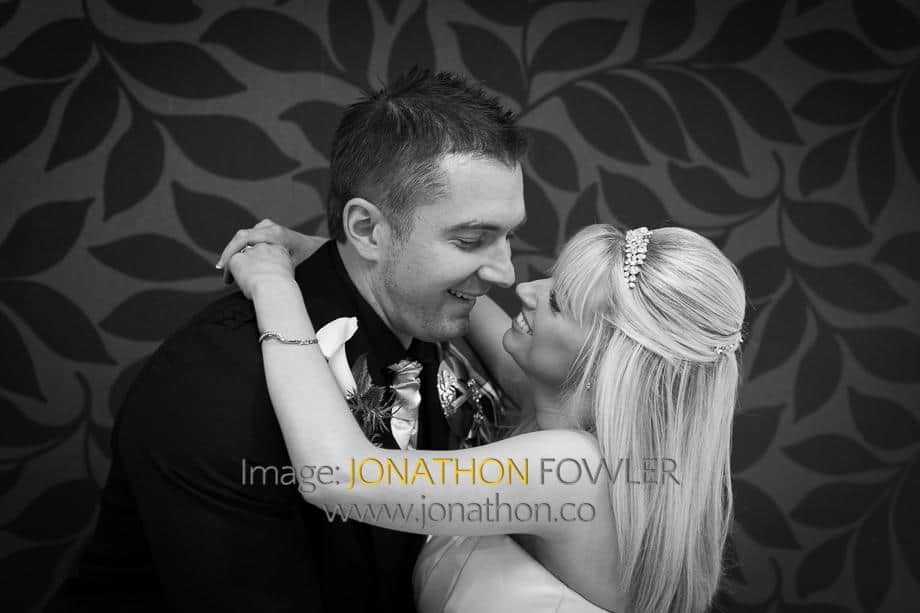 I recently had the pleasure of creating Kim and Charles' Leonardo Hotel Edinburgh Murrayfield wedding photos. Previously known as the Edinburgh Capital Hotel, it was great to see this lovely wedding venue had recently been refurbished. Located in the west of the city, the Leonardo Hotel Edinburgh Murrayfield is a great wedding venue which I'd not been to previously.
A few weeks before getting married at the fabulous Leonardo Hotel Edinburgh Murrayfield I had met Kim and Charles nearby a pre-wedding photoshoot at Corstorphine Hill. This was a great opportunity to get to know the couple, shoot a few photos of them and find out how they felt being in front of a camera.
Unfortunately, unlike the day of our pre-wedding photo session, the weather on Kim and Charles' wedding day was wet and miserable and not well suited for outdoor wedding photography! So 'Plan B' was put into effect and after shooting a few group photos after the wedding ceremony we headed off to the Water Of Leith in Stockbridge to shoot some newly-wed photos. Using the cover of the archway at The Dene meant we could get some cool and contemporary wedding photos even though it was pouring rain!
Back at the Leonardo Hotel Edinburgh Murrayfield, I created a few photos of the newly-weds in and around the foyer area. Using a patterned wall as a backdrop meant we could still shoot photos while still having a pleasing background for the photos. Also, having a scout around during our pre-wedding photoshoot meant I was able to note locations that would be suitable for photos and not prone to getting in the way of the guests.
As this was an all-day booking I photographed the speeches, cutting of the wedding cake and first few dances. Being Kim and Charles' wedding photographer for the day was great fun and I really look forward to more weddings at this wonderful wedding venue in future.
Take a peek at a few photos of the newly-weds' wedding album. Have a look at the range of albums we offer to couples.
Congratulations to Kim and Charles.
Leonardo Hotel Edinburgh Murrayfield Wedding Photos Gallery