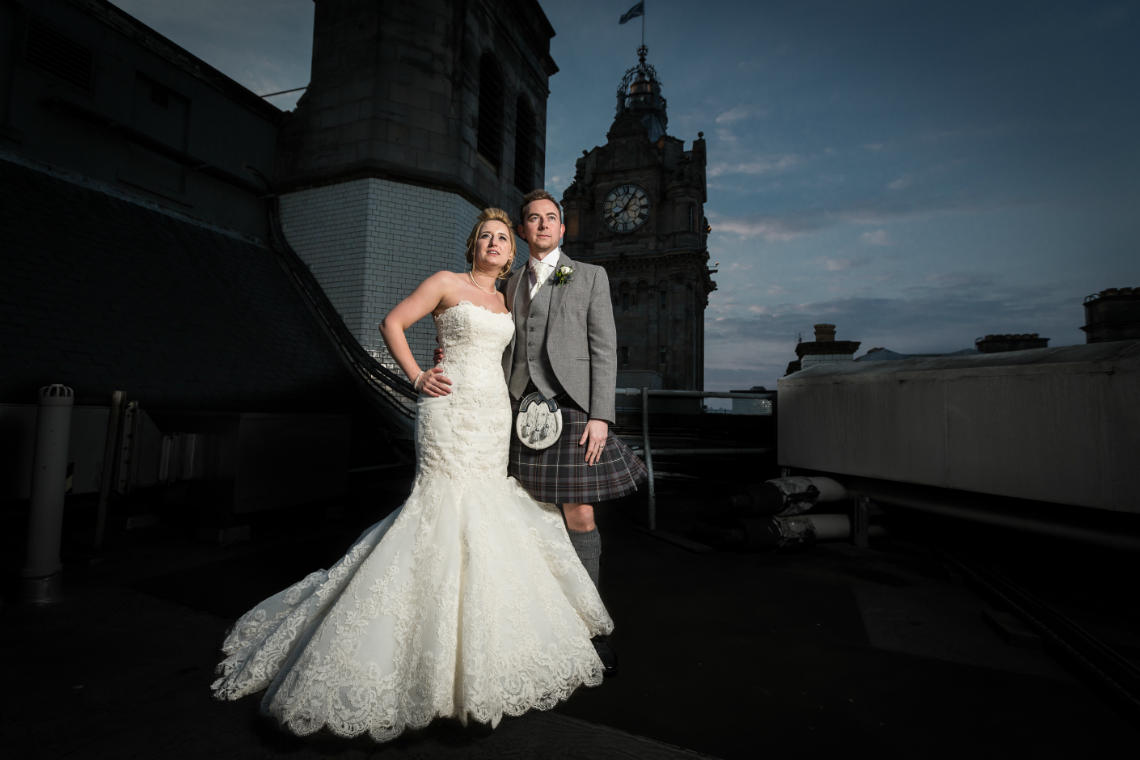 Pre-ceremony preparations
Jamie and Michelle's Dalhousie Castle and Balmoral Hotel wedding photos was a whirlwind of a day taking in lots of beautiful locations in and around Edinburgh.
My day began photographing Michelle and the girl's preparations at The Balmoral Hotel. The atmosphere was fun and the girls were full of energy and excitement.
Jamie and the boys were getting ready nearby at Princes Street Suites, literally a stone's throw away. We got some photos up on the roof of the suites, with Edinburgh city centre and Arthur's Seat offering a beautiful backdrop for the photos.
Wedding ceremony at Dalhousie Castle
Jamie and Michelle were married at beautiful Dalhousie Castle to the south of Edinburgh in Midlothian. I've photographed many weddings at this historic castle and always enjoy being there. The place oozes history and is a great place to get married.
We had time to shoot a few newly-wed photos within Dalhousie Castle's extensive gardens before everyone departed back to Edinburgh for the wedding reception.
Champagne reception at the Balmoral Hotel
Jamie and Michelle held their wedding reception at one of Edinburgh's luxury 5-star hotel, The Balmoral Hotel.
More photos of the newly-weds followed before everyone took their seats to watch our newly-weds being announced to the top table by Toastmaster Bob Henderson.
The Balmoral Hotel took care of the catering for the wedding, however, as a special treat Jamie's dad, who is a Michelin-starred chef, had made a dessert which looked exquisite!
Rooftop newlywed photos
After the brilliant and entertaining speeches, I took Michelle and Jamie onto the roof of The Balmoral Hotel for a few more newly-wed photos, before it was time for the first few dances.
Two beautiful and historic locations made this wedding day one of the highlights of my wedding year. Congratulations to Michelle and Jamie, you were a pleasure to photograph and I look forward to sharing your beautiful wedding albums with you soon.
Michelle and Jamie's engagements photos in Princes Street Gardens
You might also enjoy Michelle and Jamie's pre-wedding photos, which we shot in and around Princes Street Gardens earlier in the year.
Dalhousie Castle Wedding Photos and Balmoral Hotel wedding photos
A few of my favourite Dalhousie Castle and Balmoral Hotel wedding photos are shared below.