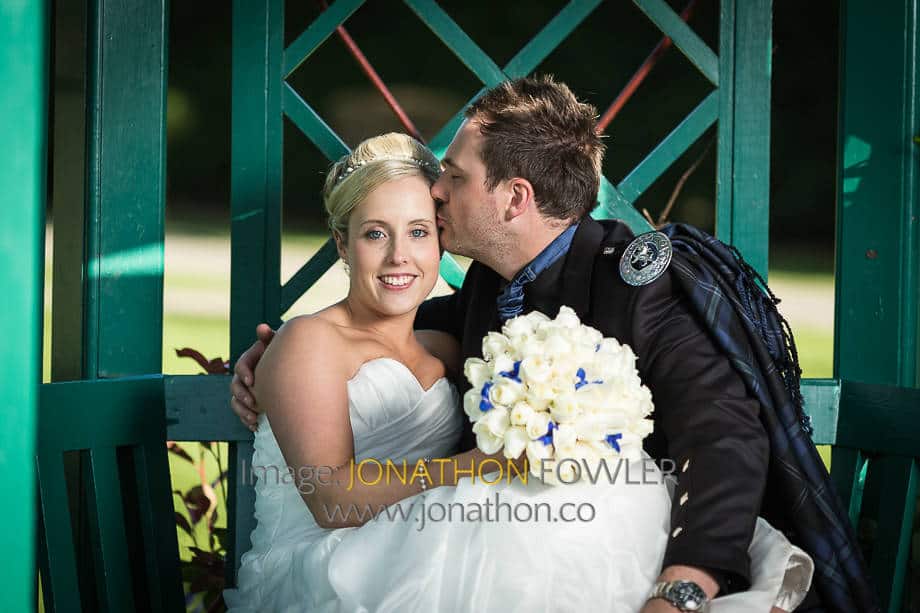 It was a freezing cold morning when I arrived in Perthshire to shoot Laura and Iain's Crieff Hydro wedding photos. The sun was shining and the weather forecast said it was going to turn into a beautiful sunny day. Crieff Hydro is set in 900 acres of beautiful grounds, located in the heart of Scotland. Laura and Iain were both getting ready at Crieff Hydro, so my early start ensured I could cover both of their preparations before the wedding ceremony.
I love the atmosphere during the preparations. Usually relaxed, with excitement building, a wee bit of nervousness creeping in but always good-natured. Champagne usually helps calm any nerves at this point! Both Laura and Iain were excited and looking forward to their big day.
Laura looked beautiful as she was escorted by her dad to the ceremony in the magnificent Drawing Room. This wonderful room is a photographer's dream – beautifully lit, with plenty of natural light streaming through the windows. The size of the room allows easy movement for shooting from different angles, helping to keep the photos varied and interesting.
After a thoroughly enjoyable ceremony, the newlyweds enjoyed a glass of champagne and congratulations from family and friends. Capturing people's emotions and reactions are key at this point – moving around to capture the moment, anticipating what people will do next is a lot of fun and a very satisfying part of what I do.
By now the sun was beating down and it felt like a beautiful summer's day! Not bad for what started out a cold October morning. The grounds of Crieff Hydro were fantastic for the newly-wed photos, with lots of beautiful backdrops and greenery. Laura and Iain had met me a few weeks before their wedding day for a pre-wedding photo shoot. This helped to ensure they were totally relaxed in front of the camera, which really helped us capture some stunning shots on their wedding day.
Being Edinburgh born and bred I was impressed at the old Lothian Buses (Edinburgh's main bus operator) double-decker bus that Laura's dad had brought along for the photoshoot. Laura's dad works for Lothian Buses, so this was a really nice touch and great for a few photos!
The Drawing Room had been turned into a grand dining room and was again a wonderful place to shoot photos – this time of the speeches. Again, the natural light was a bonus and helped me to capture beautiful natural shots of the speakers and everyone's reactions to the anecdotes.
My day ended with photographing the first few dances. The evening entertainment was provided by Cut The Cake, a wedding band I've seen on many occasions. They're a great band and well worth checking out if you're looking for quality entertainment.
So my first Crieff Hydro wedding drew to a close. What a wonderful day at a gorgeous wedding venue. Congratulations to Laura and Iain, you were a joy to work with and photograph and I really enjoyed our time together.
Laura and Iain's handmade wedding album is going to look fantastic!
Crieff Hydro Wedding Photos Gallery
A few of my favourite photos from Laura and Iain's Crieff Hydro wedding day are shown below.